Had the pleasure of visiting Seaside Heights this weekend. It's still early in the season so a lot of stuff wasn't open. Still had a good time.
Entry
Upon arriving got to see some seagulls chilling in a sand parking lot. They really chillin' tho.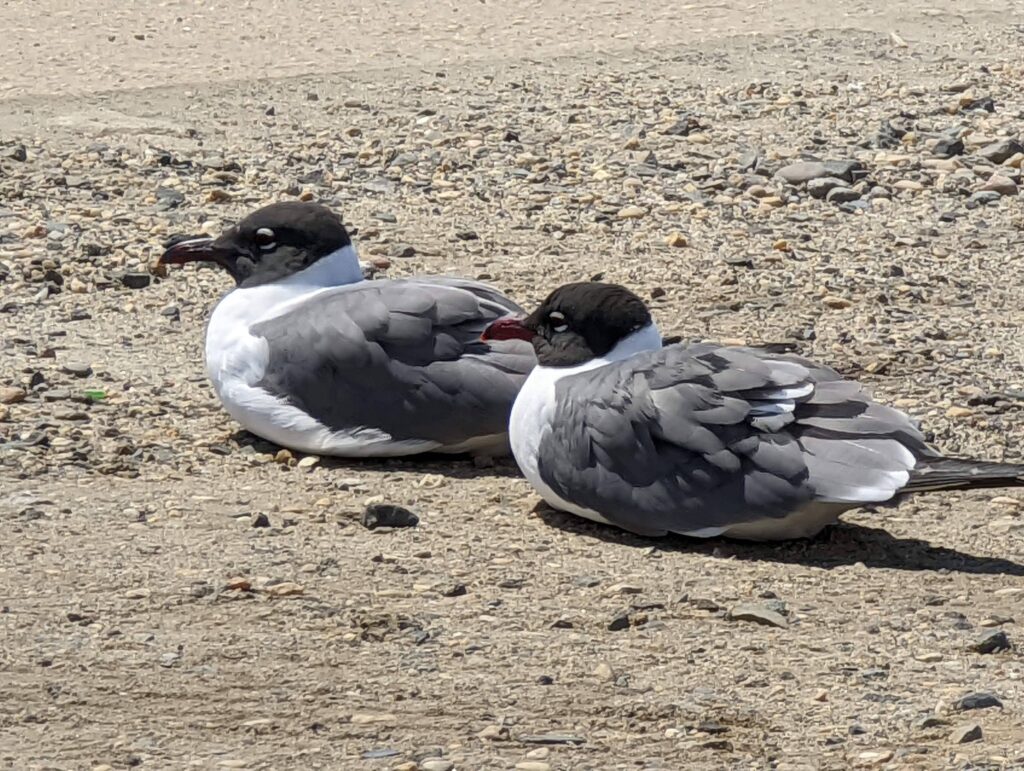 Starting out on the board walk we also came upon this little hotel right in front of the beach.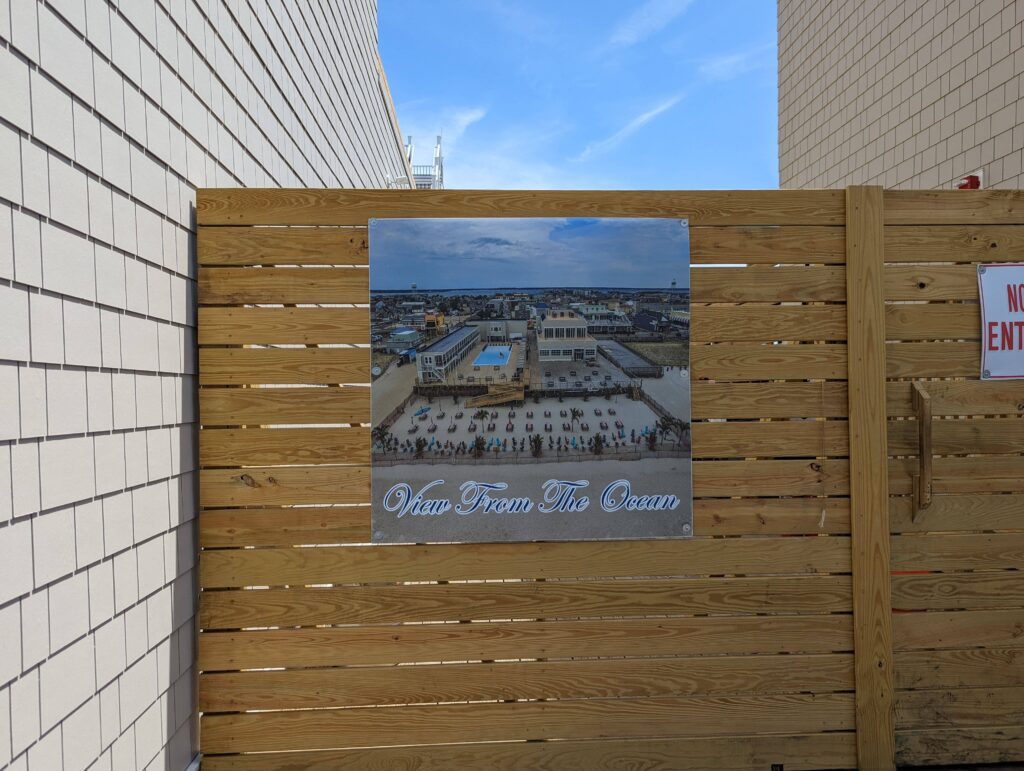 This looks like a great spot if you're coming down to stay for a few days. Very nice and new construction. You can't beat this location. Here's their website: https://theoceanclubnjrentals.com/
Food
Usually I go for a sausage sandwich while I'm on the Boardwalk from the MidWay Steak house. Maps Link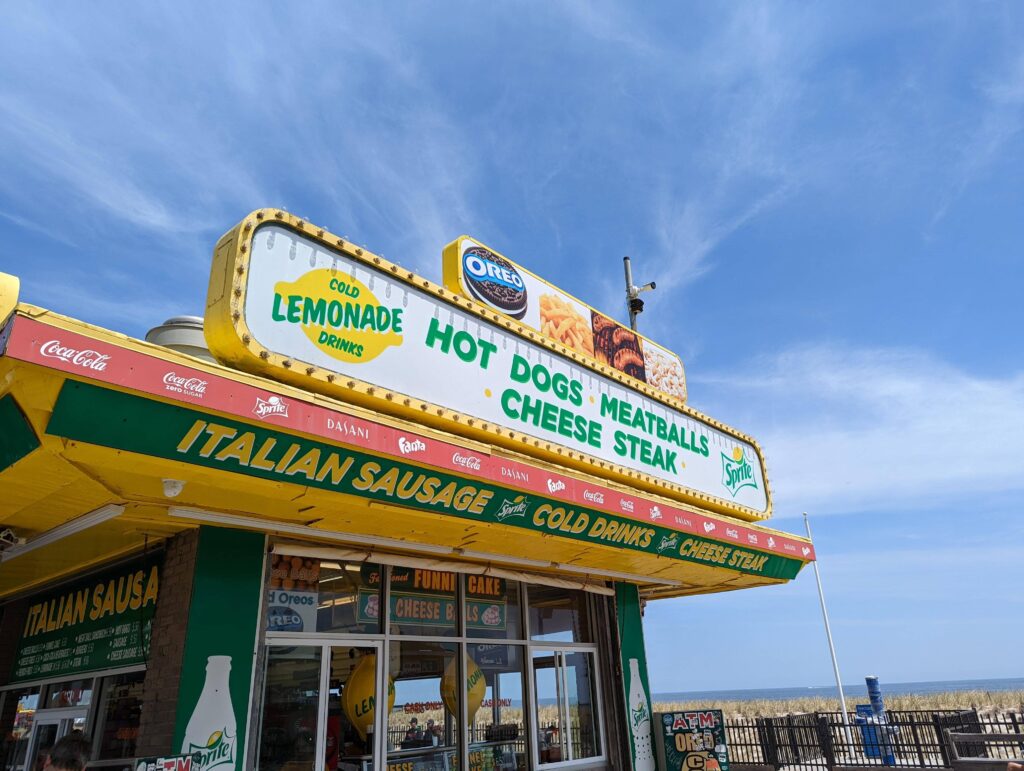 The sausage is great. I don't think the cheese on the sandwich is necessary. Just go for peppers, onions, and sauce. It's really good but I've been on the pizza kick recently.
The Pizza spot I like here is Seaside Pizza & Grill. Maps link. I really enjoy the pizza here. The slices are big and the specialties all look great. Along the boardwalk, you'll see like three brothers' pizza and I didn't want to go to a spot that is soo common so I thought I'd give this one a shot.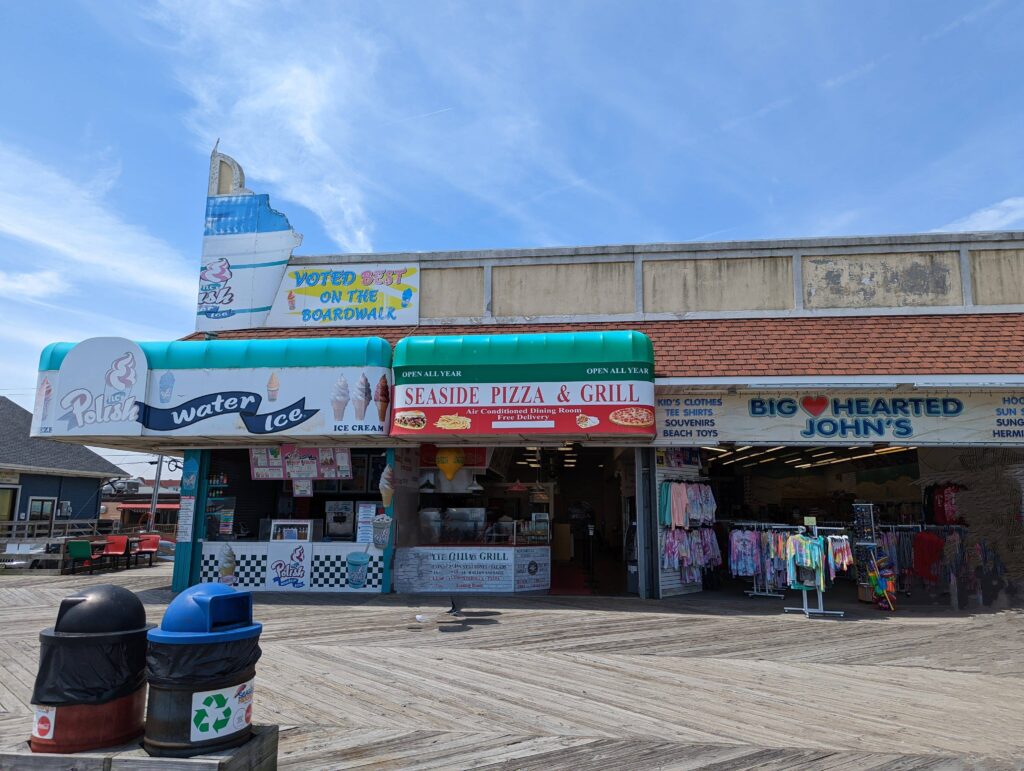 Here's their menu: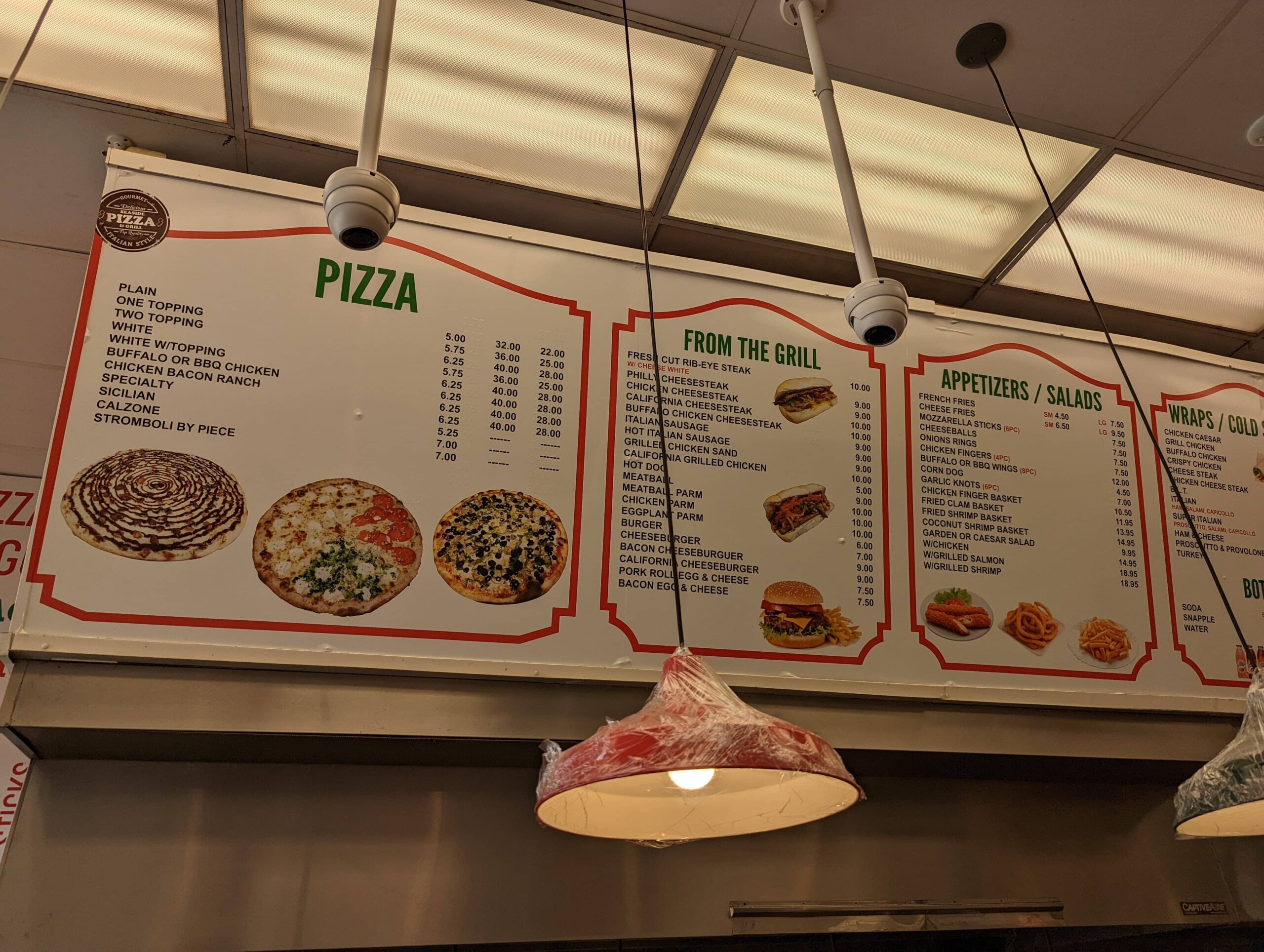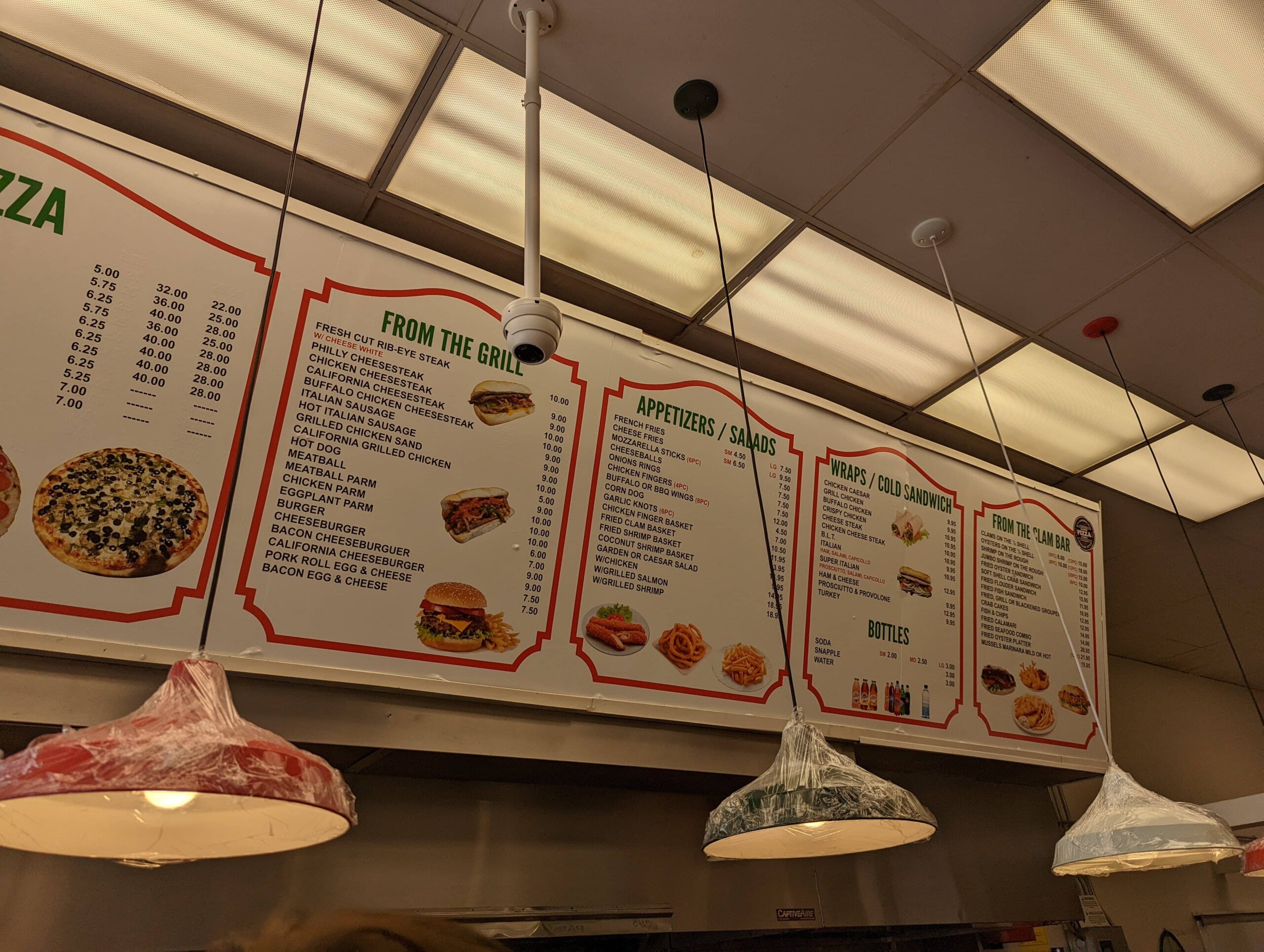 Here's the plain slice I got: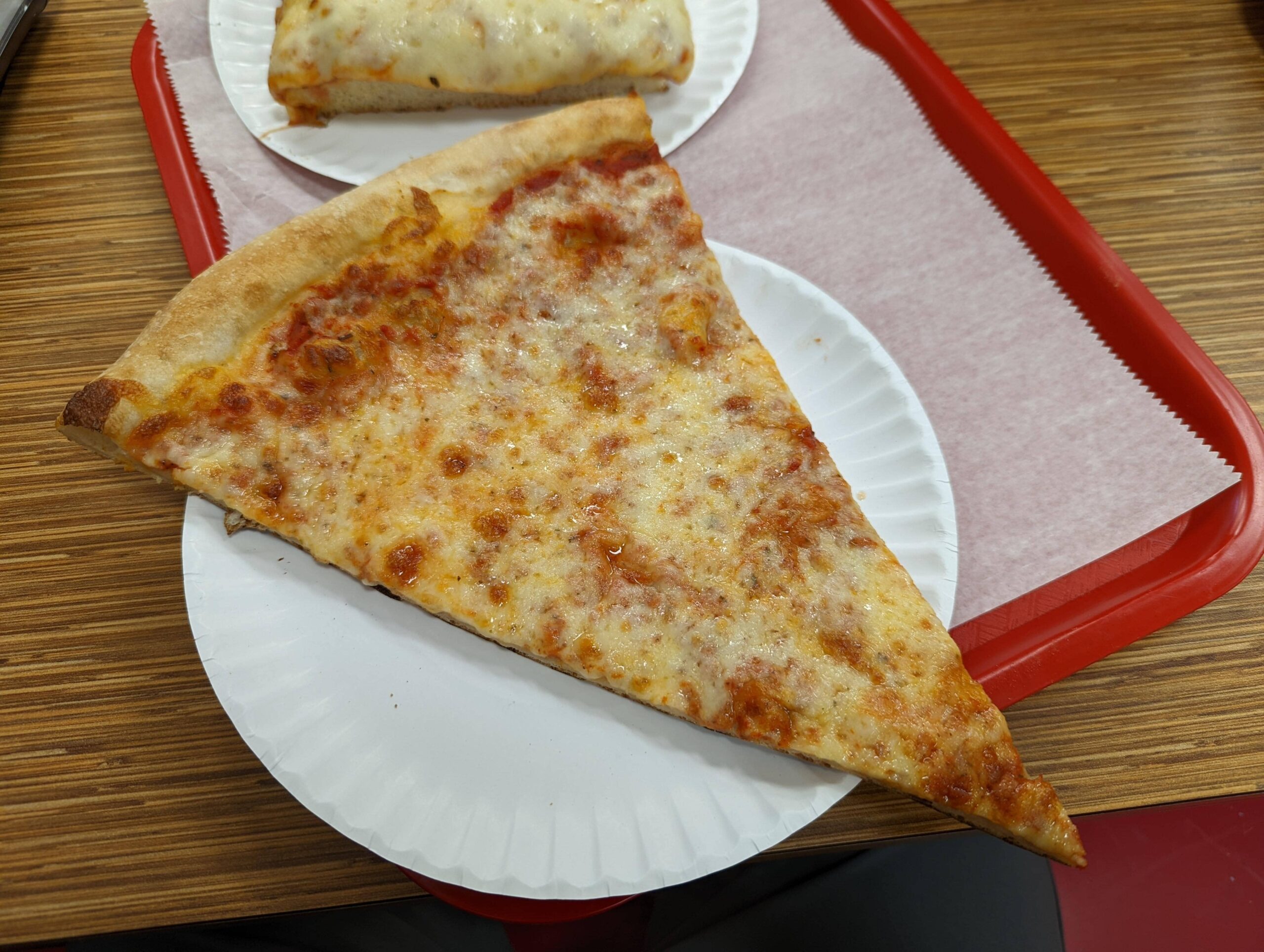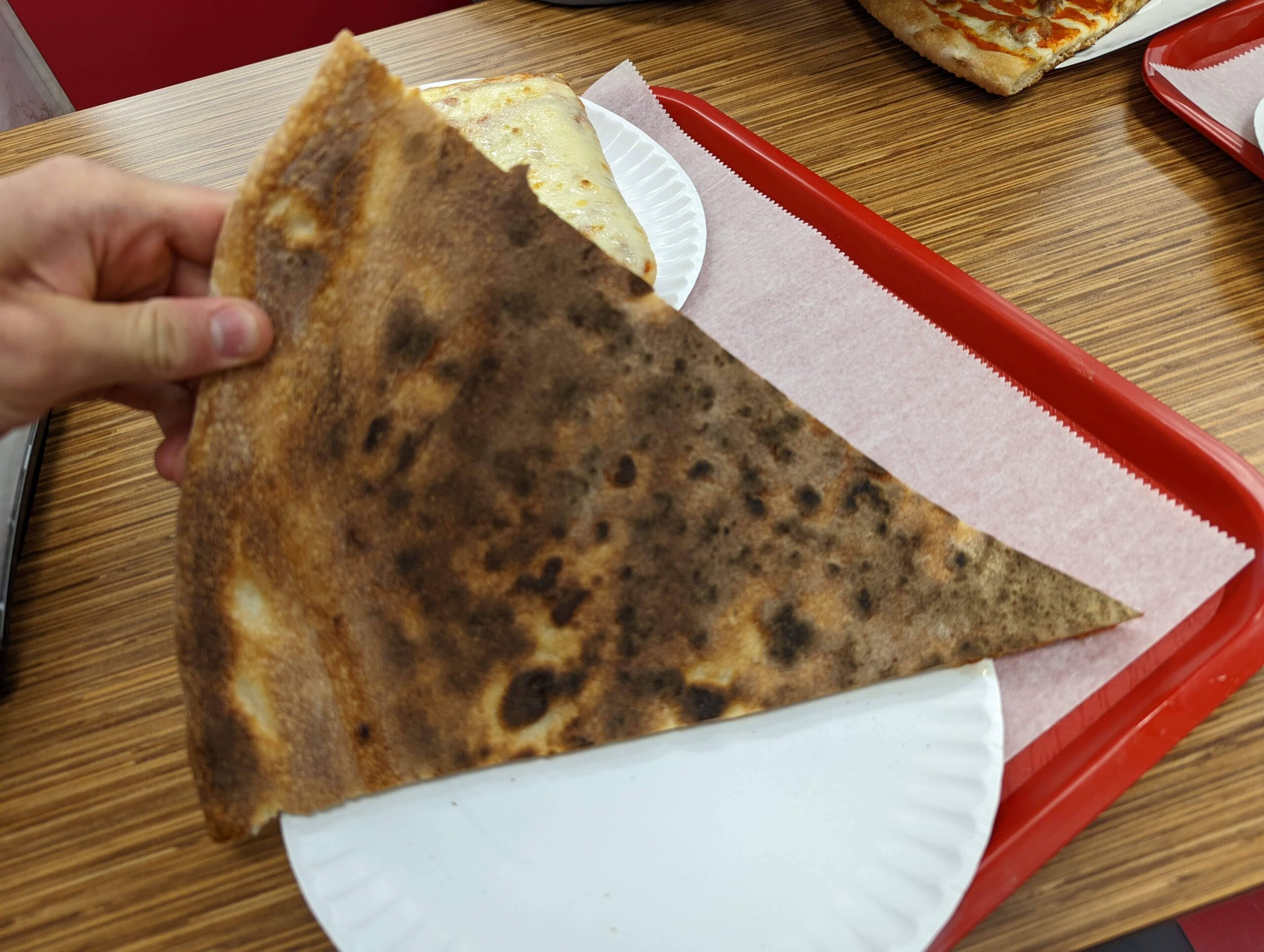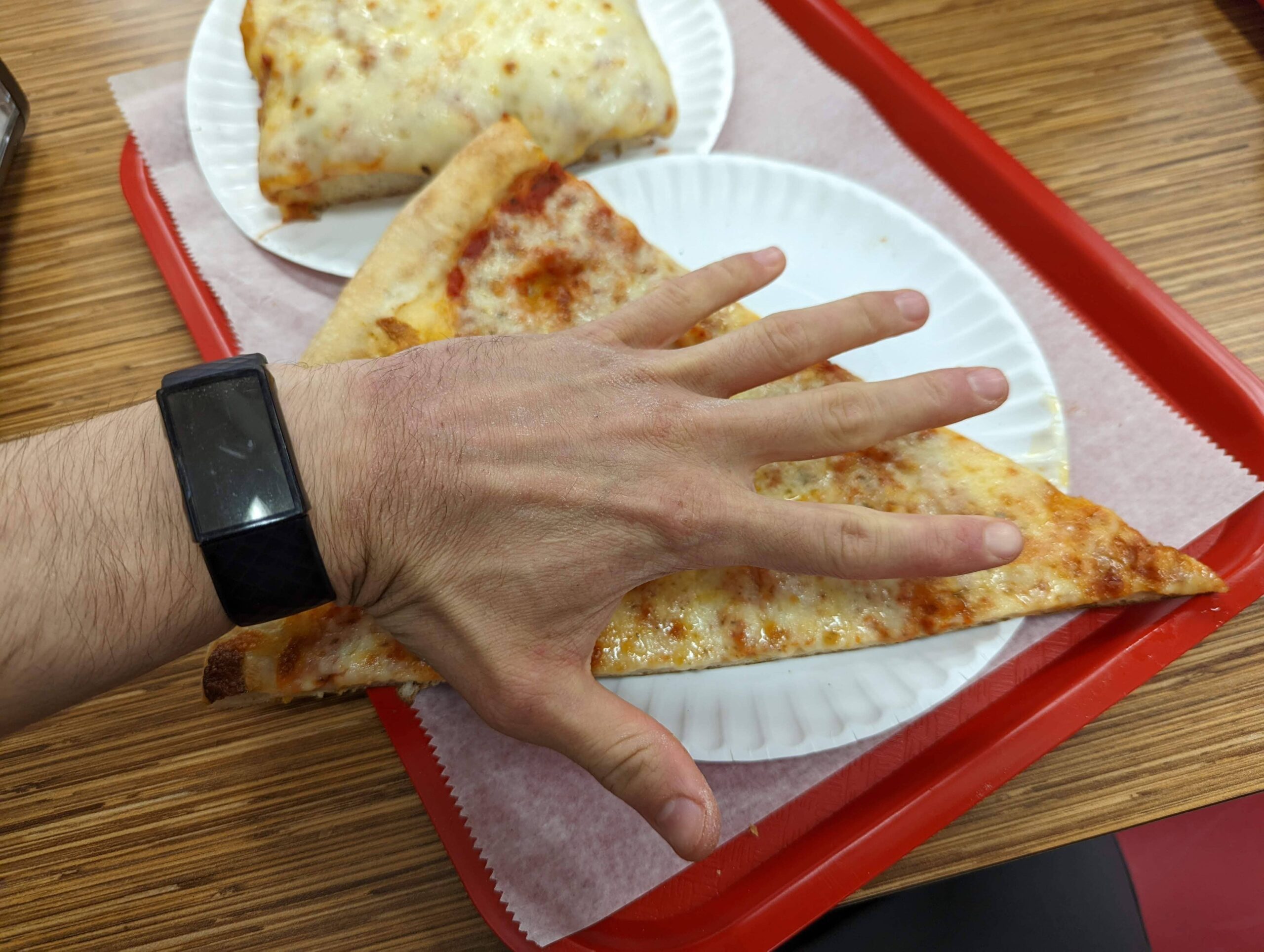 It's very crispy and well toasted. The cheese and sauce are both very flavorful. This gets a 8.2 / 10.
I've tried the barbecue chicken slice and it was one of the best I've had.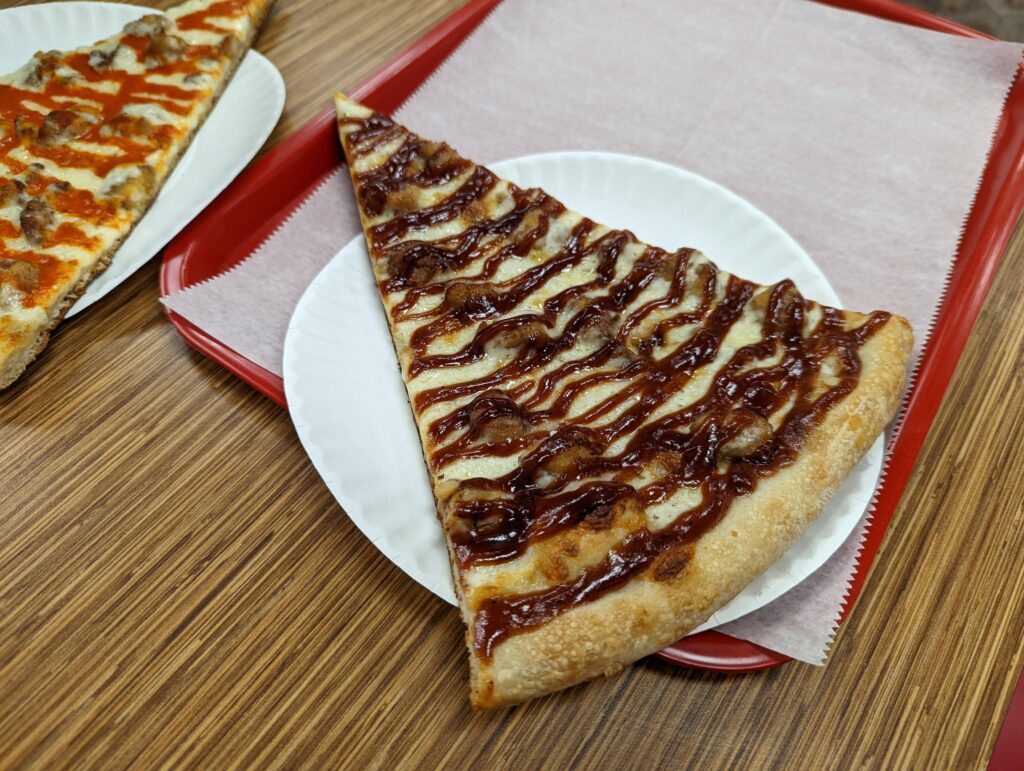 My brother got a sicilian slice which was super thick. Not my style but it was pretty good.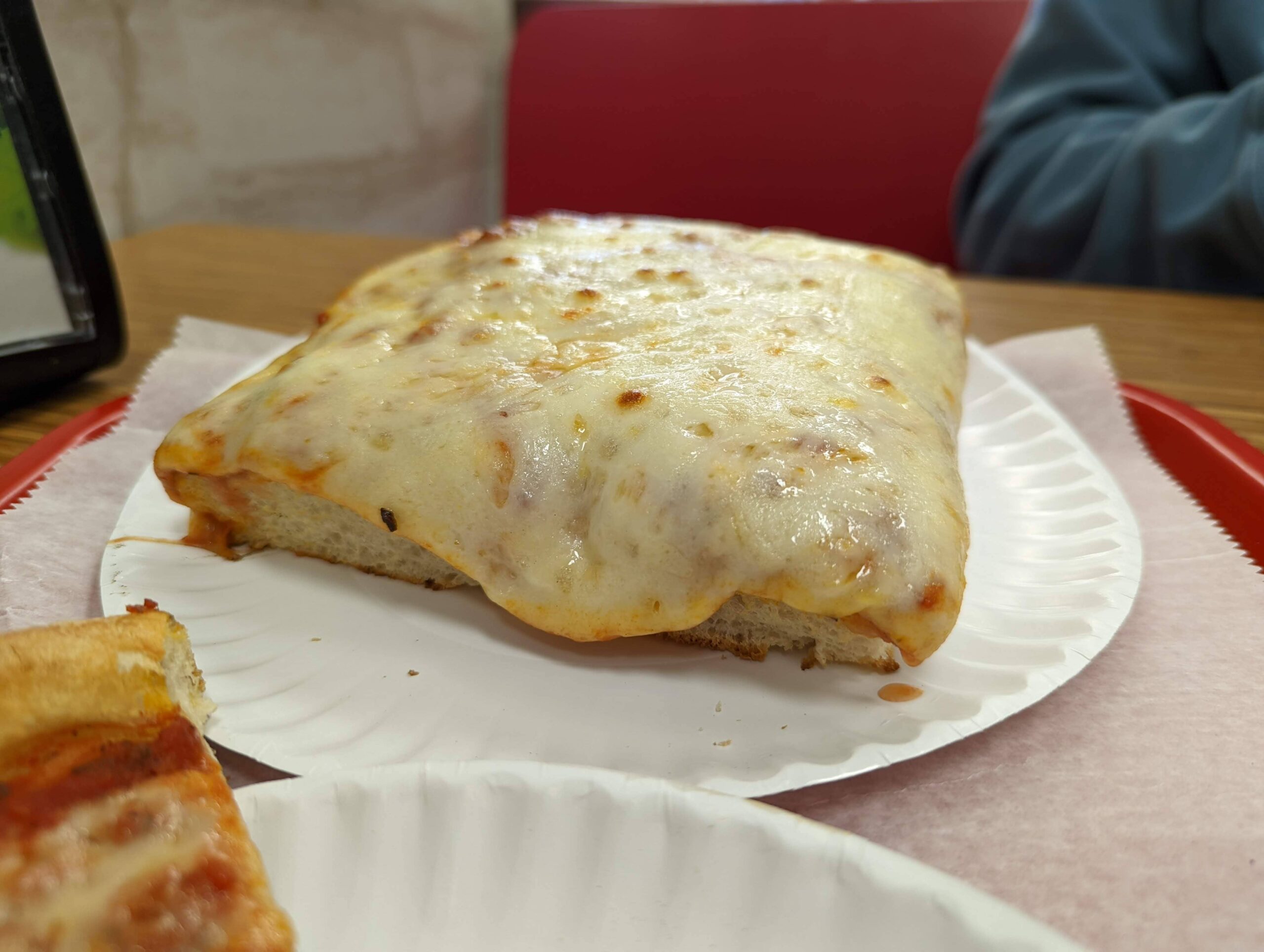 The pizza doesn't stop here though. We also wanted to try The Sawmill. Maps Link. This spot has jumbo pizza. It's 27 inches in diameter.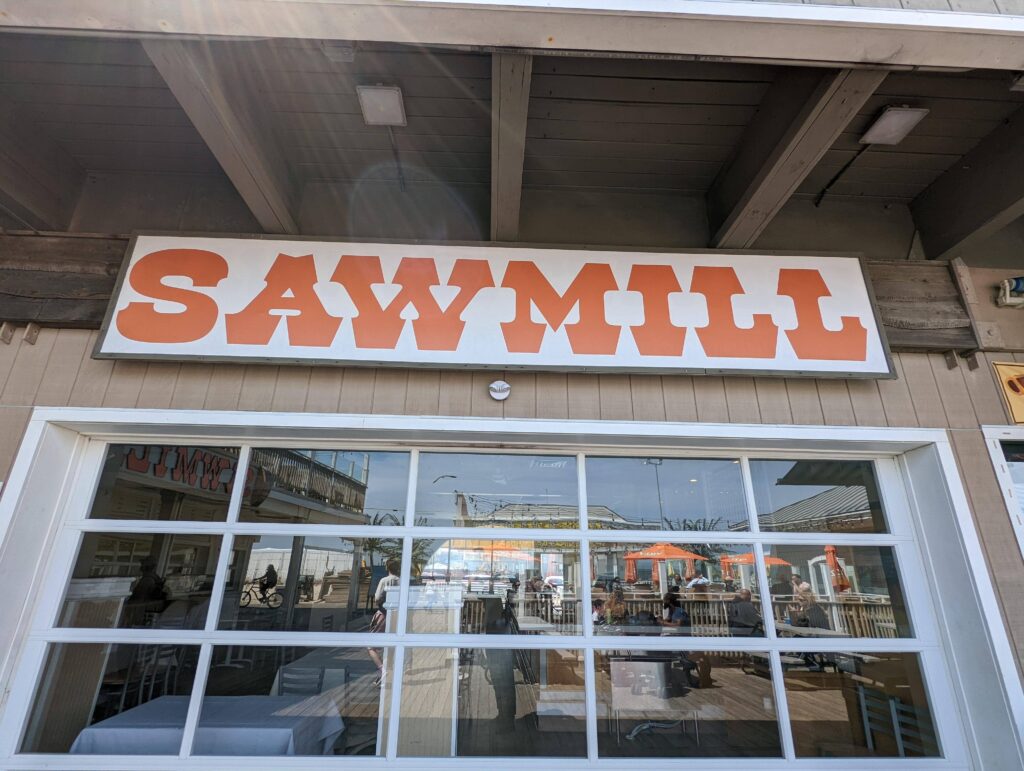 Here's their menu: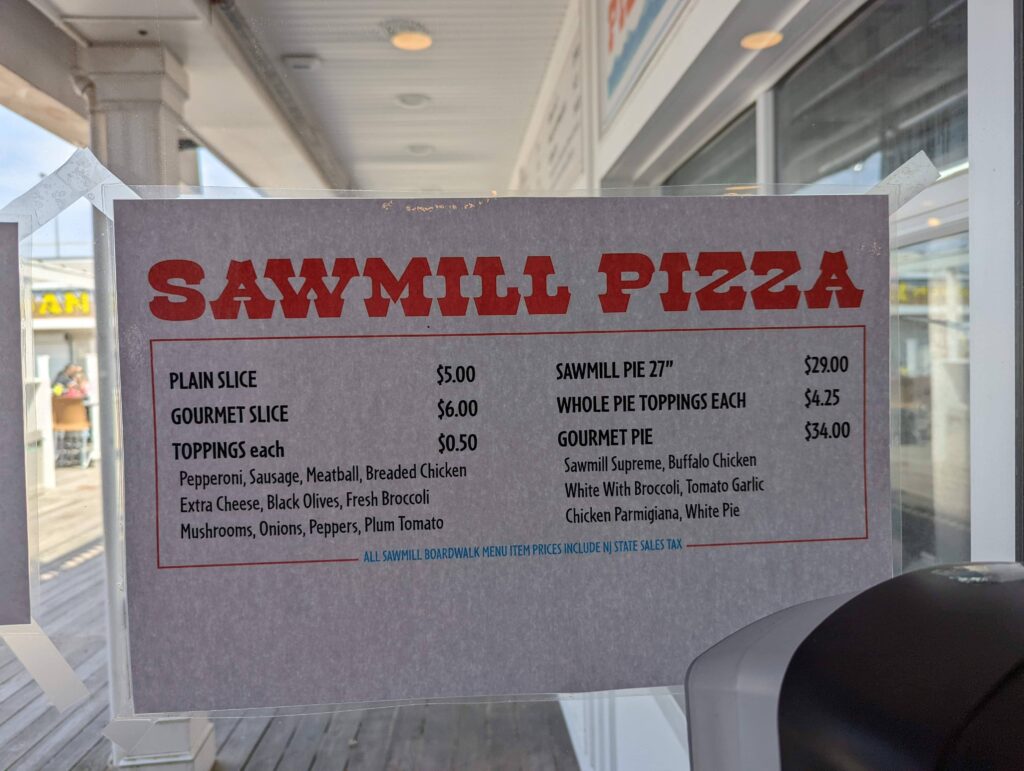 You can buy a whole pie or a slice. Since I had a plain slice, I went for a chicken parm slice. My brother and I split it and it was still a lot.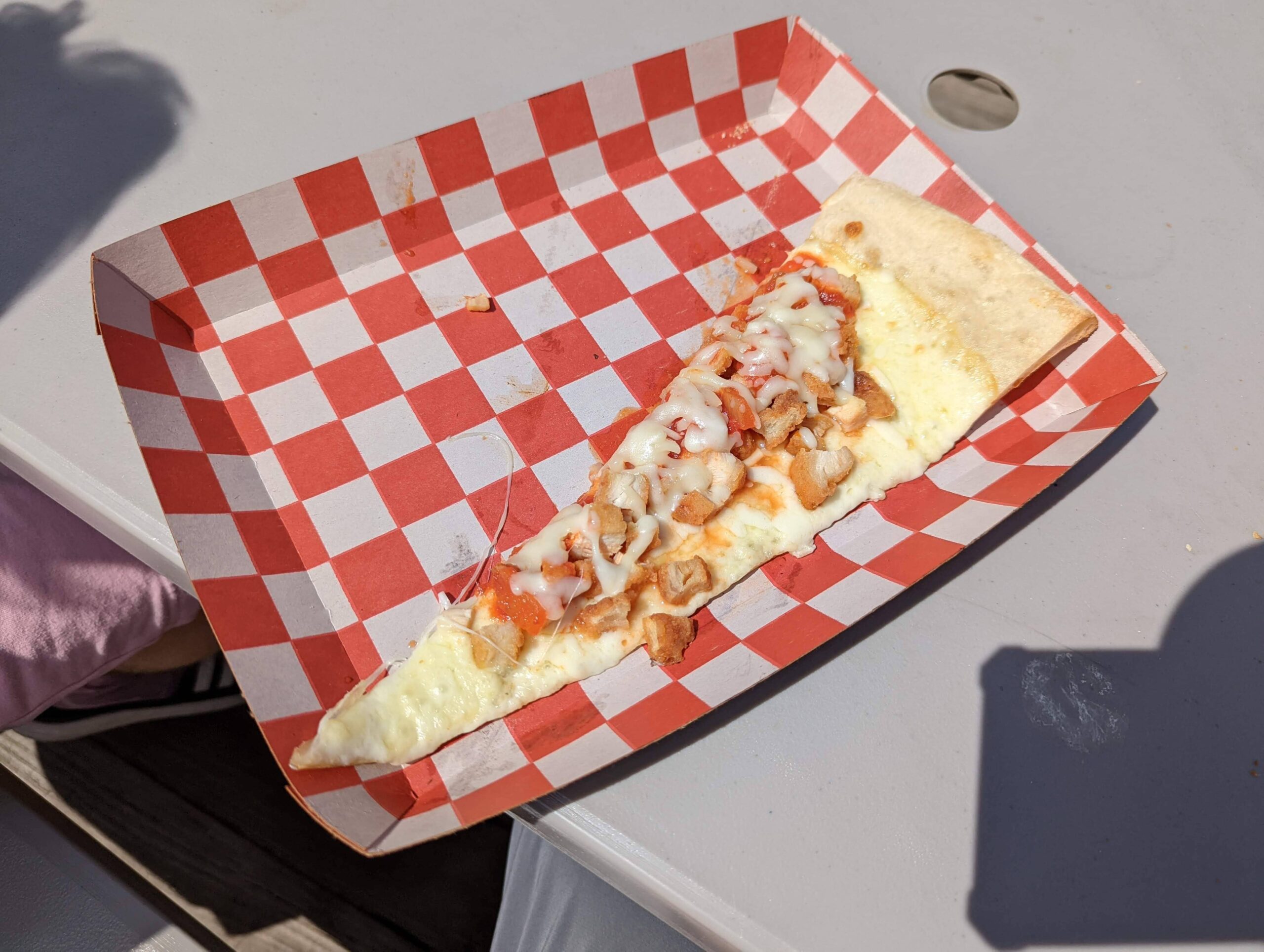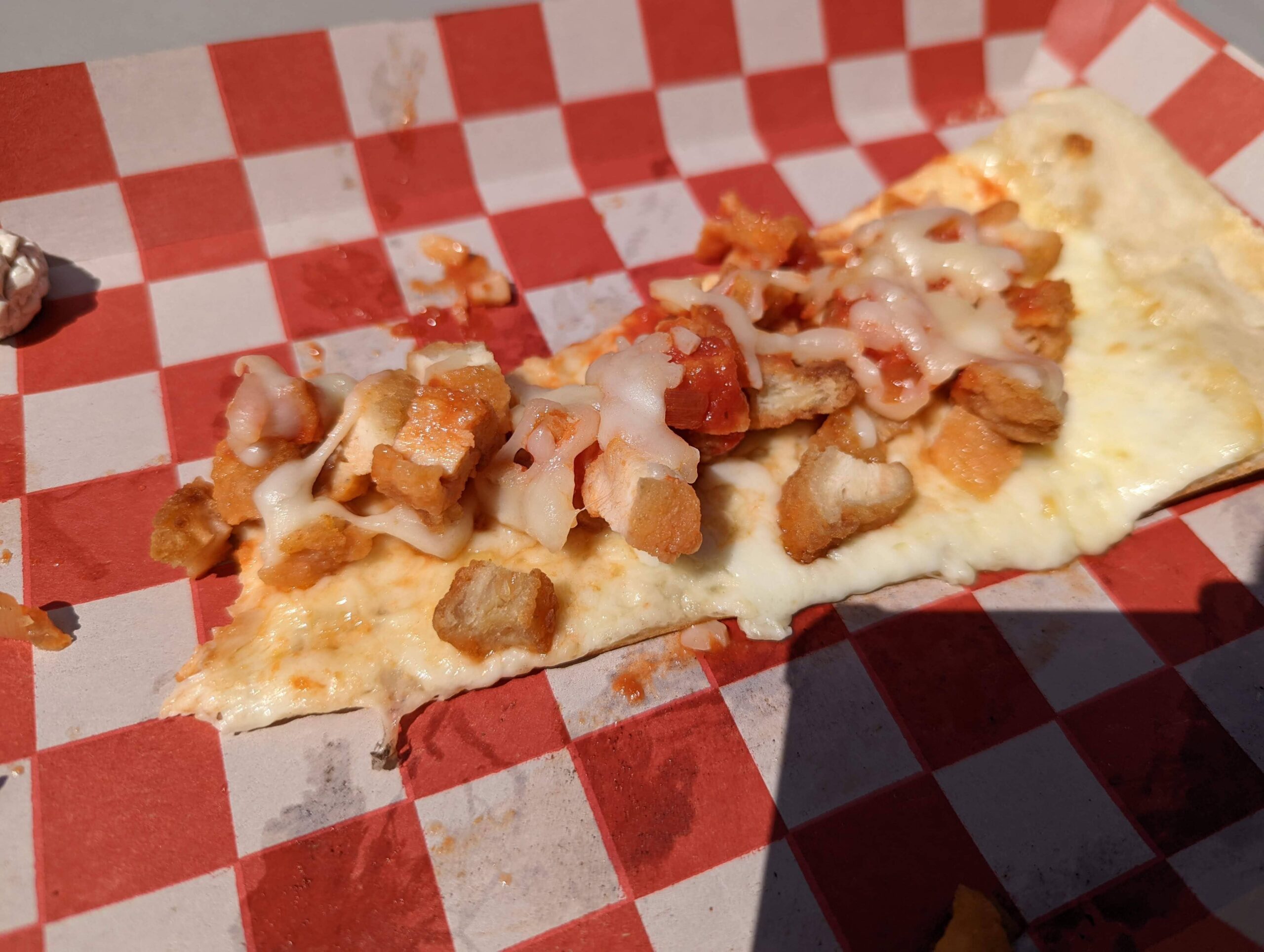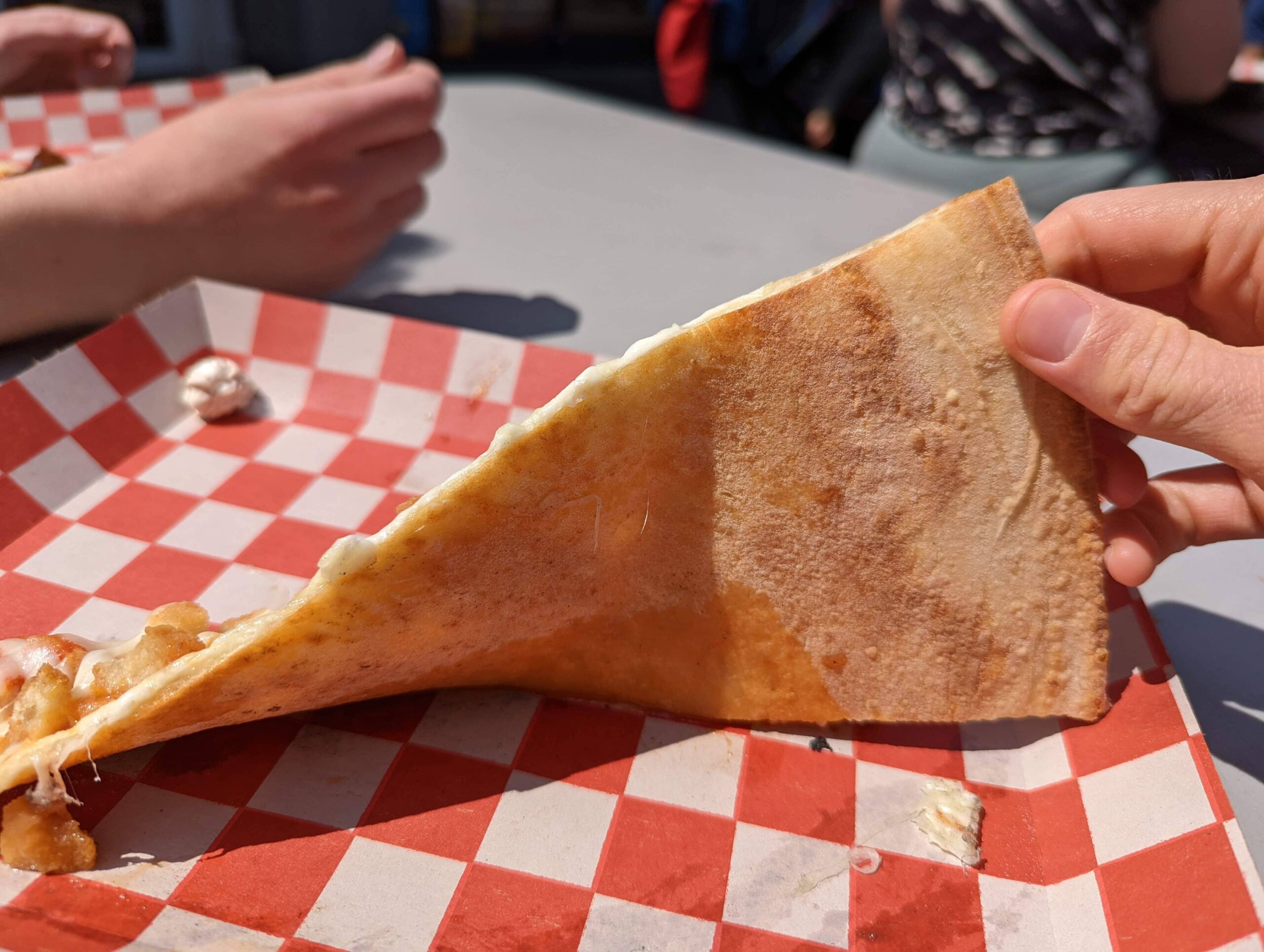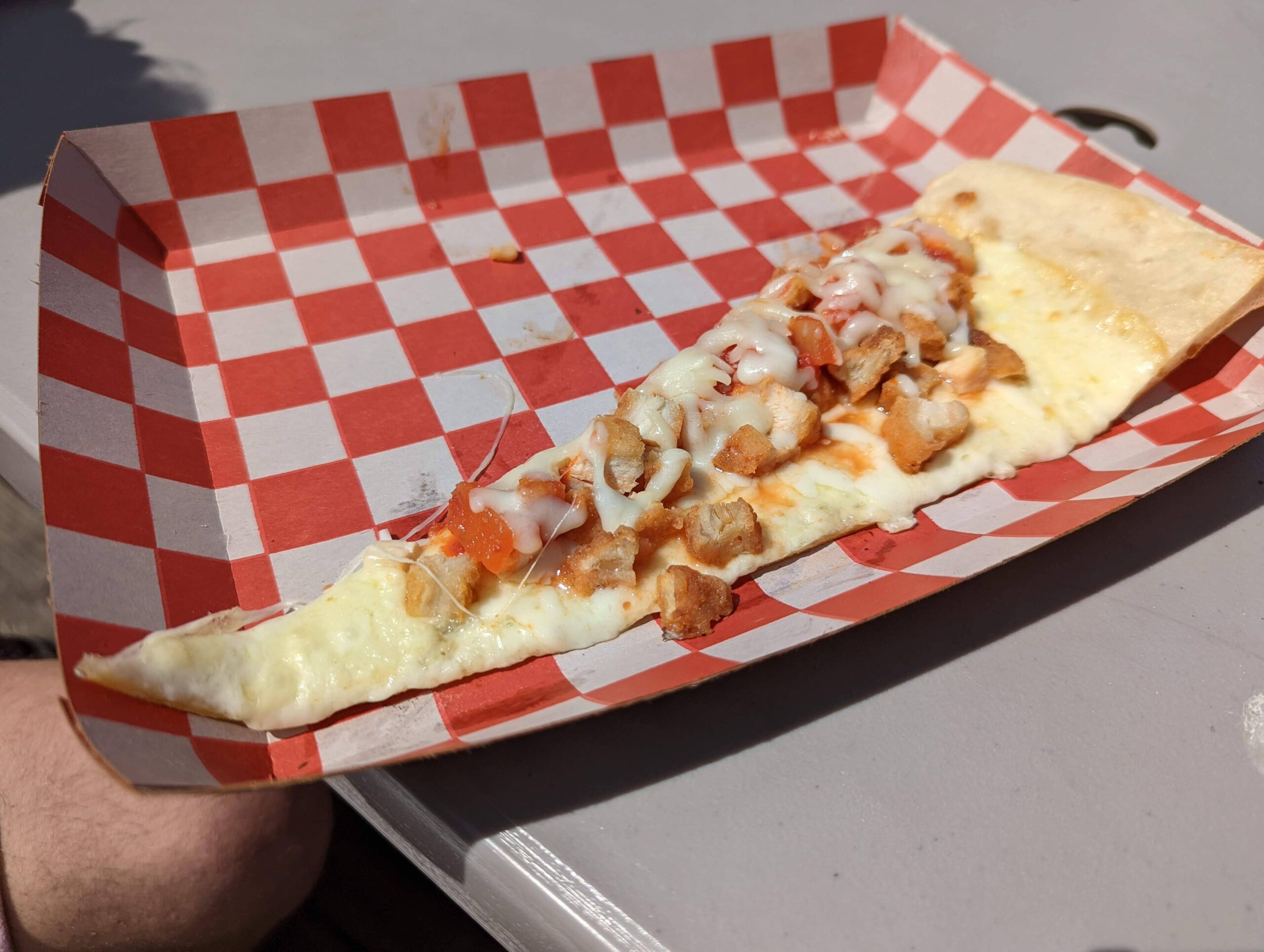 The bottom of the pie could've been toasted a little more. The cheese wasn't melted very well and keeping all the toppings on it was like trying to juggle a meatball on a sheet of paper. Splitting the pizza probably compounded this problem. I imagine a full slice would have better foldability and hold the toppings a little better. The cheese still had a lot of flavor and the sauce was good as well. I would give this pizza a 7.8.
Doing the math if you calculate the area of a 27 inch pizza you will get 572.6 square inches. If you divide that into eight slices you get 71.58 square inches per slice. If you take a personal pie with a diameter of ten inches you get an area of 78.54 inches. This means the slice is almost equal to a single personal pizza. Not bad. Plus with a single slice, you get more cheese and sauce with less crust than an entire personal pie.
Amusment park
The attractions in this park are ok. We just did the Ferris wheel.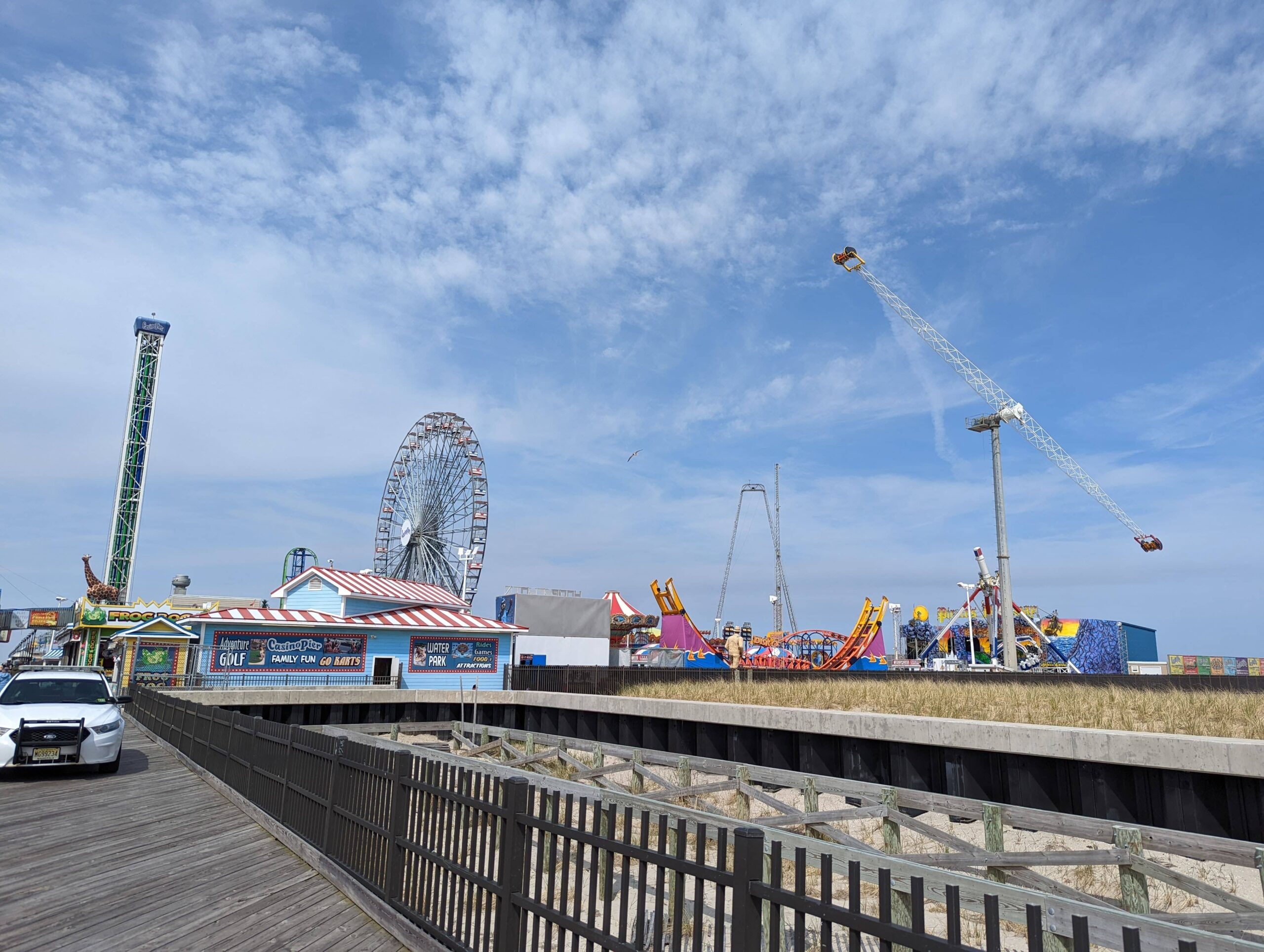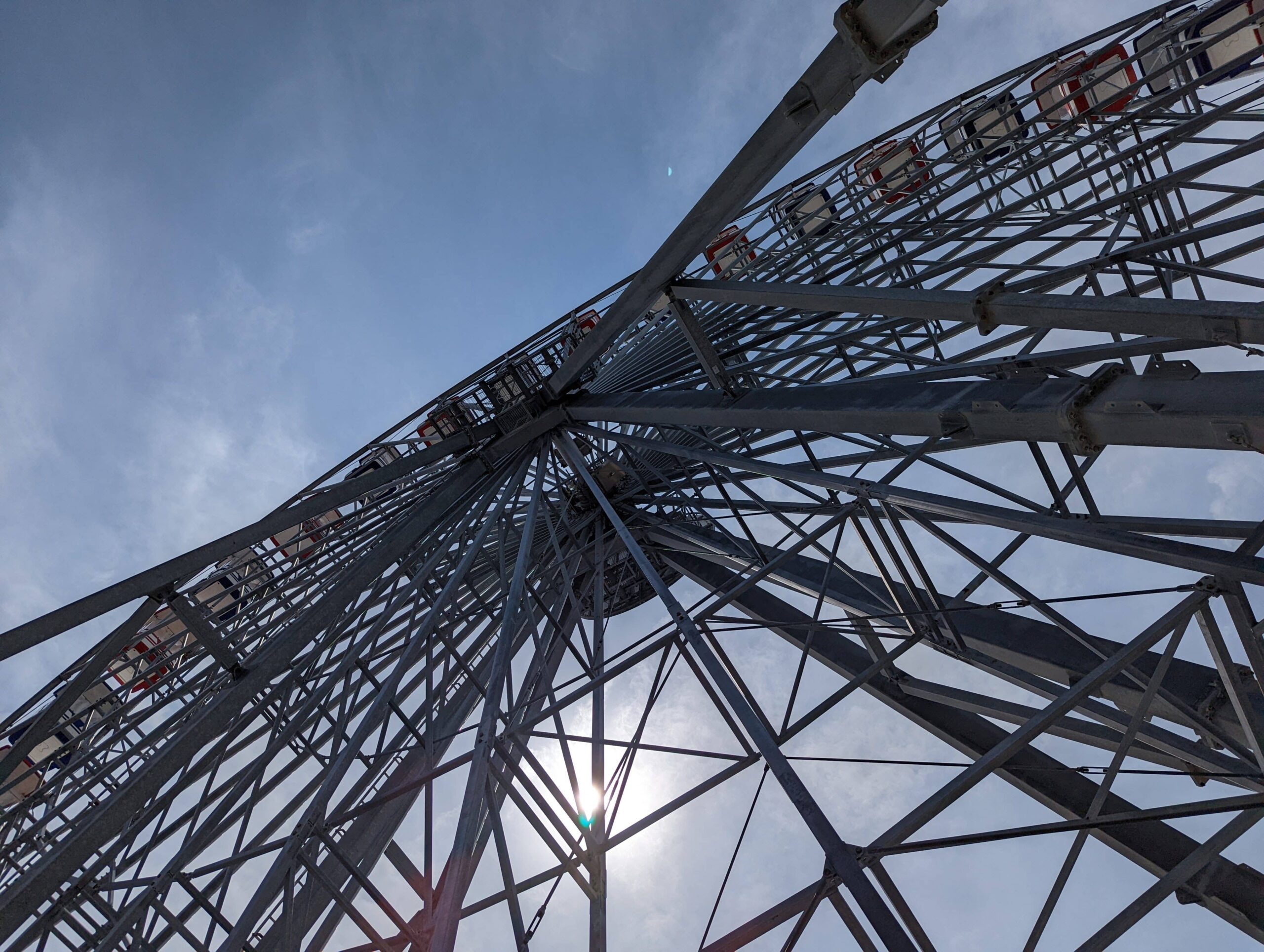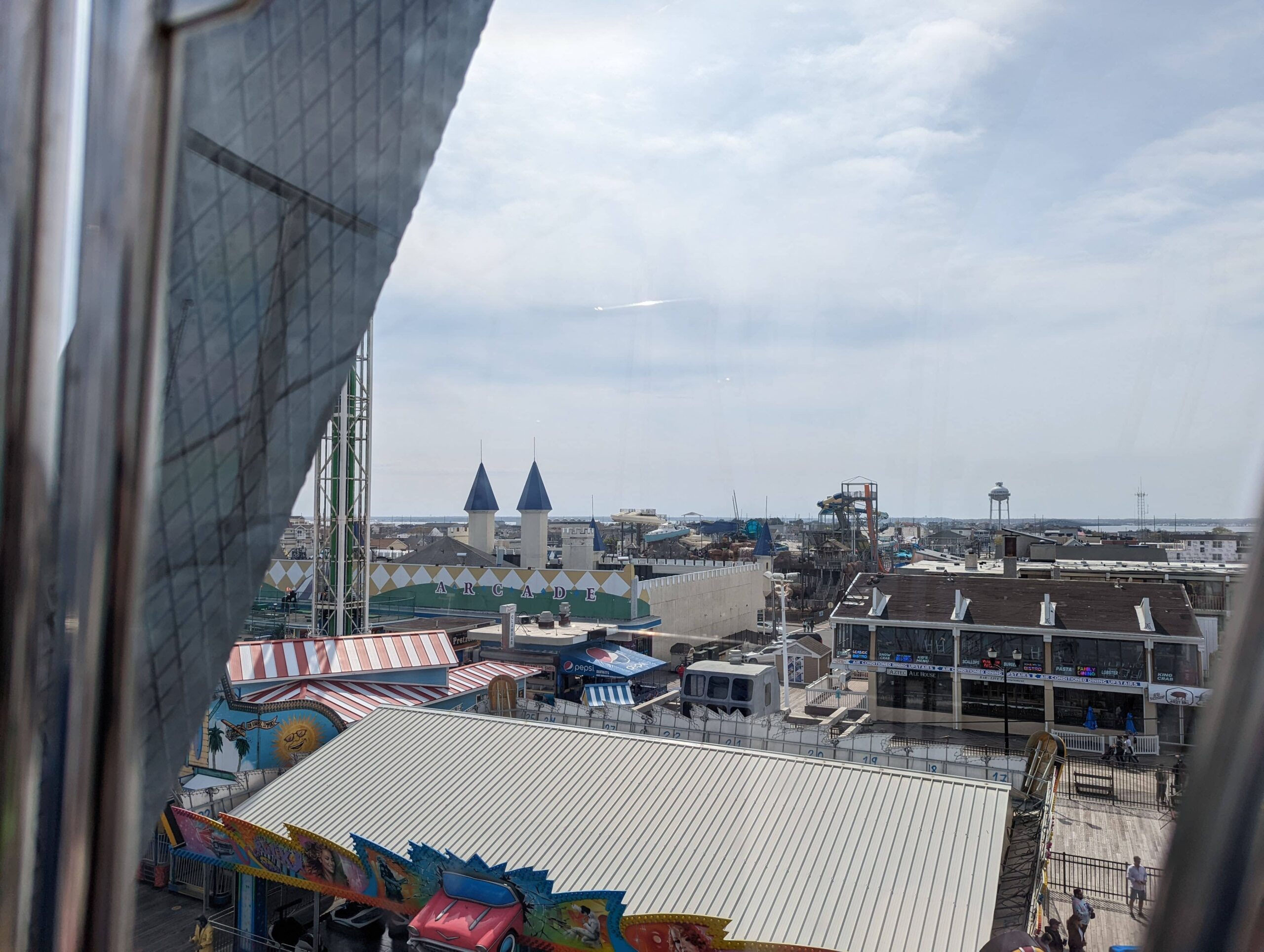 It's a small park. There's some thrills like the tower drop ride called Shore Shot, Skyscraper, Skycoaster, and Hydrus. There's also a decent selection for the kids. Checkout the website for all their rides.
The Skycoaster where you get dropped out in front of the ocean and swing was closed.
Food Misses
There's a spot I didn't try called Maruca's Tomato Pies. Maps link. Man vs. Food guy visited this spot. I kinda wanted to try it.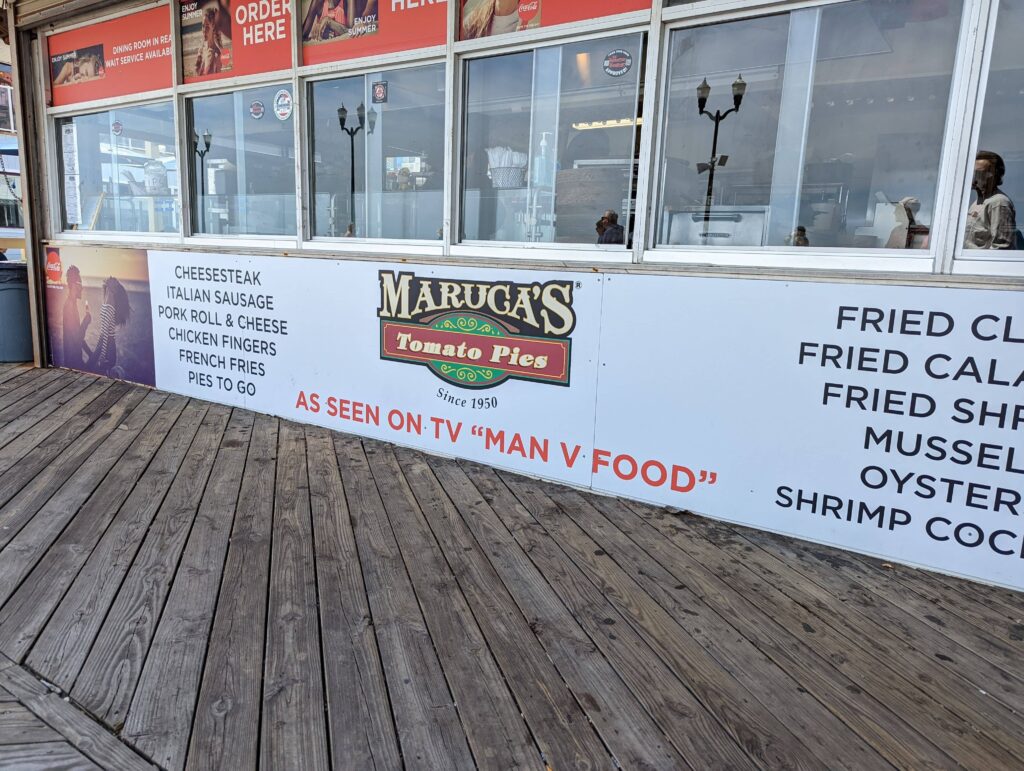 There's also this fried food stand that offers some wild options. Can't find this spot on maps.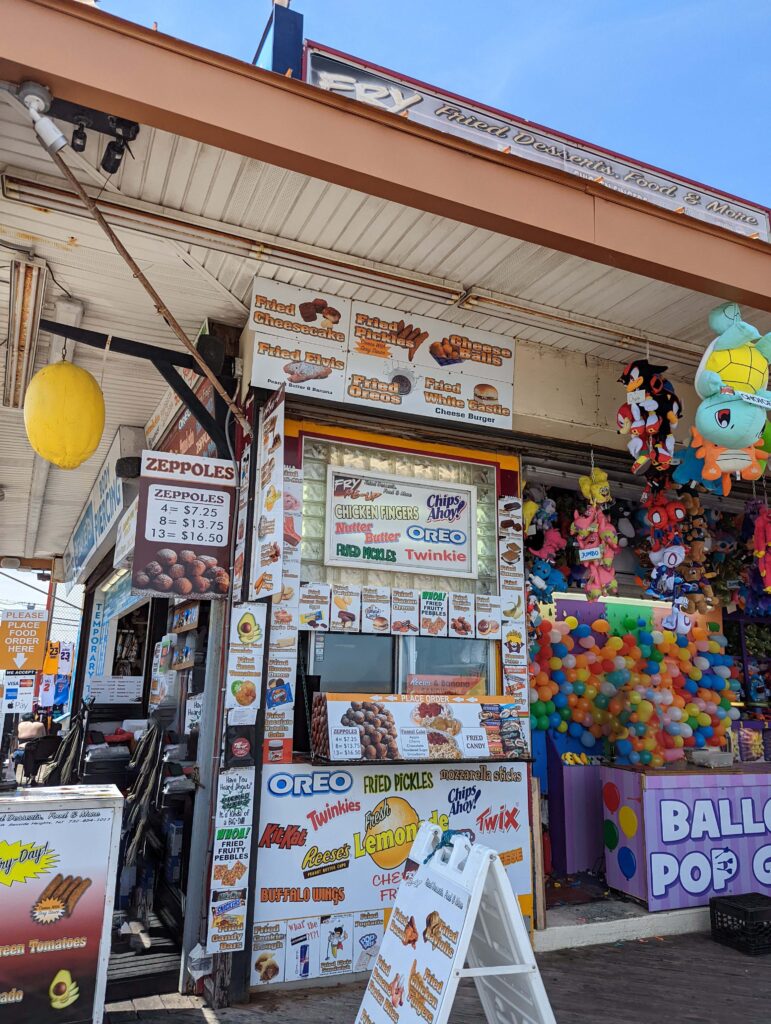 There's also s spot called Jersey Roll. Maps link. This spot looks pretty good.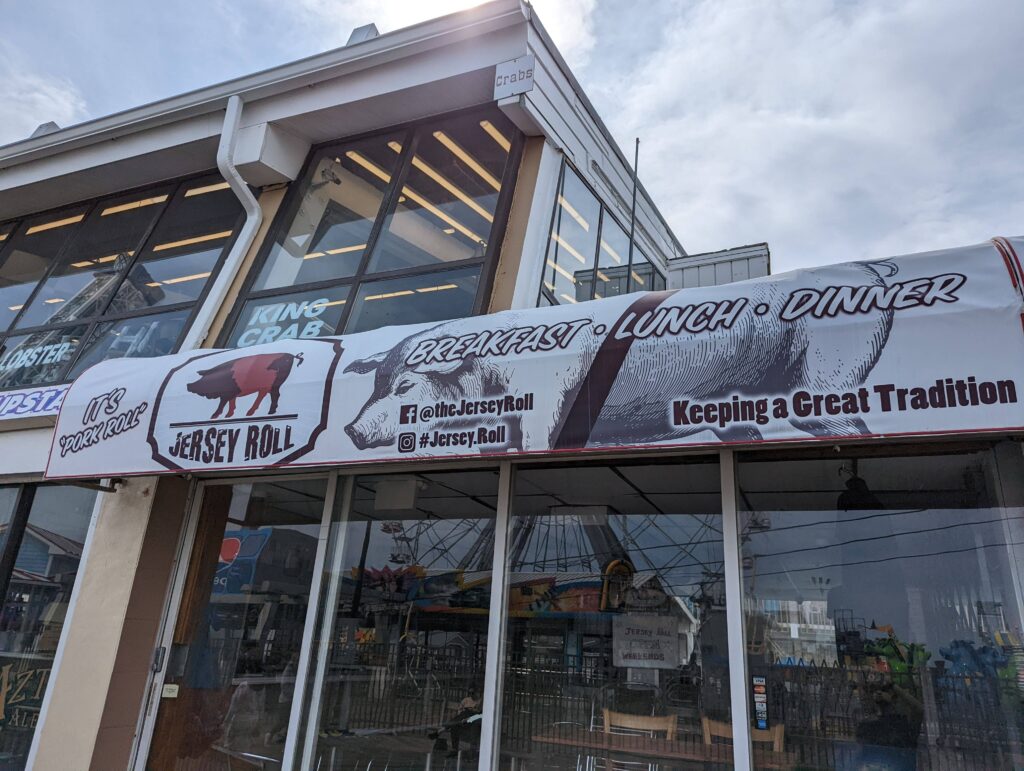 Here's their menu: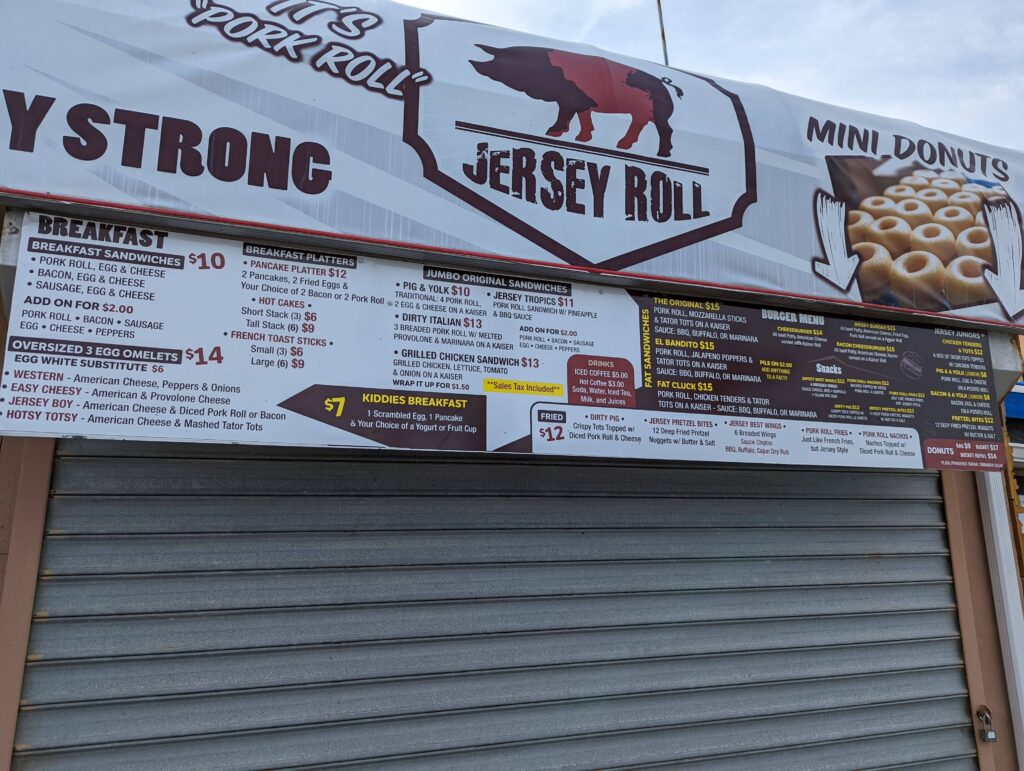 Scooter Break
Lastly we walked to this scooter rental spot called Seaside Scooters. Maps Link.
If you come on a cool day make sure you have some layers. It can get cold when you start picking up some speed. The scooters topped out at around 40 mph. They also have a nice compartment area under your seat. We checked out West Point Island while we were riding because the owners recommended that. There are a lot of interesting homes and fine real estate in that location. It was cool to catch a glimpse of some of the high-end beach properties.
If you check out West Point, it will take about 15 minutes to get to the island and explore it. We rode north a little after that then went south along the road closest to the coastline. We went for an hour so it was $55 per person. It was one person per scooter and they need your driver's license and a credit card. It was a lot of fun.
If you have any concerns about inexperience the guys in the shop seem like they'd be happy to put them at ease. They run you through a little test at the beginning and make sure you know how to operate the scooters. Really nice people. They also offer bicycle rentals. I'd definitely come back when I'm in Seaside.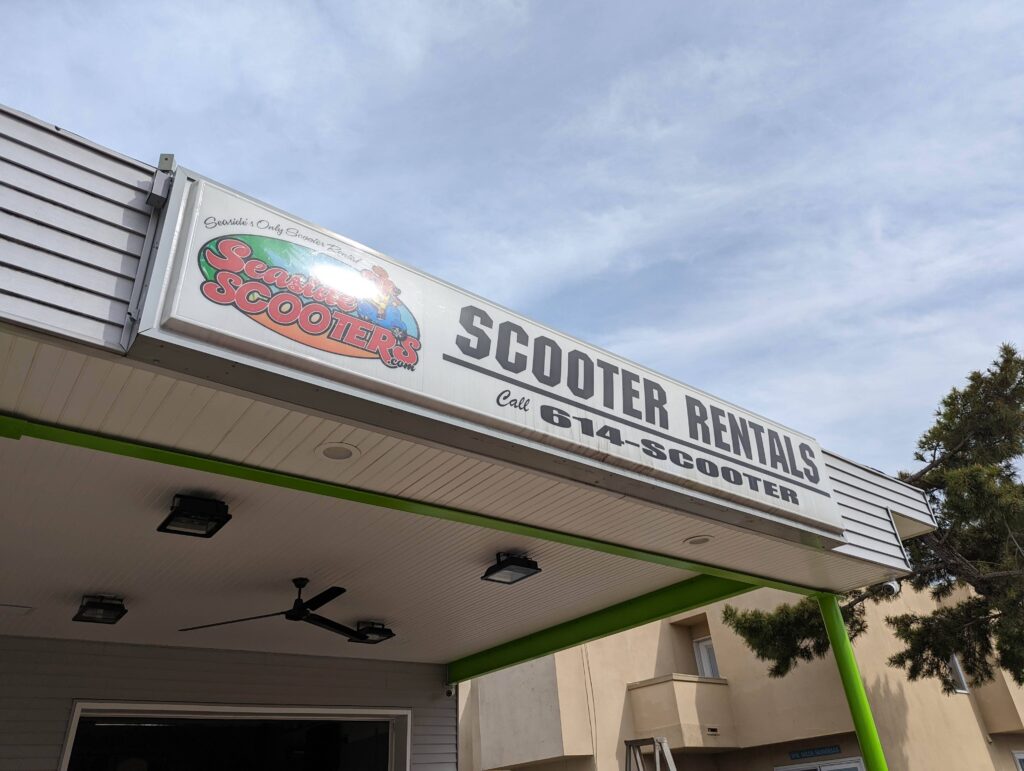 Extra
There was this board walk barrier in front of a section of the board walk. The amount of bolts on one of those posts is insane. I put a picture here. I wonder how necessary that is. Reminds me of the poor spending habits of government programs where a screw can cost hundreds of dollars just so they can use all the money alloted in their budget so they can ask for an increase next year.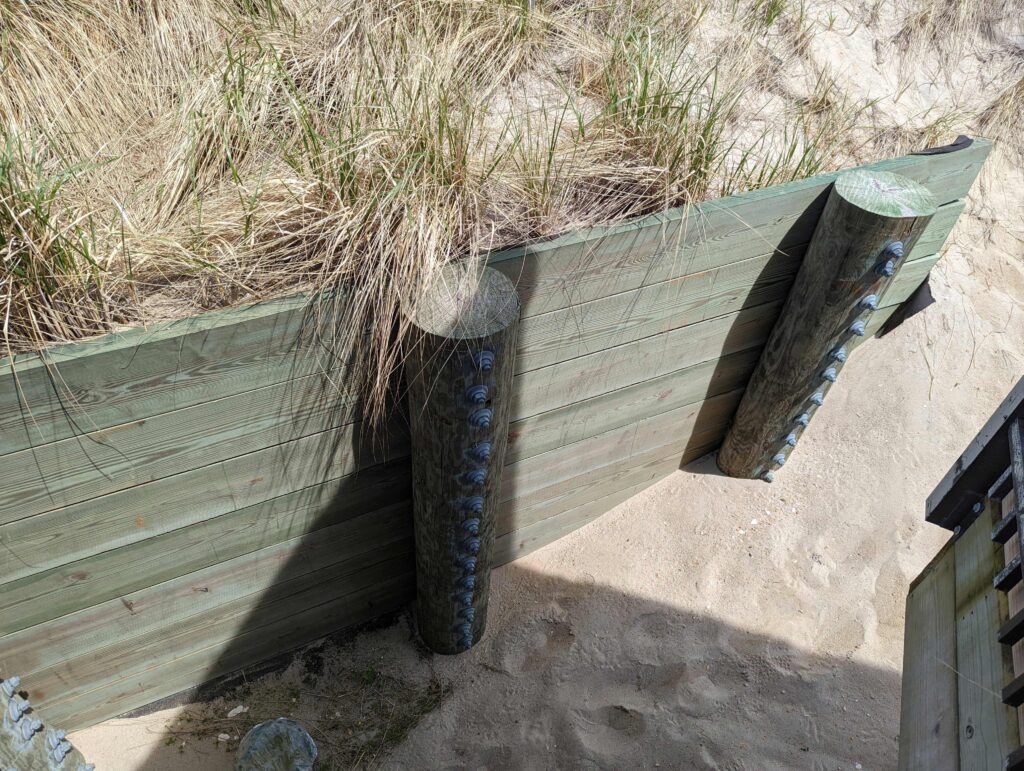 Wrap up
Seaside is a great boardwalk. It's a little early but it was still a great time. It's worth it to come down and walk around to burn some calories and enjoy some good food. Things I reccomend trying:
Midway Steak House – If you want a sausage sandwich, go for it. You won't be dissapointed.
SawMill Pizza – get a 27 inch slice and get a picture with it.
Seaside Pizza and Grill – If you want a special slice or a good plain, this spot is a great option
Seaside Scooters – they offer bikes too but the scooters are awesome.