So I had the pleasure of attending the apple weekend at Peddler's Village. I think the event was good fun but a little too crowded. If you wanted food, there would be a line out the door to get something. Even at the food trucks you would have to wait in a line for a good amount of time.
There was some good food here but I think a lot of it was overrated.
Day One: Meaty Saturday
Alright so I started out the day by having some free popcorn from the Regal movie stand. There's a really nice popcorn shop in the village but I didn't want to wait in line for it so I just had some free stuff from the Regal stand.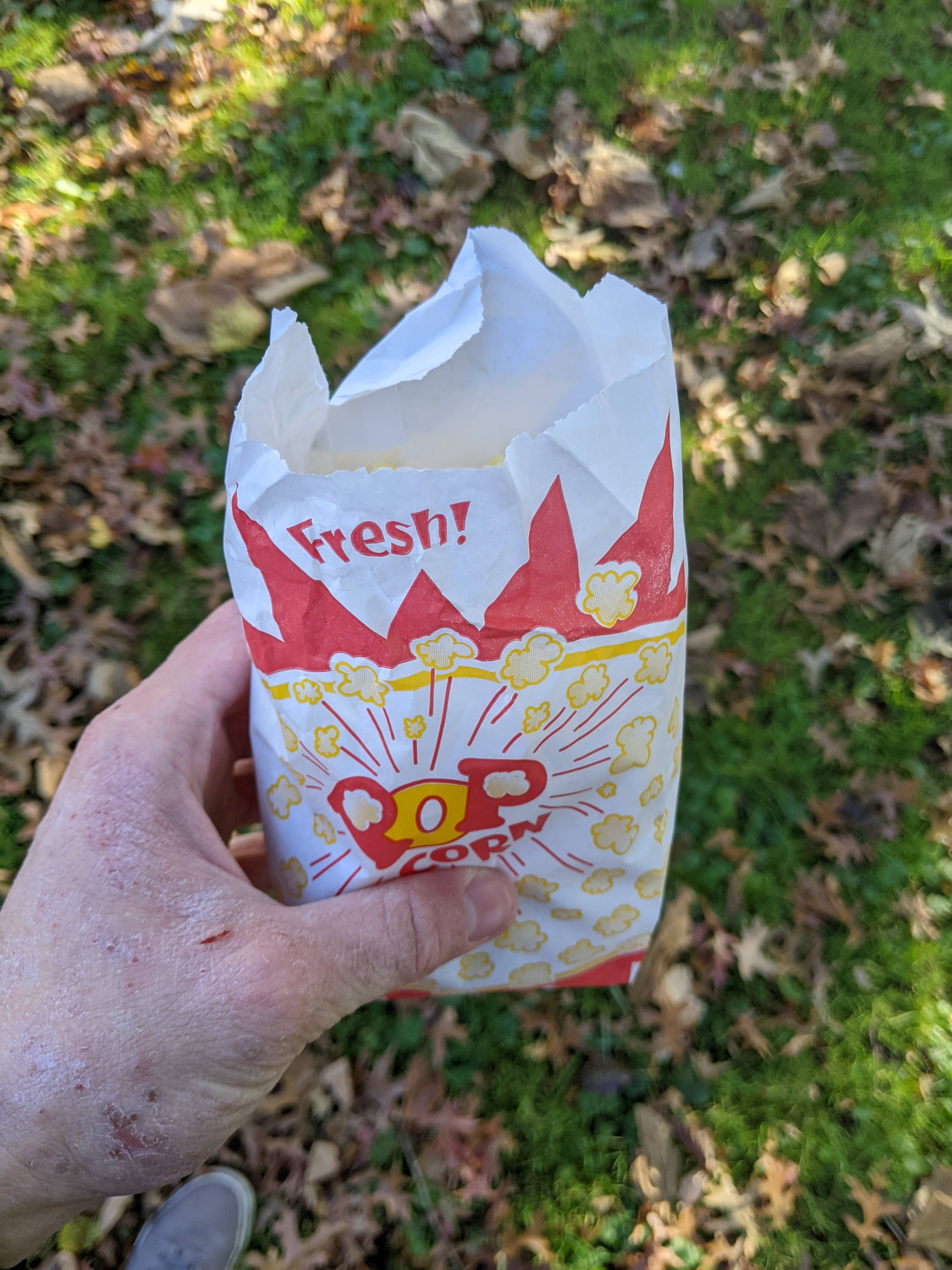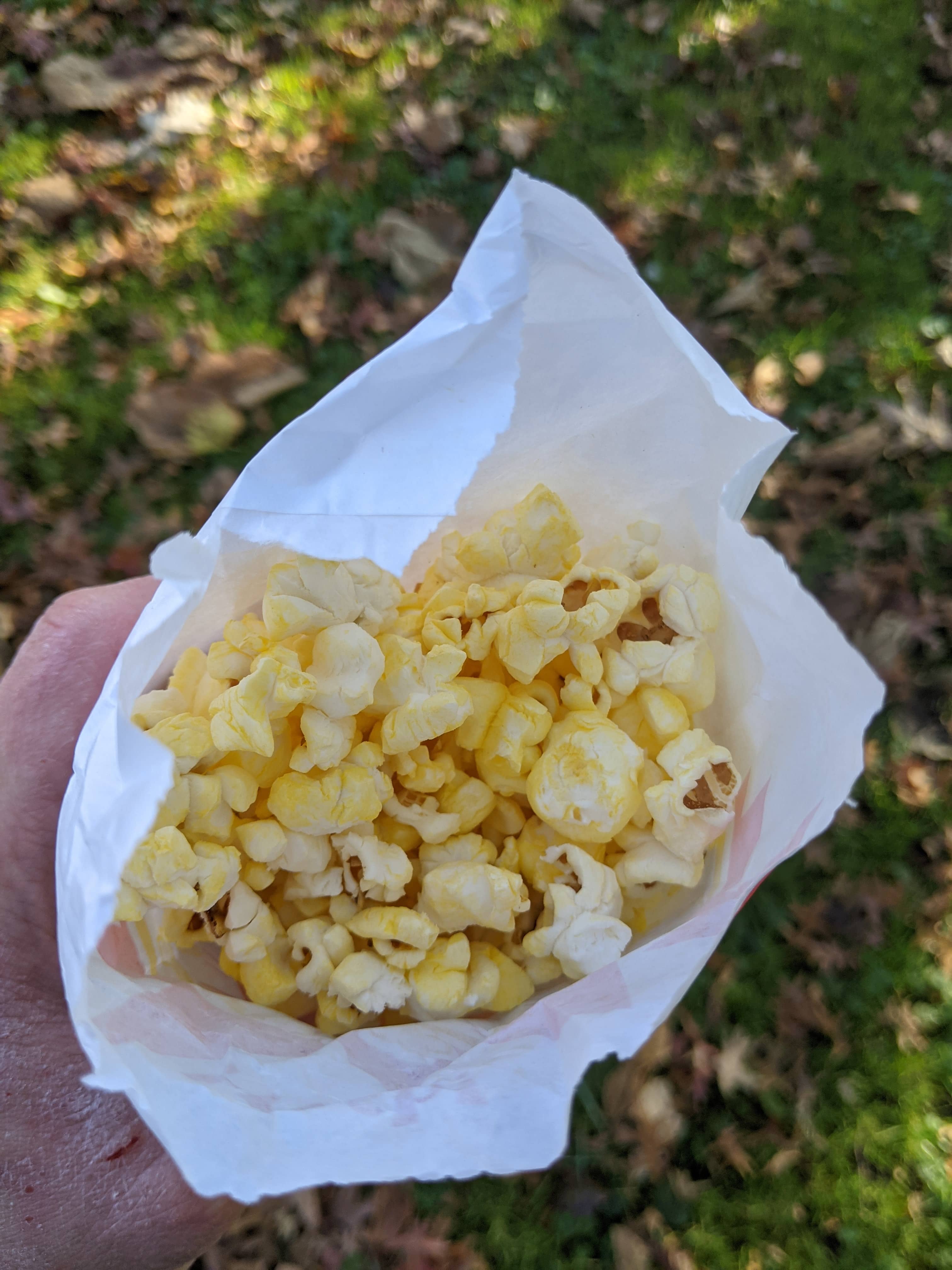 Next I got a coffee from a spot called Old Village Roasting. It's a pretty nice shop. You walk in and it feels like you stepped back in time to a medieval tavern.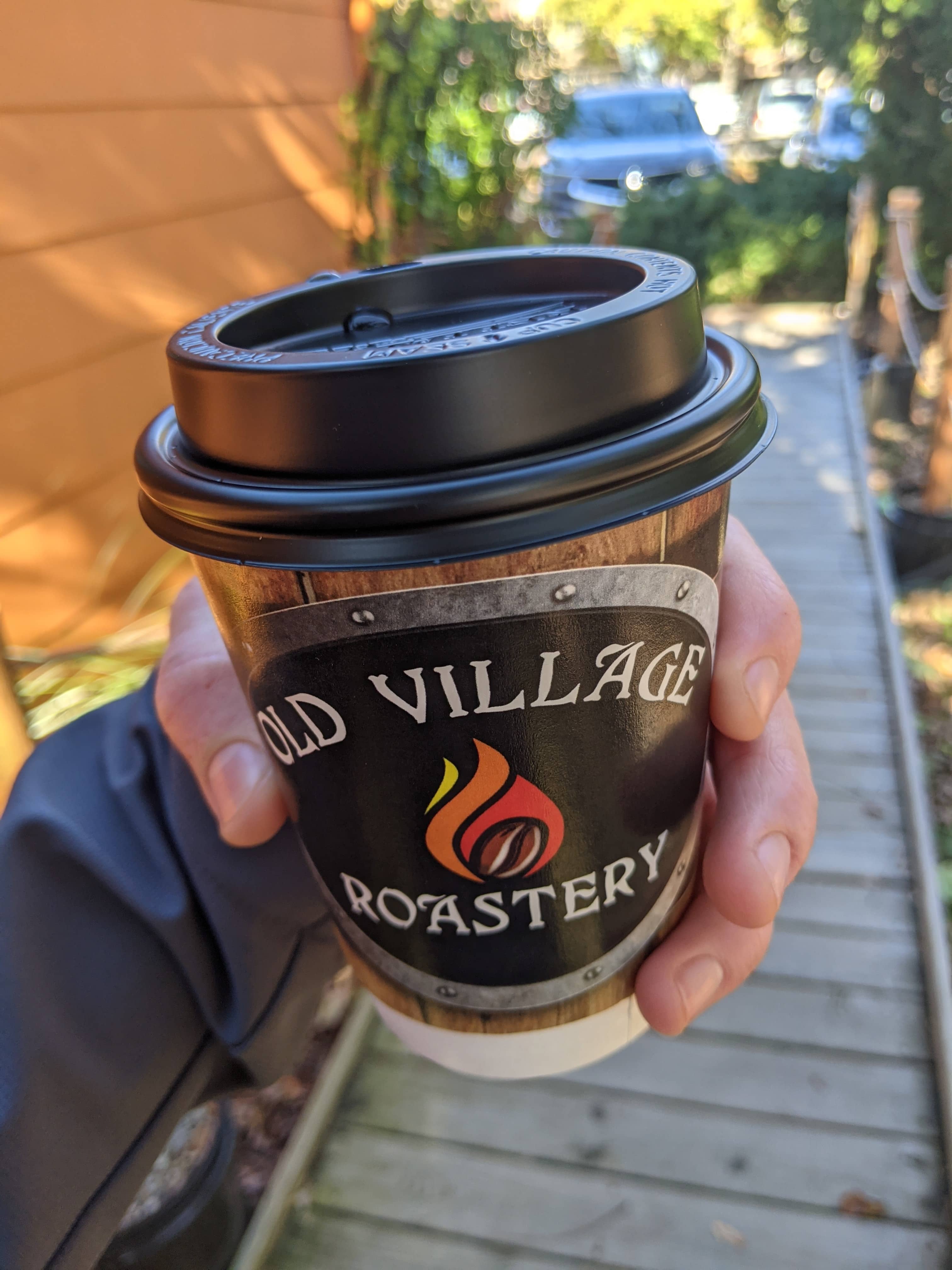 After some walking around I wanted to get some protein. I decided to try a stand that was outside the Jerky shop. They offered a few apple themed foods. I decided to go with the apple chicken sausage sandwich. It was a poor choice. It was good but tasted like something I could get from a grocery store.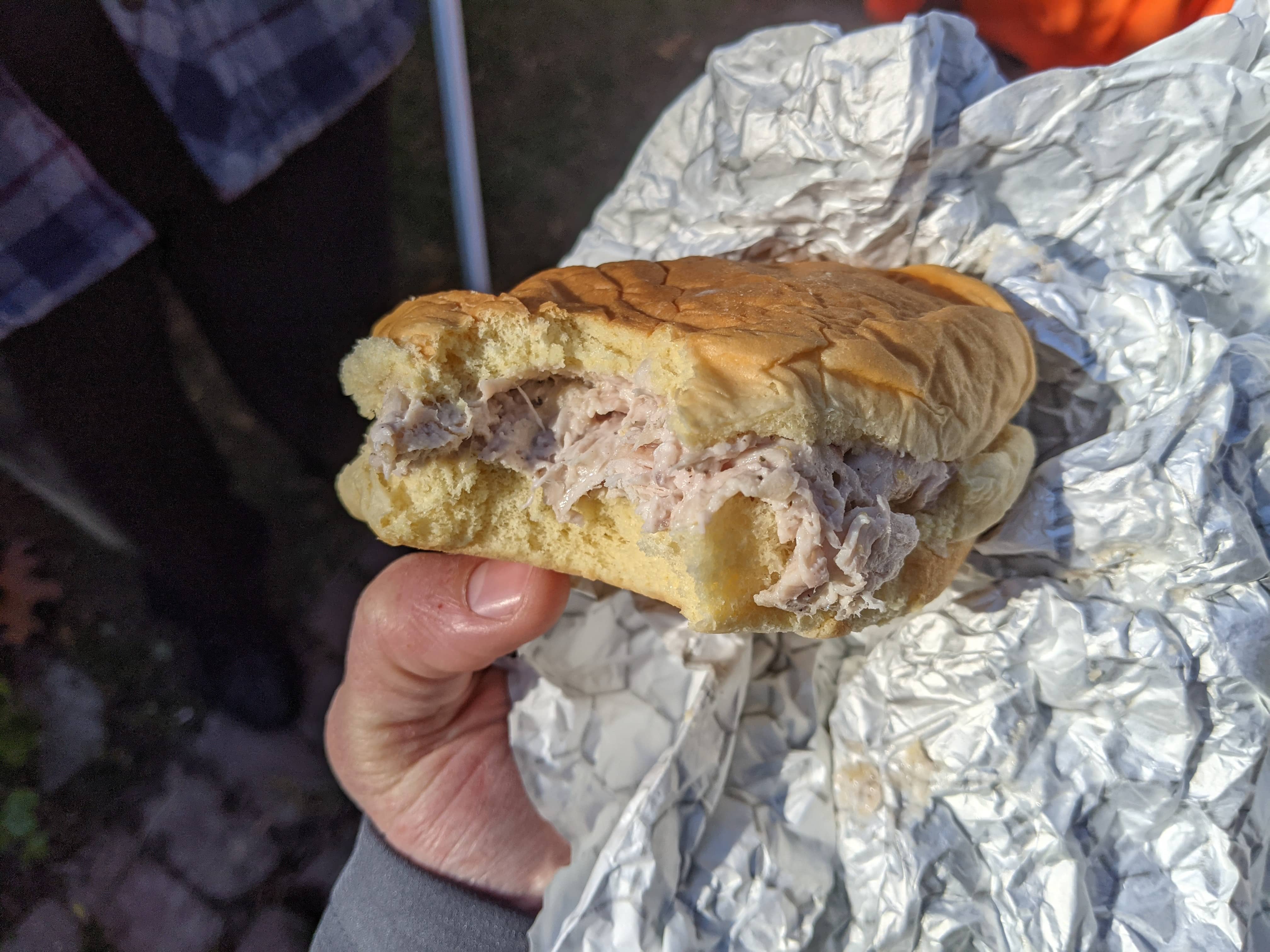 After that I decided it was time for a food truck item. I went for the Have a Ball food truck. I got two chicken parm balls and a peddlers ball. The peddler ball had turkey, apple, brie, cream cheese, and was topped with apple honey mustard. The chicken parm balls had chicken, parm, mozzarella, and were topped with marinara and parm.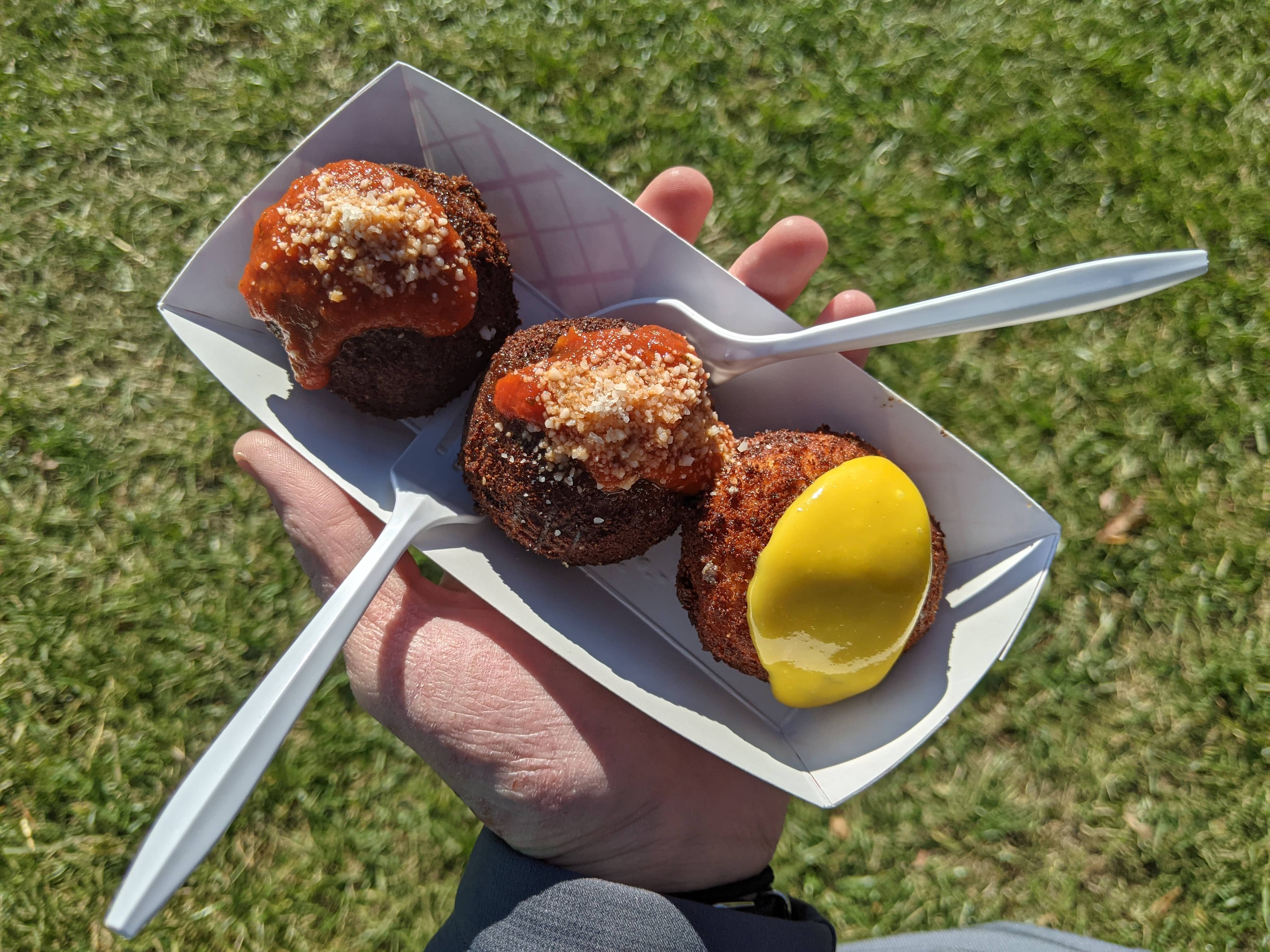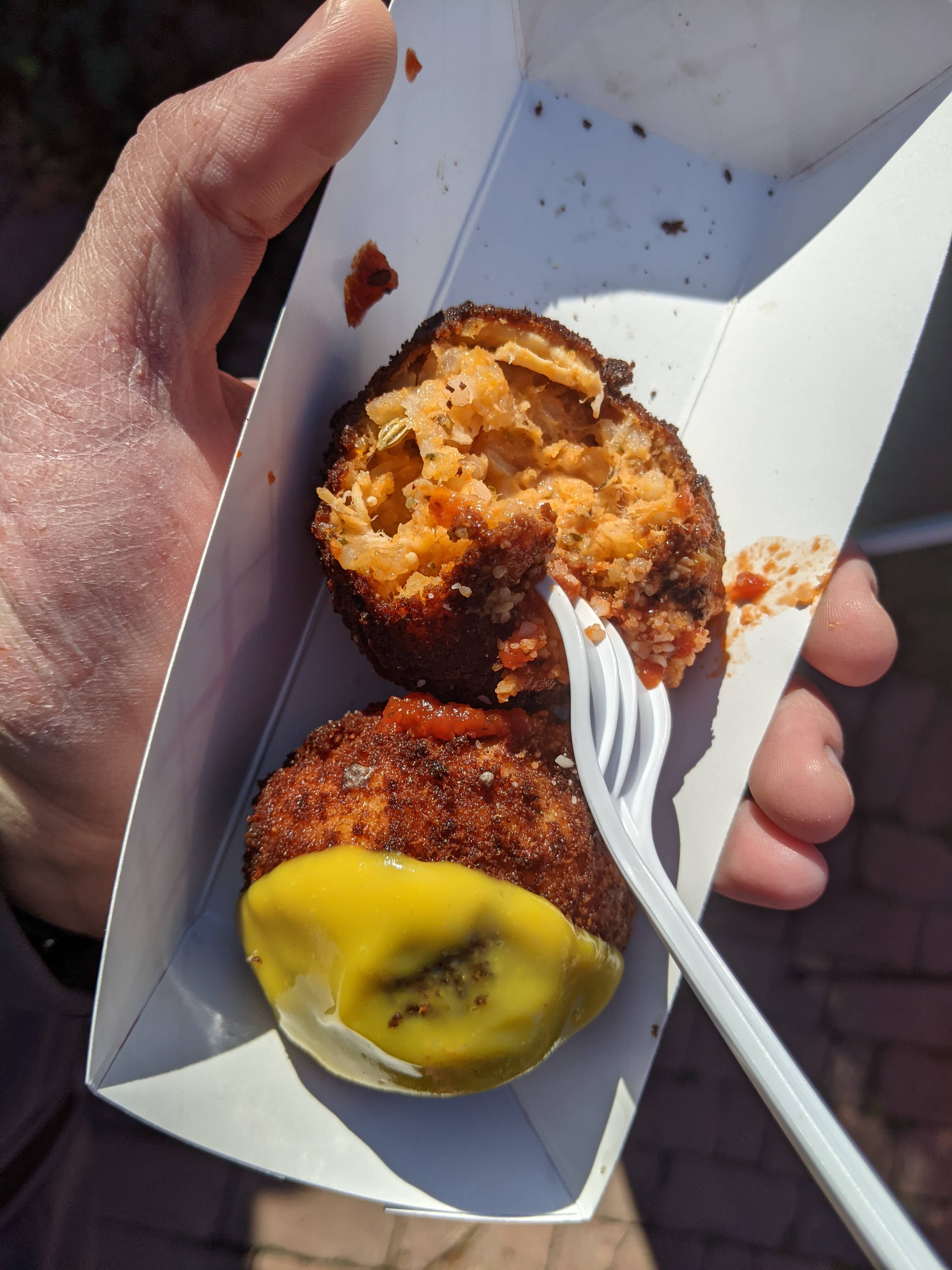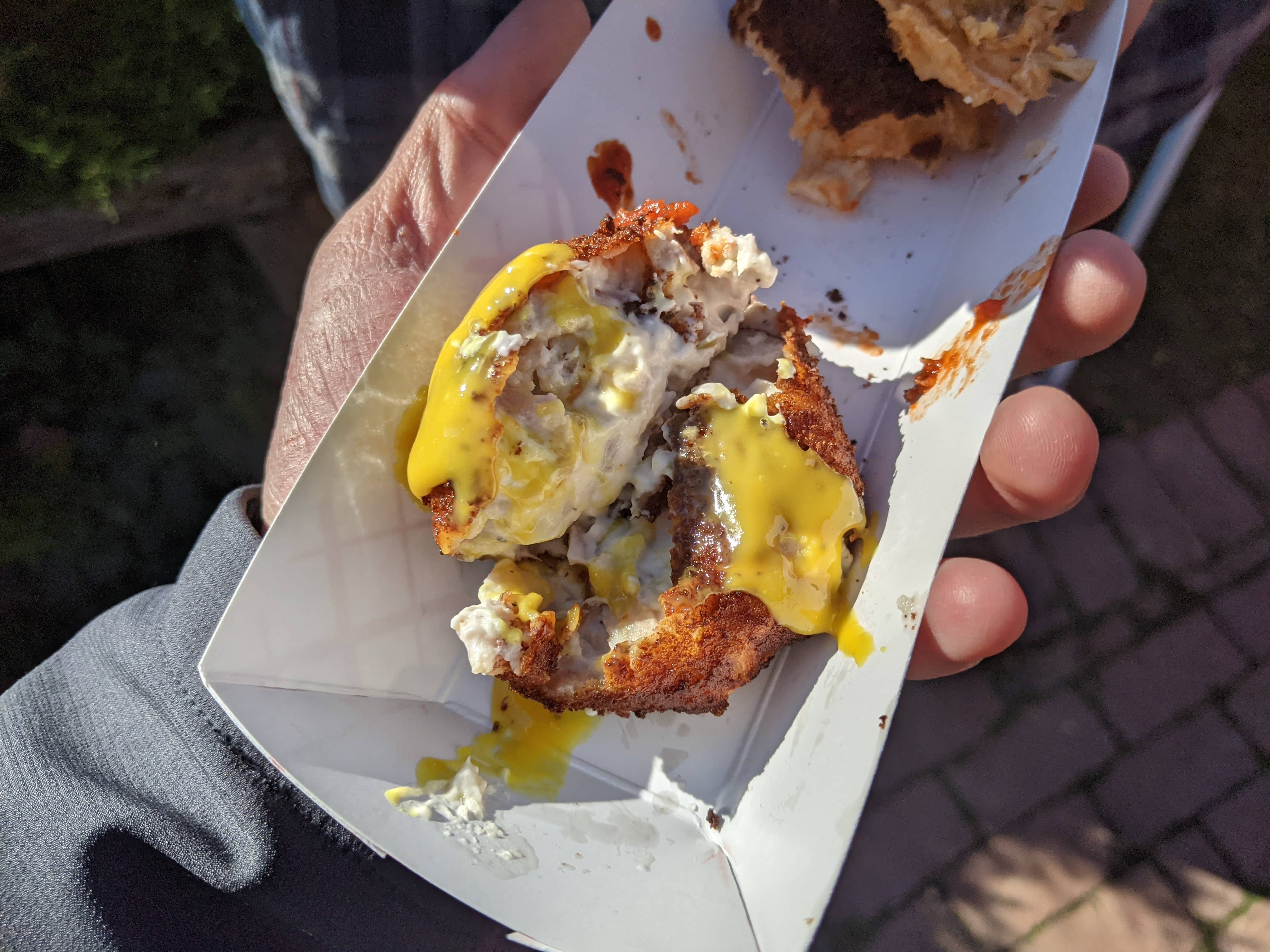 Those were pretty good. Fried food is always a treat. The peddler's ball reminded me of a jalapeno popper but with an apple twist. The chicken parm ball also had a lot of flavor going on. Really tasted like a well breaded chicken parmesan.
After that I decided to go with a little bit of a healthier option. They call it the apple festival but it seems that most people came here for the fried food, baked items, and beer. So I went with an apple. I got recommended a pink lady apple and it was amazing. Super crisp and had a mild sweetness.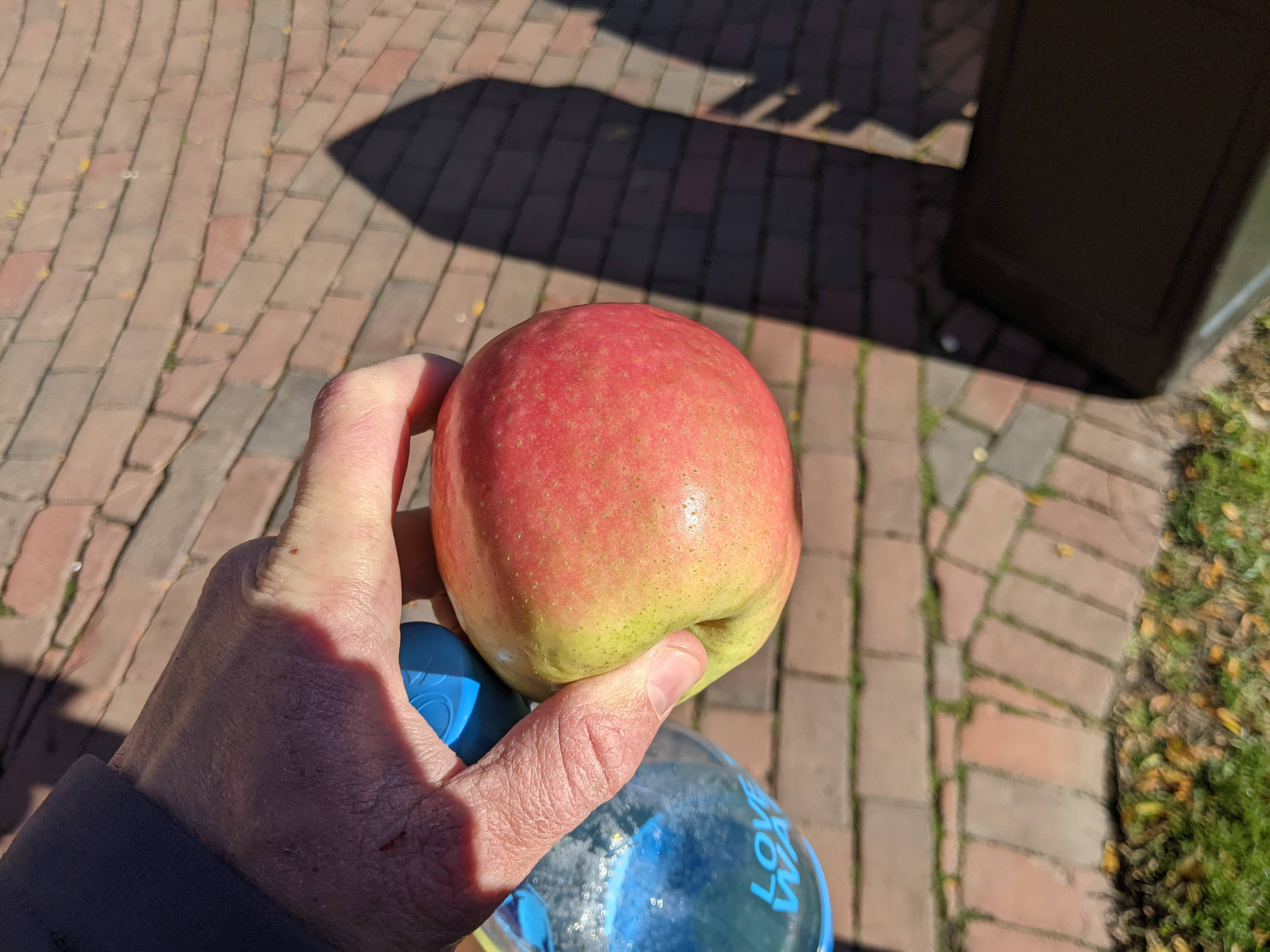 I also tried a candy apple for the first time. Felt like I was going to break my teeth on this thing.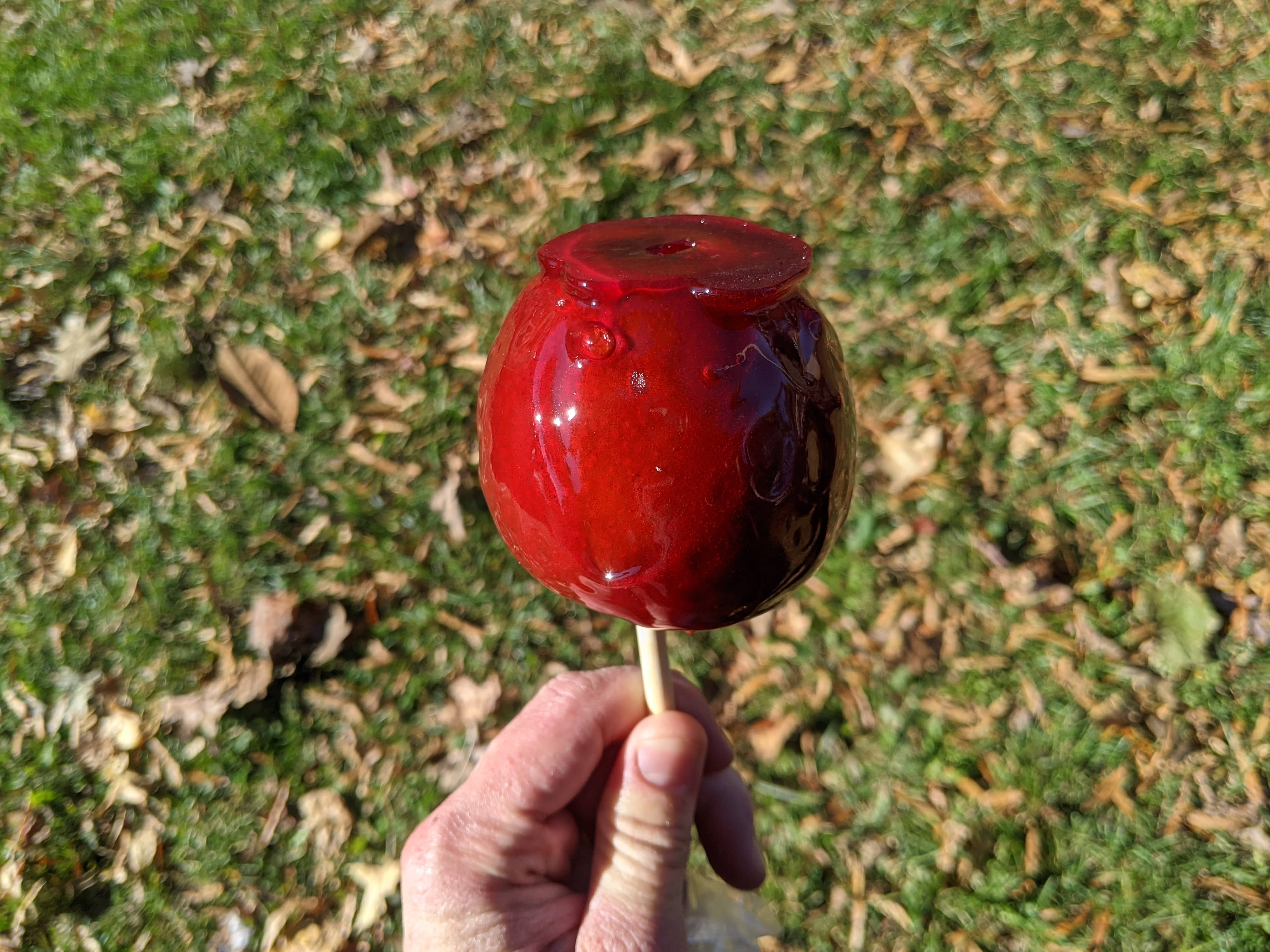 But I managed to break through that hard candy shell. Once you get to the apple it makes the next bites easier. I'd much rather have a caramel apple. I probably wouldn't buy one of these again.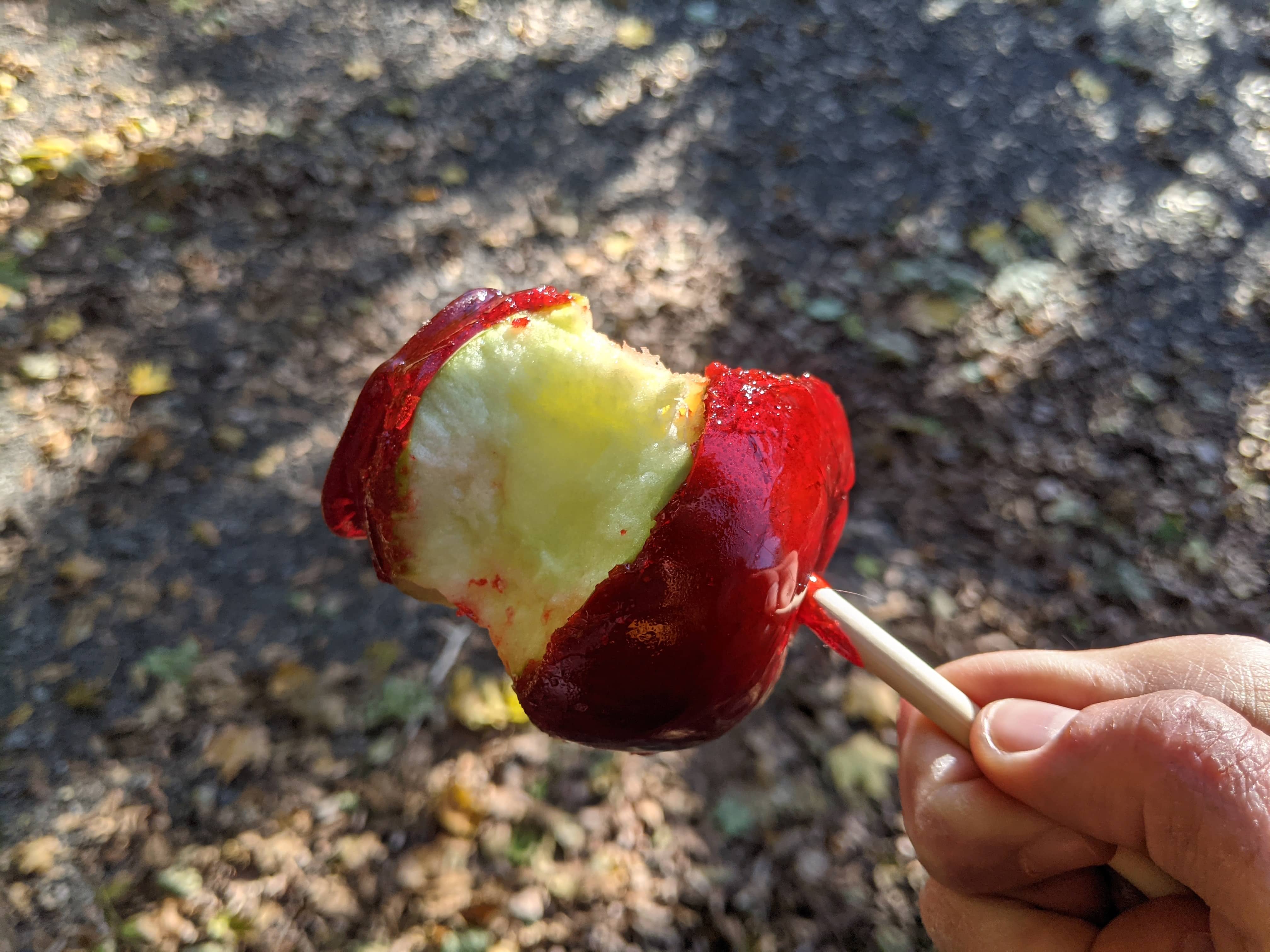 After that I walked around for a while. I wanted to build up an appetite for some more food. I decided to give the food stand another go and got the apple chicken sausage sandwich. This was the better choice. A lot better than the chicken salad but still not the best I've had.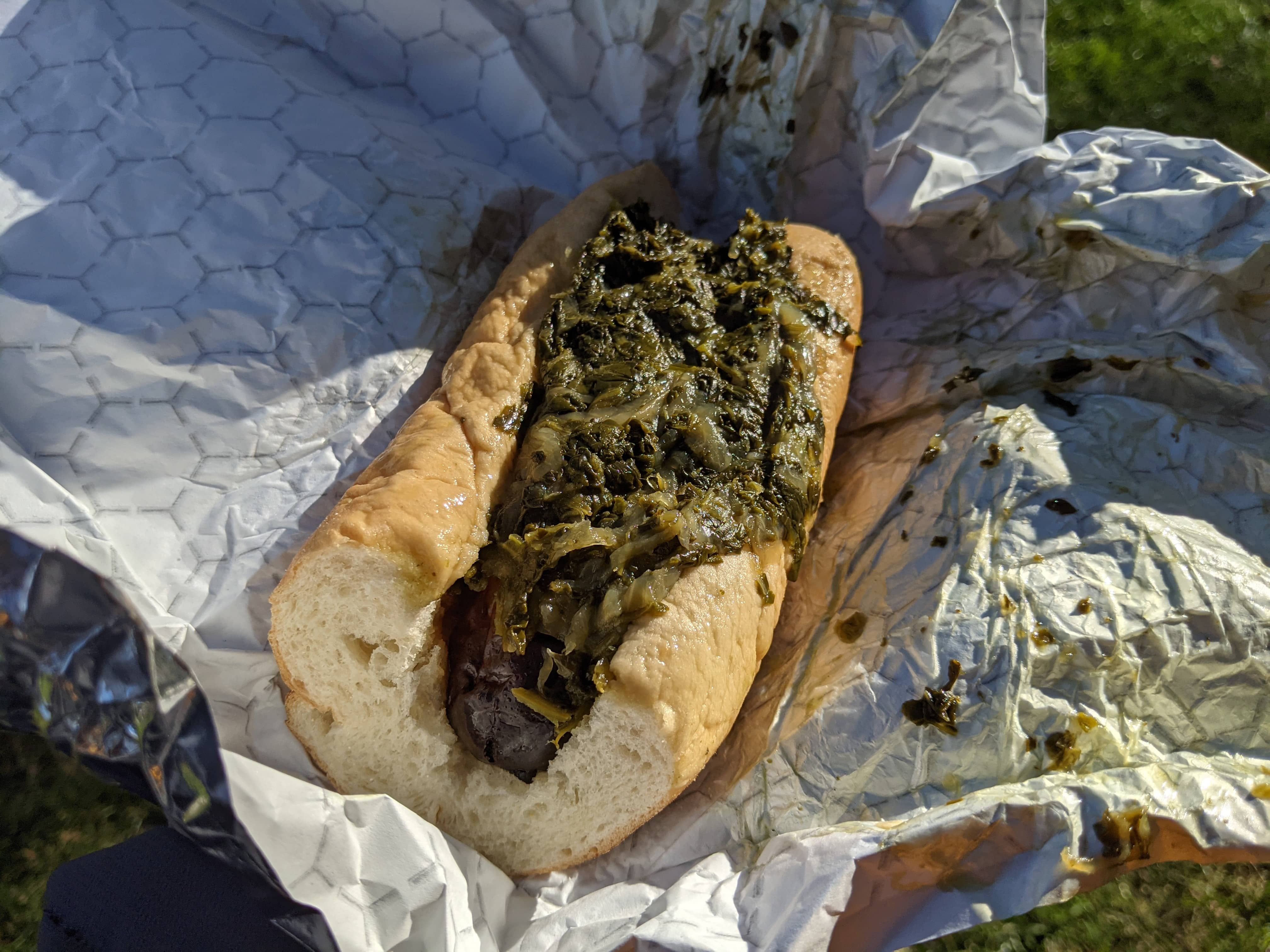 There was one desert that I had to try. It had a massive line and it looked amazing. It was the apple fritters. I got in line and started a timer. It took me nineteen minutes to get my hands on these. The wait is sort of worth it. They're like funnel cake balls with apple mixed in. They're pretty good but I probably wouldn't get them again.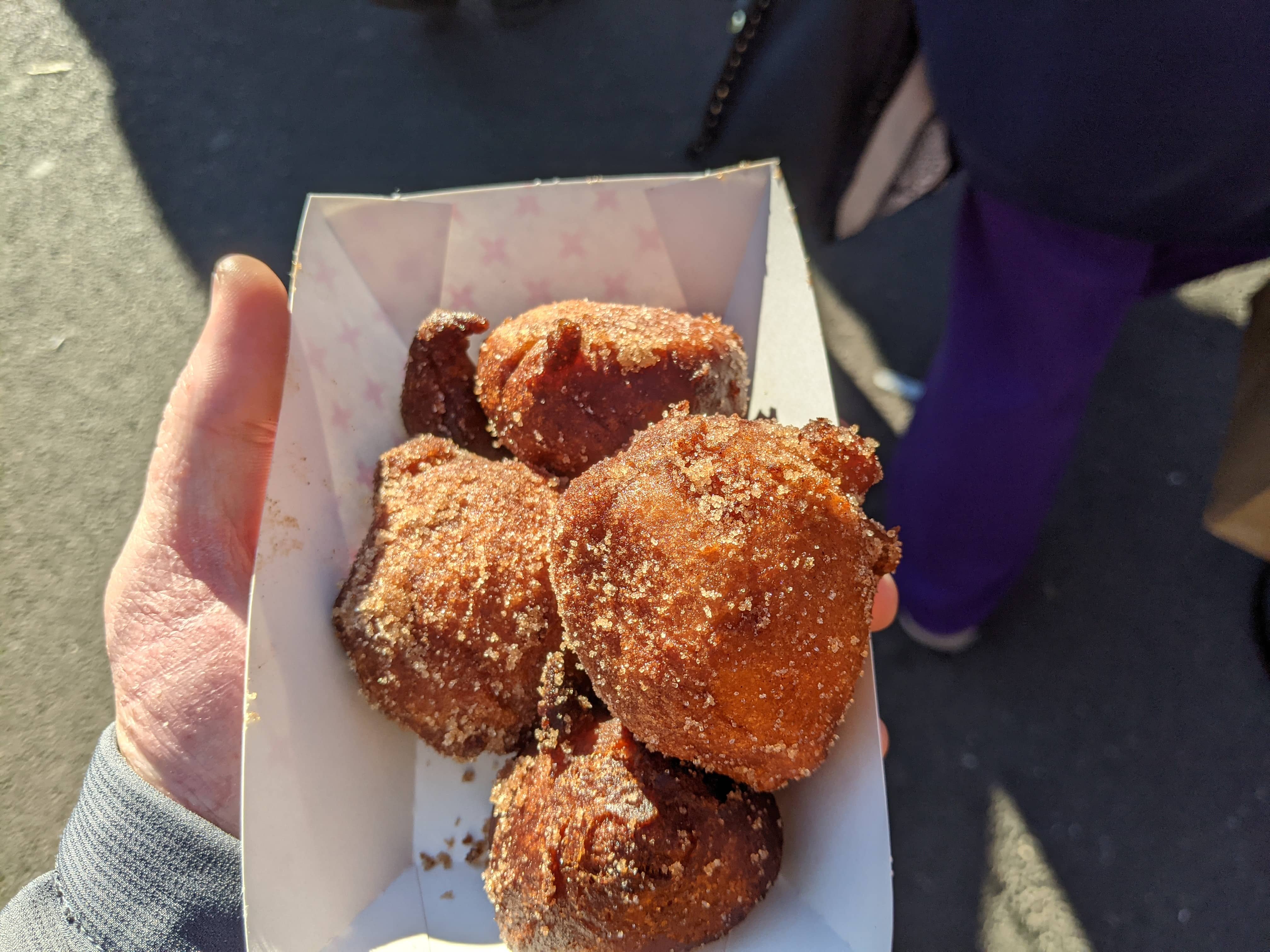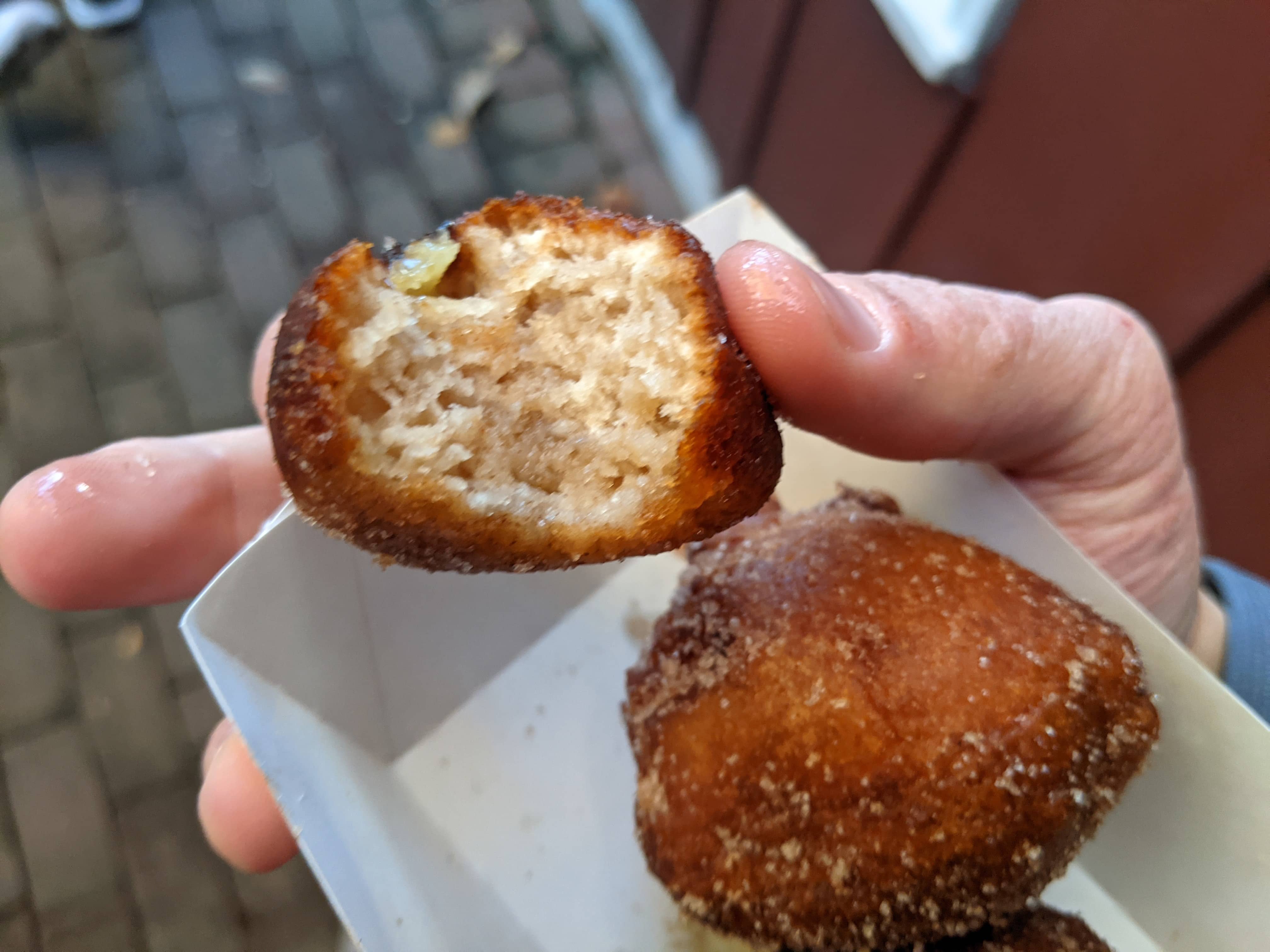 I noticed a barbecue spot on the way into the village and I wanted to give it a shot but the price of meat has sky rocketed so I was going to hold off. The place is called Holy Que Smokehouse. But I noticed it was their one year anniversary and they were giving out free tacos. I'm not going to say no to free slow cooked barbecue brisket. They also top it off with coleslaw. It was great and probably the best item I had that day.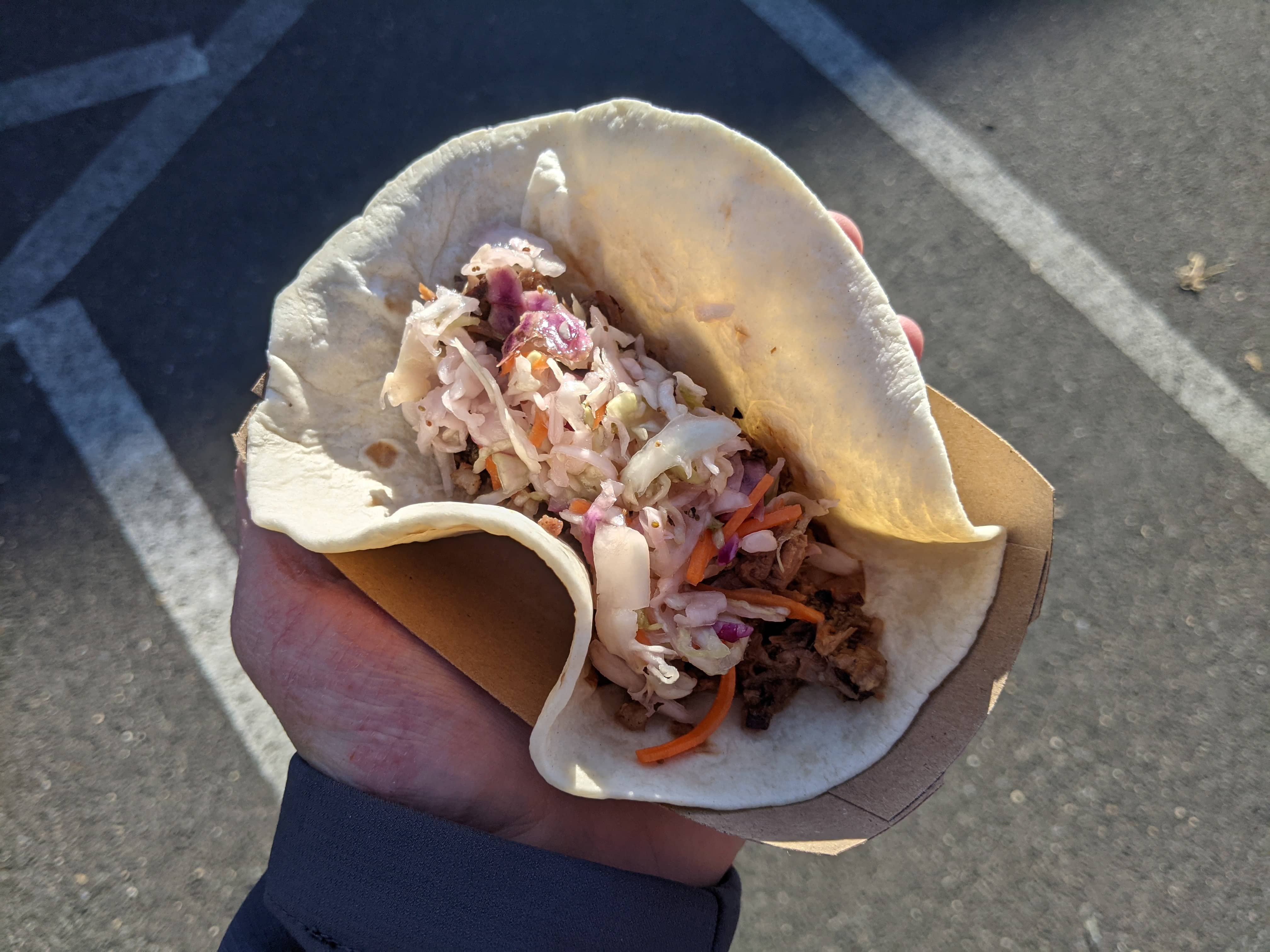 I didn't do too much shopping. I wanted to walk around a lot to increase my energy expenditure to help digest all this food I was trying. But I did check out this international shop and it had a lot of interesting snack items. I was going to pick some up but I was feeling full.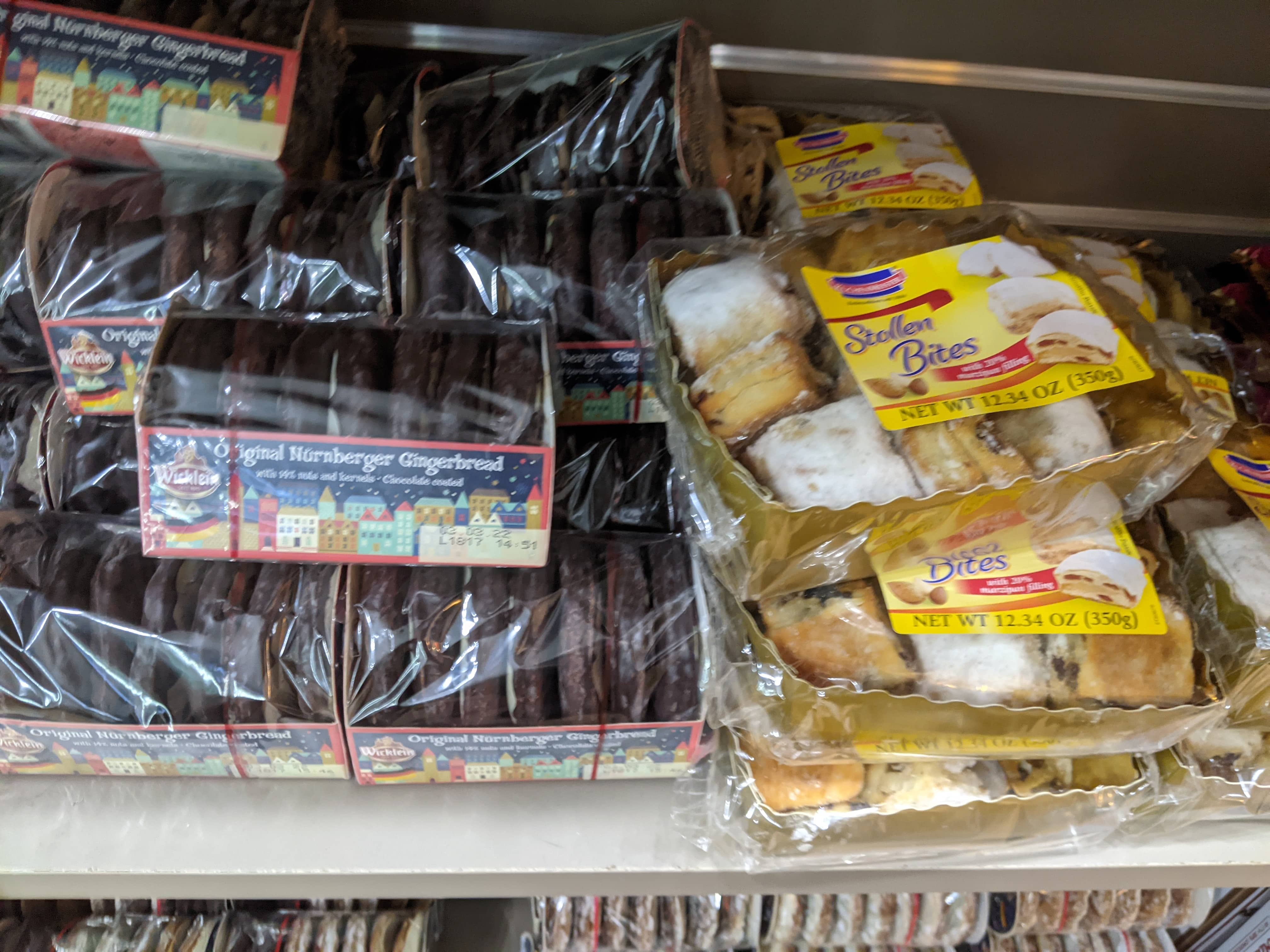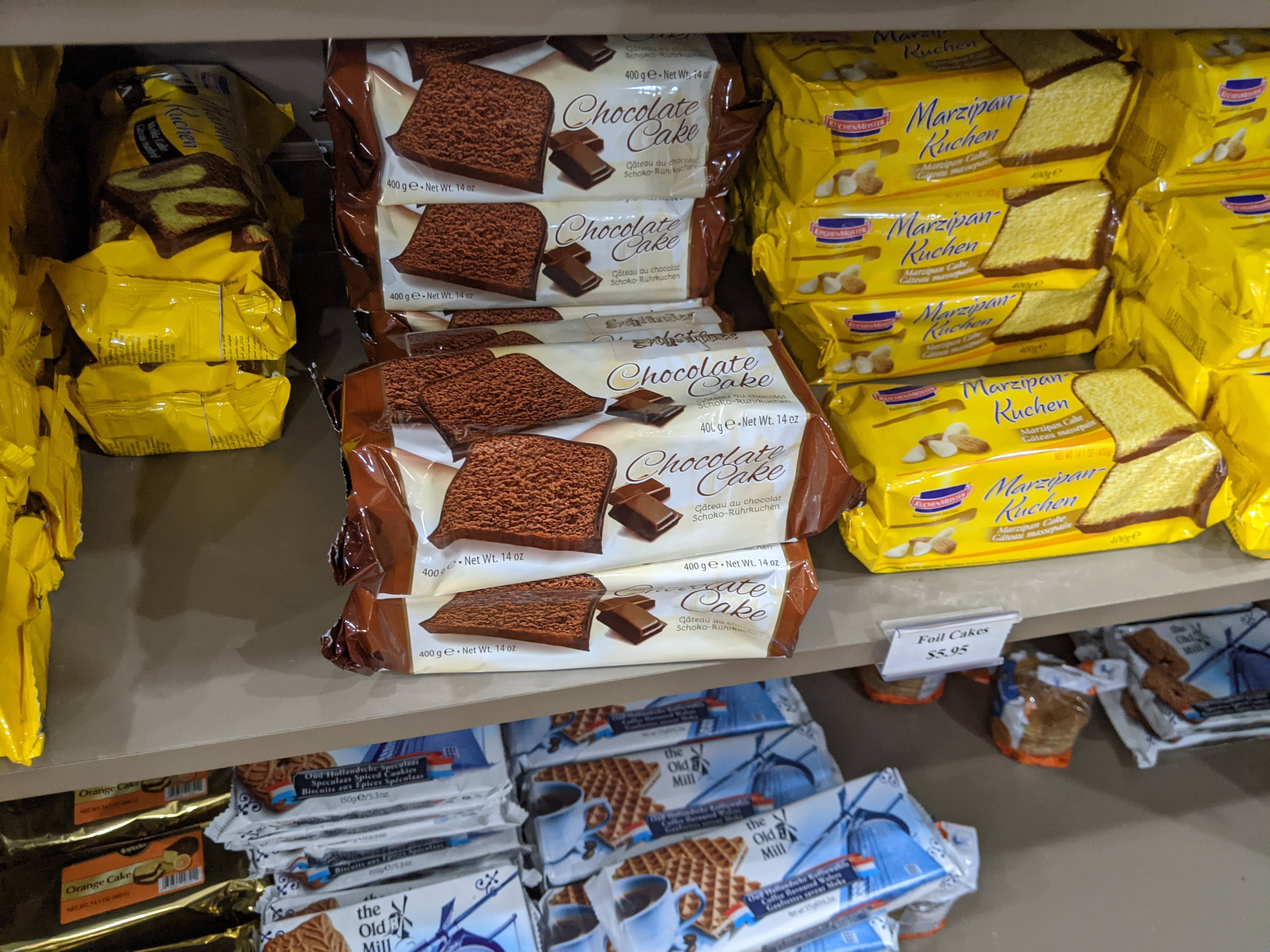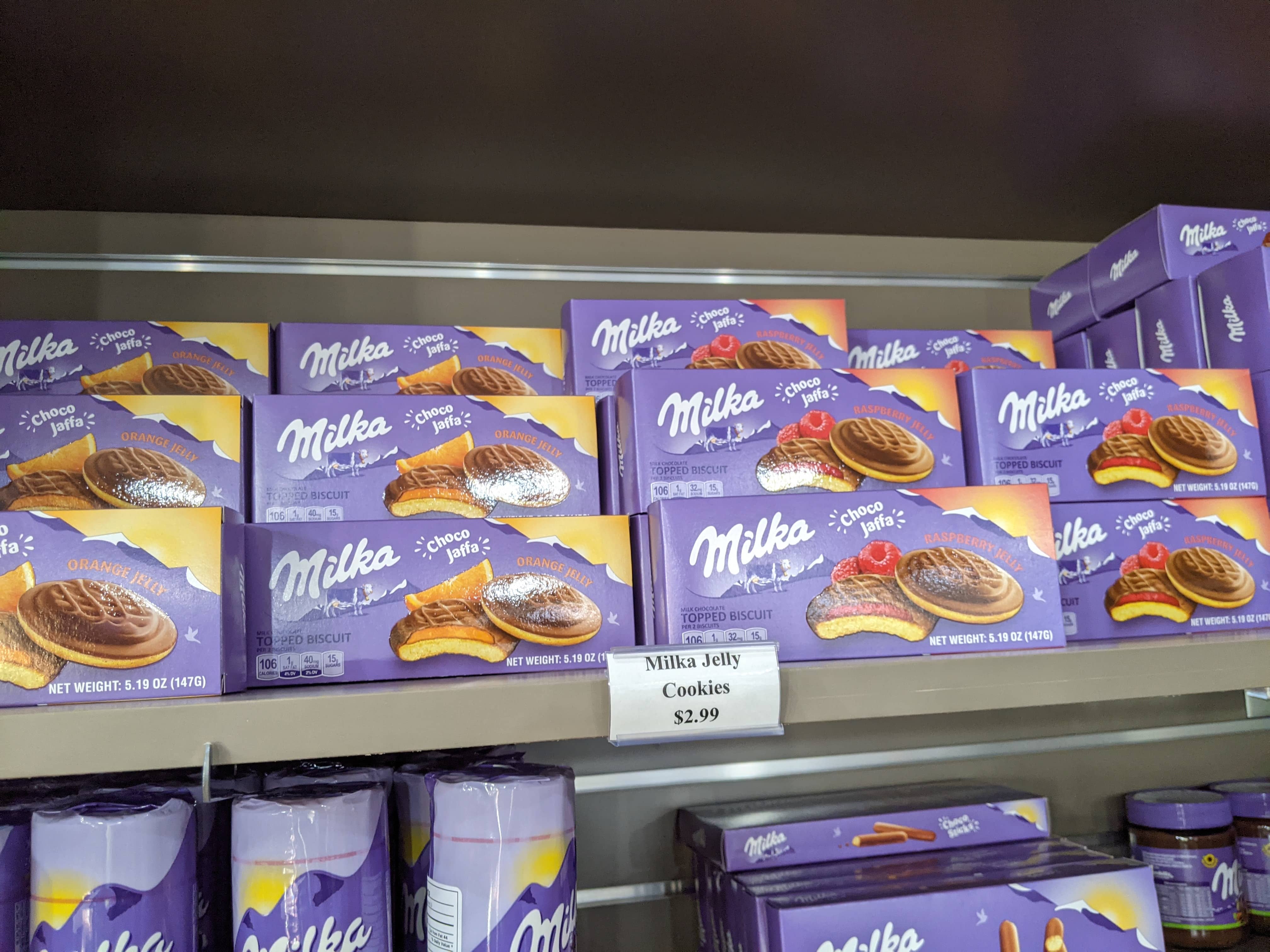 To end of the night I to a visit to an ice cream shop in Newtown called Zebra Striped Whale. I saw this spot on the Bucks Sweet Spots Trail. When I saw the name I knew that I had to make a stop sometime. They have some pretty great ice cream options. It reminded me a bit of cold stone.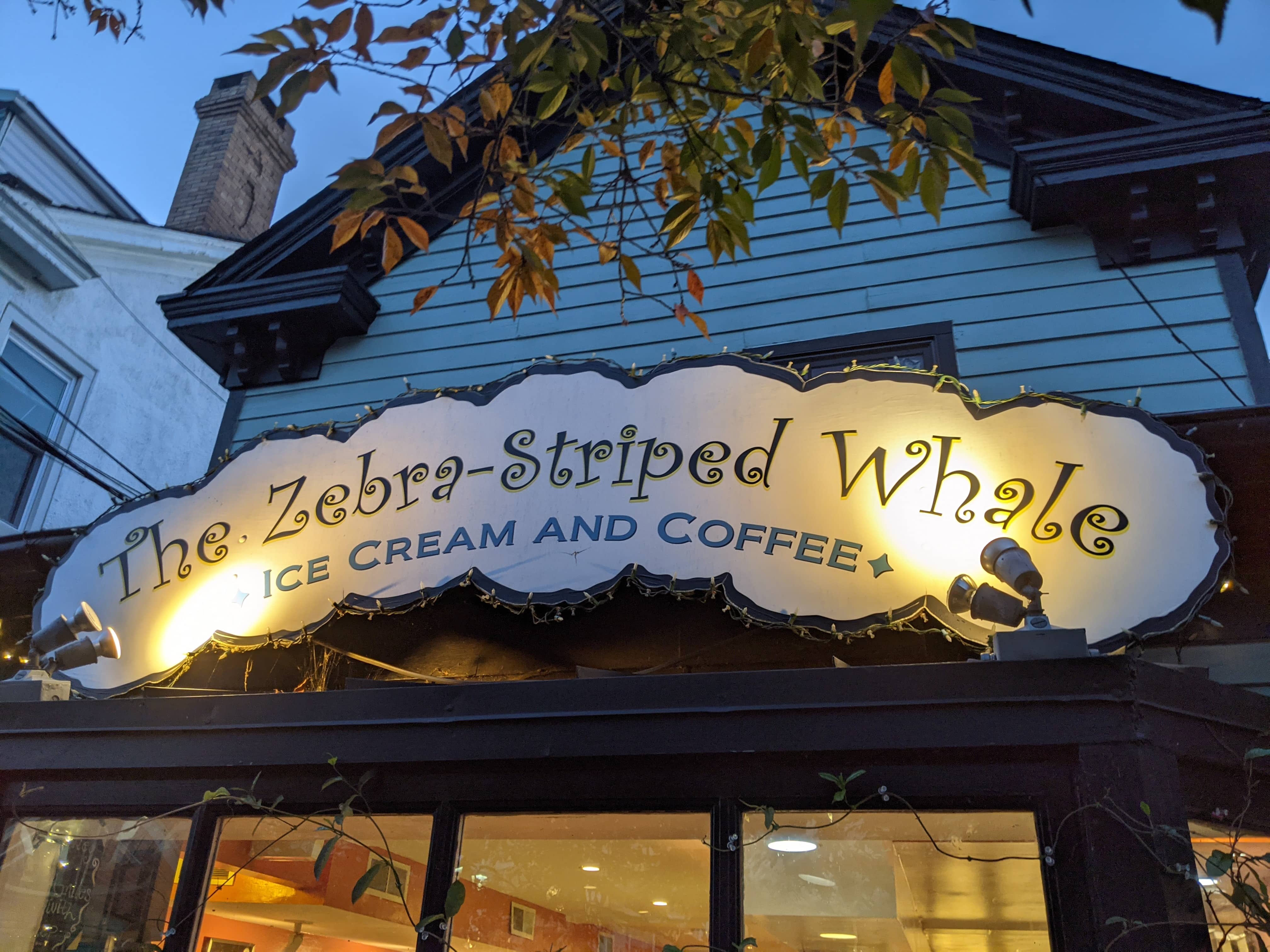 I decided to get a whirlwind cookie dough thing. They basically mix the ice cream on a cold stone with some toppings. It had caramel sauce and white chocolate chips with cookie dough ice cream. It was great.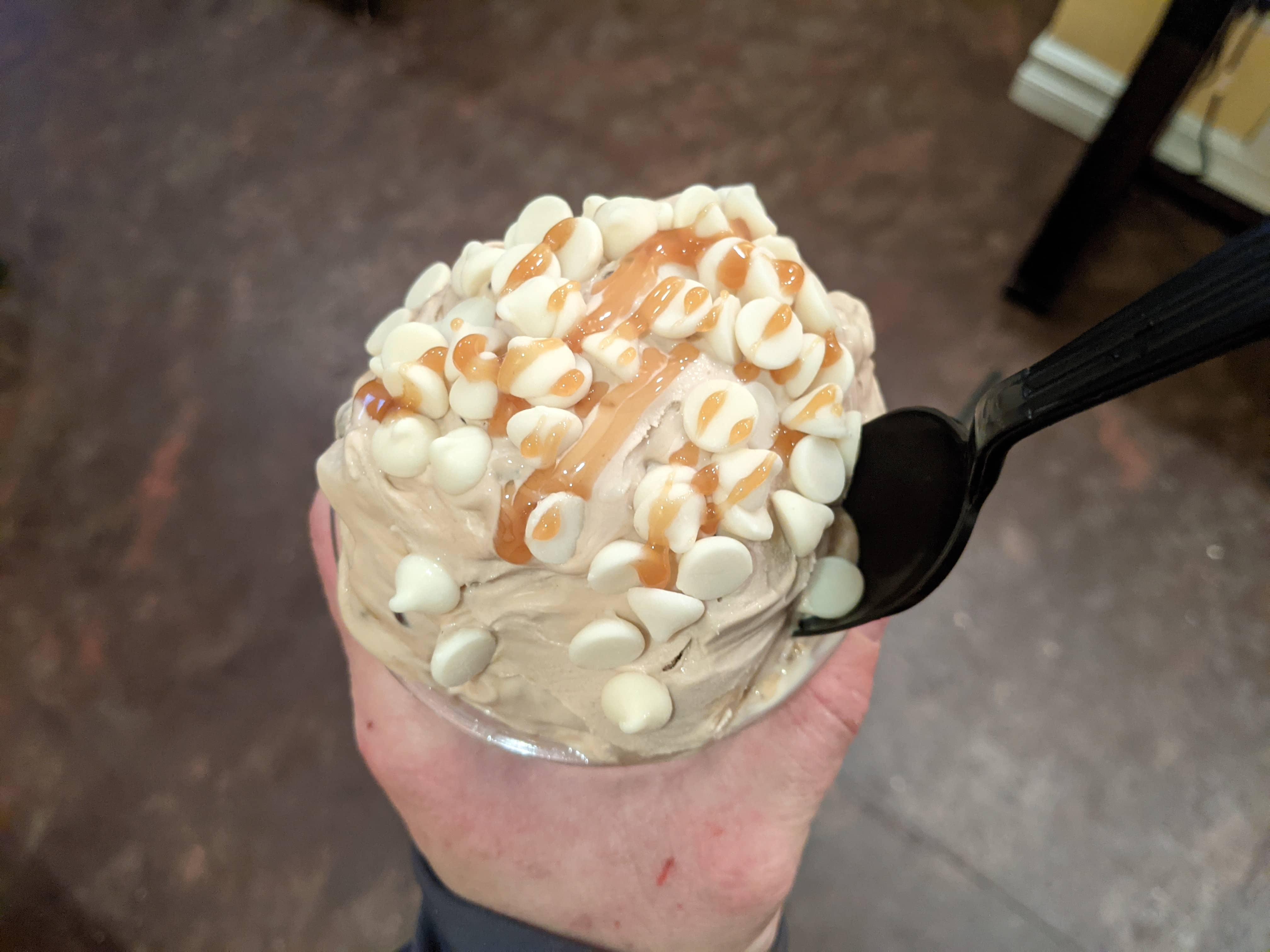 To top of the night I had a bit of an apple pie that I preordered from the Village's general store. They said they always sell out so it's best to place a pre-order. I have to say that I wasn't super impressed. It was good but it didn't make me dance.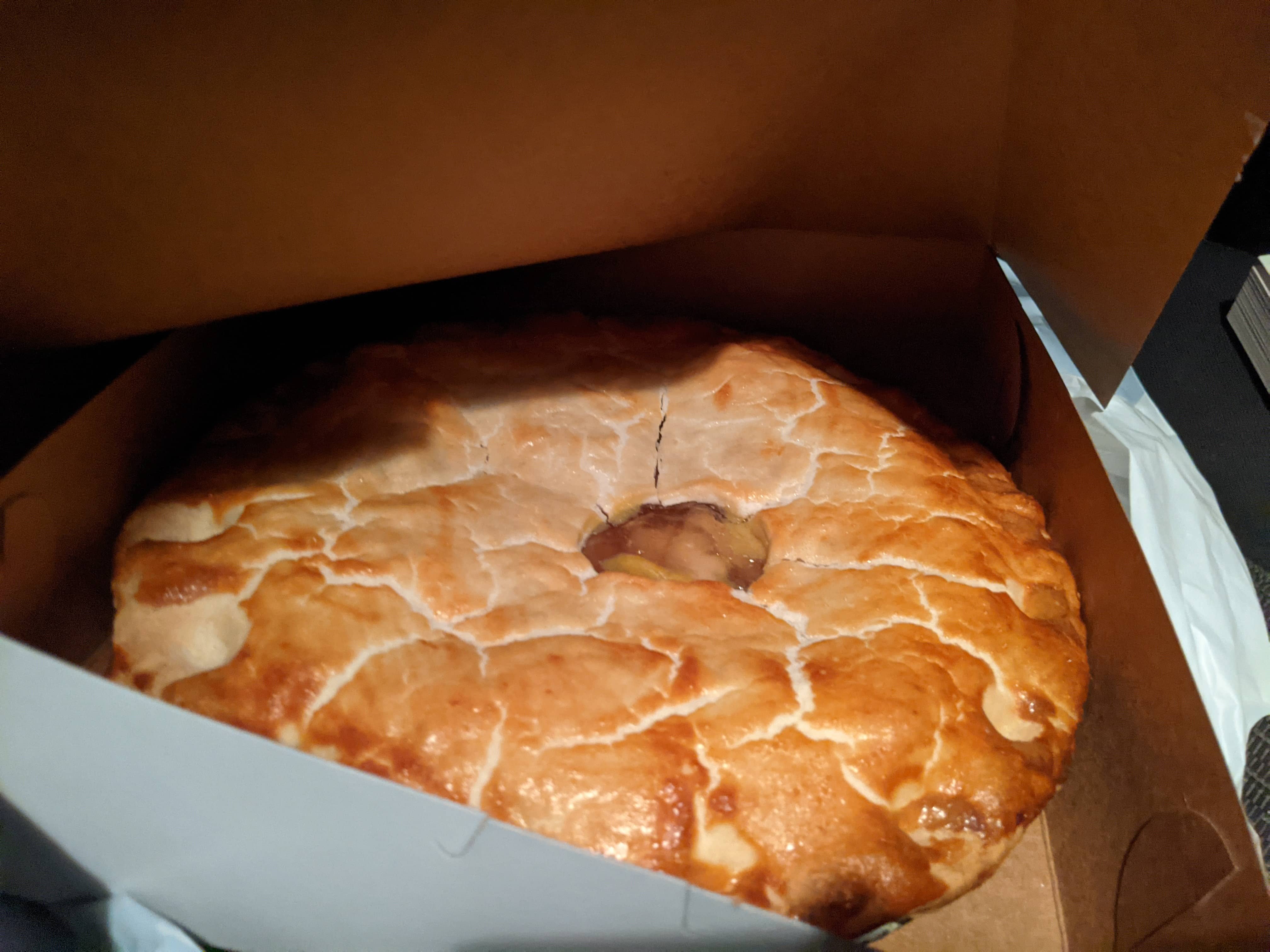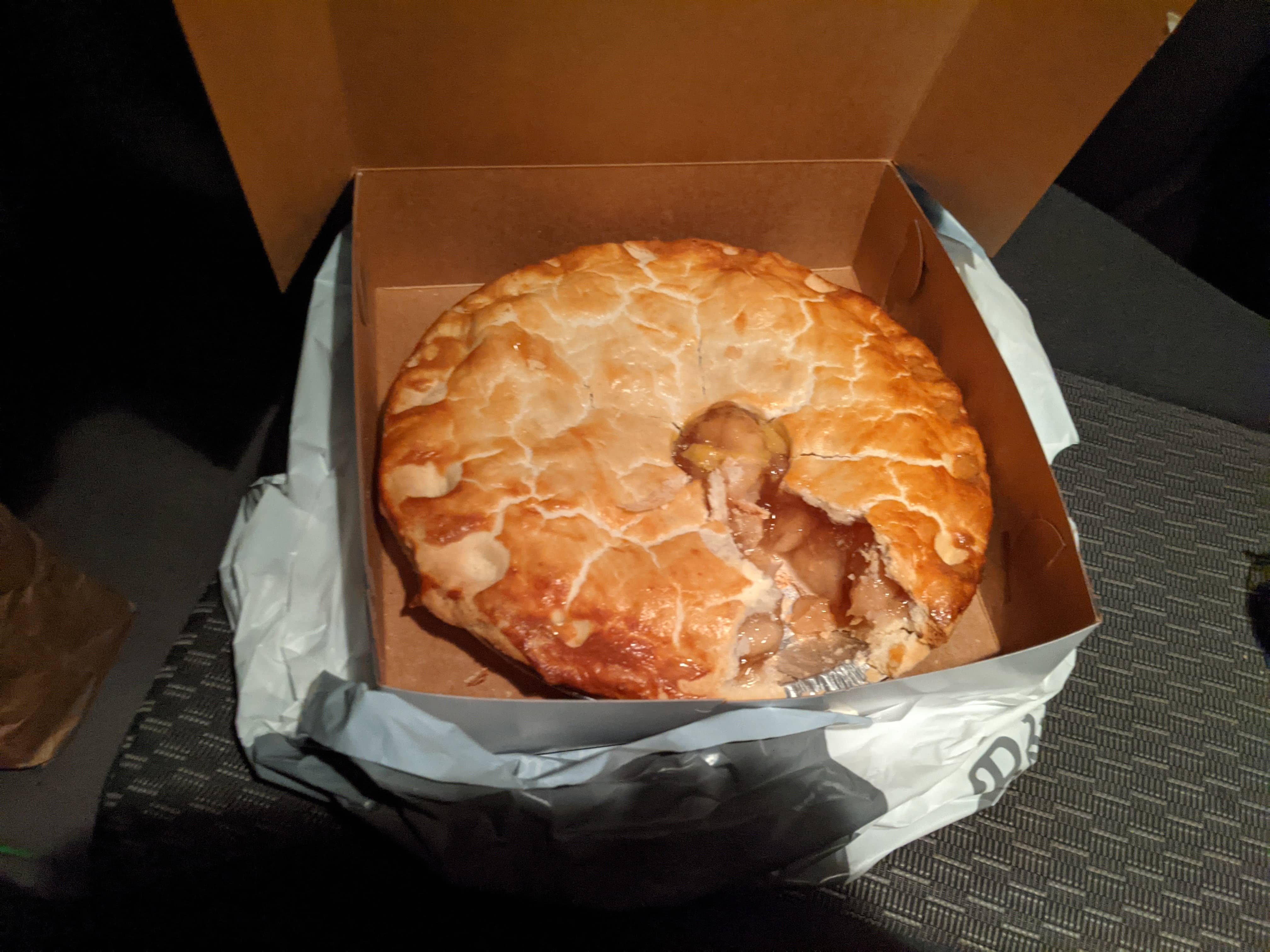 At the end of the night I had some caffeine free diet coke with my ale trail koozie that I got from the Bucks County Mag Stand.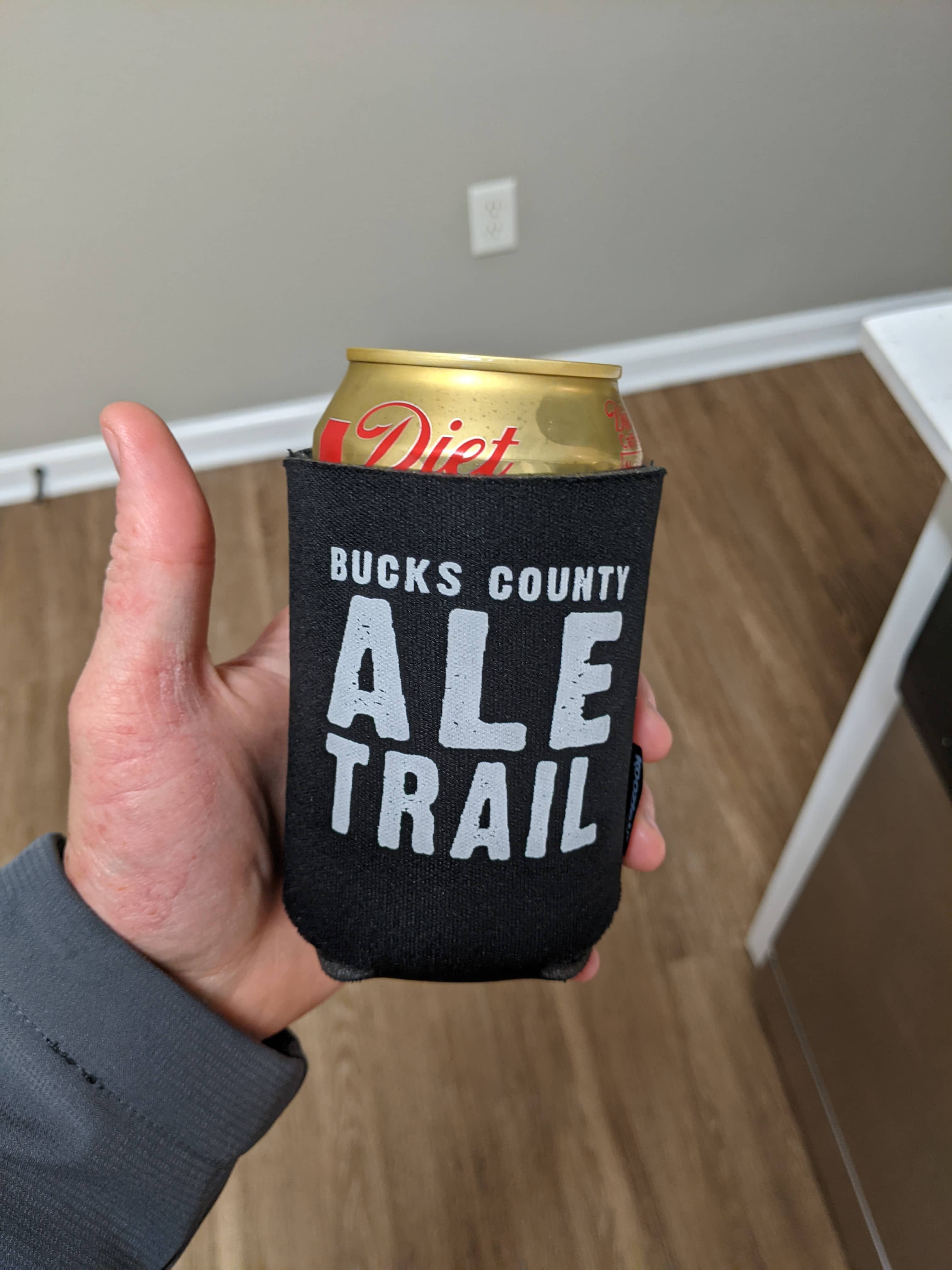 Day Two: Makin up for missing Baked Goods
On the first day of the apple festival I missed out on a few things so I decided that I'd try to hit them the next day.
I started out the day again with an apple. This time I tried an evercrisp apple. It was good. Reminded me of honey crisp. In terms of flavor honey crisp is my top apple. But for health effect I usually eat red delicious.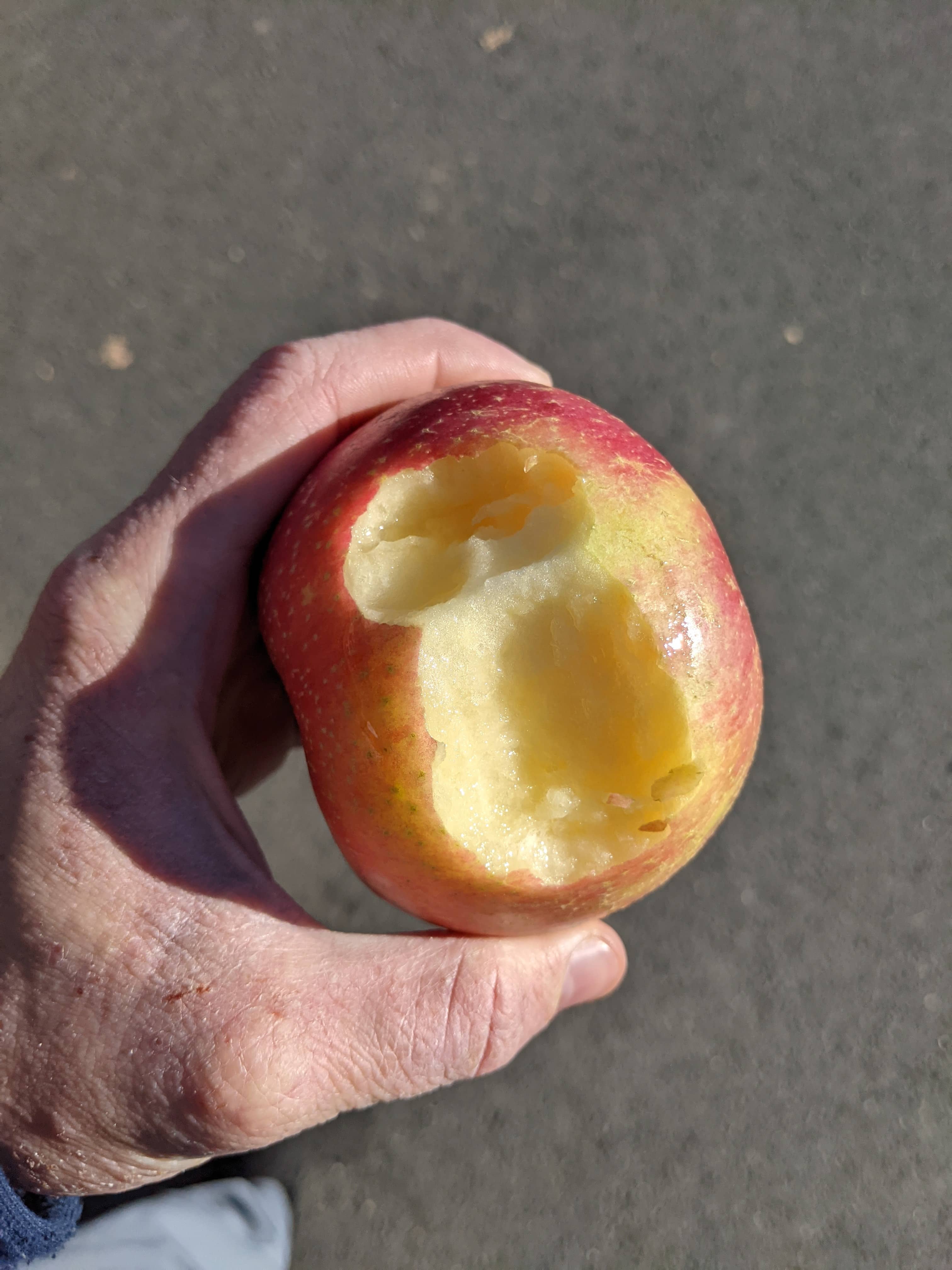 A store I didn't go into on Saturday was Extra Virgin. This place has some awesome oils and vinegars. They have samples out and you can try all of them. I went all in on the vinegars. I knew that I was gonna eat some bad food that day so I decided to stay away from oils. Not that there's anything wrong with consuming oil but I didn't want to take in a high calorie food when I'm going to eat some junk that day.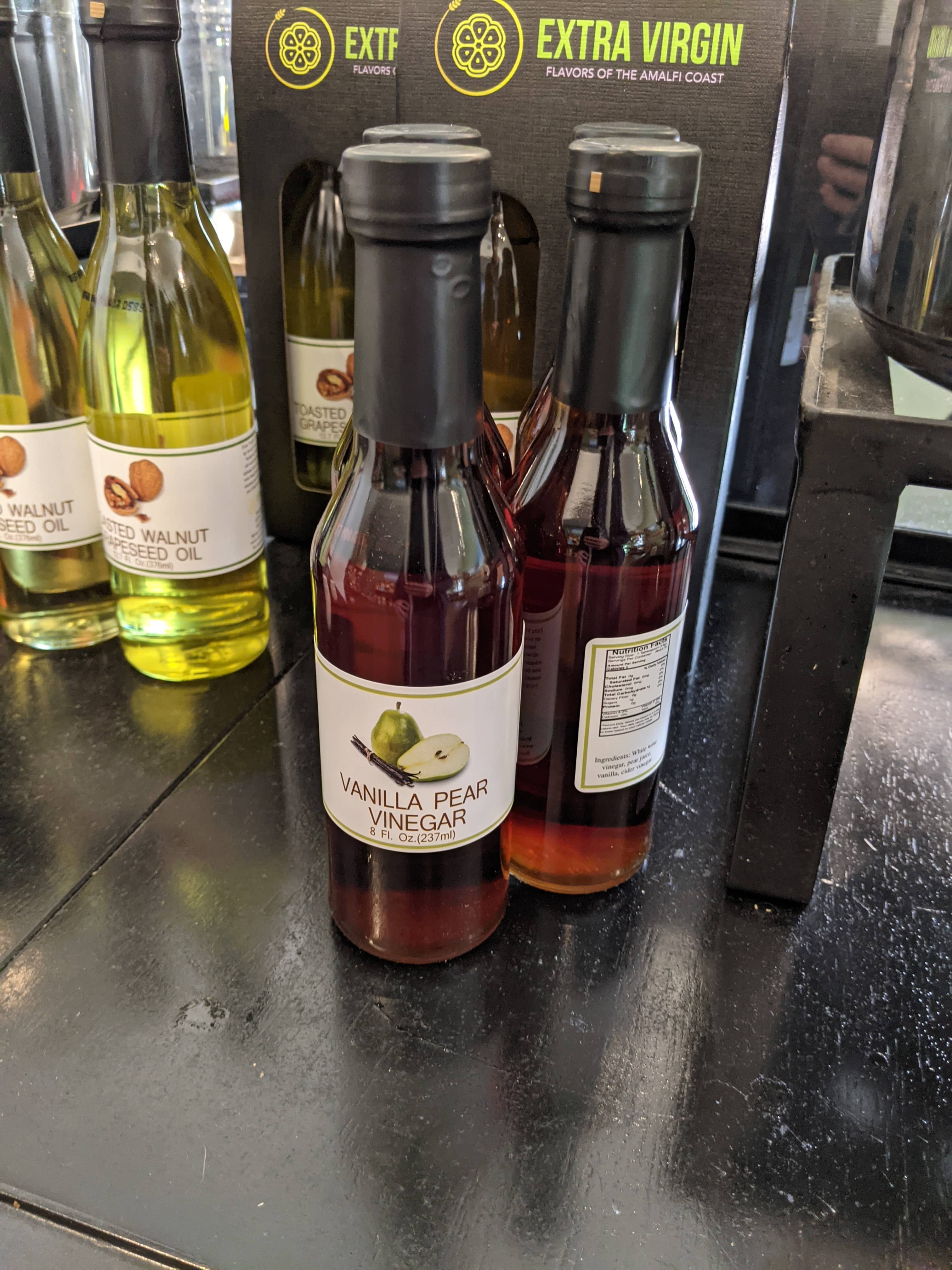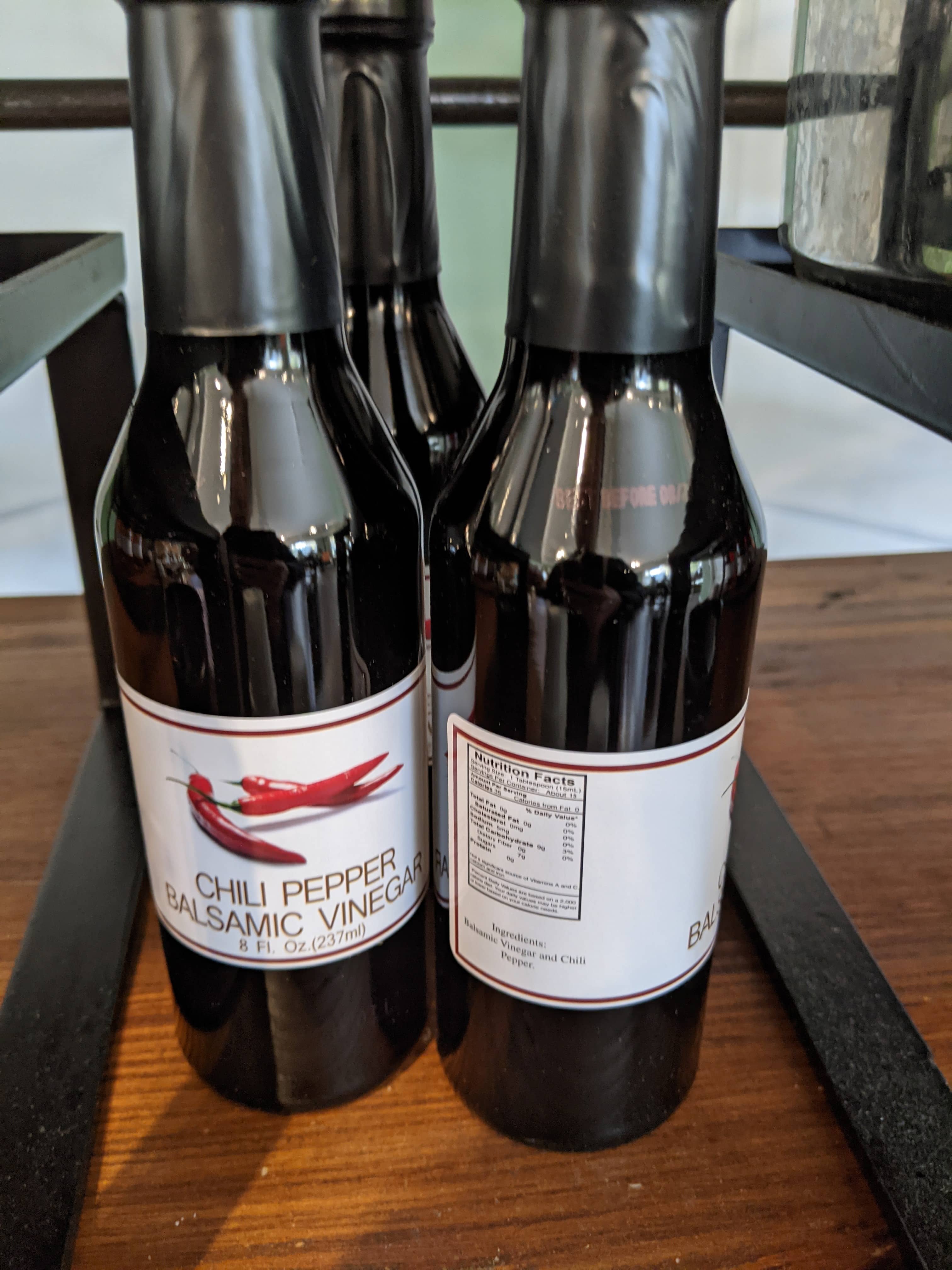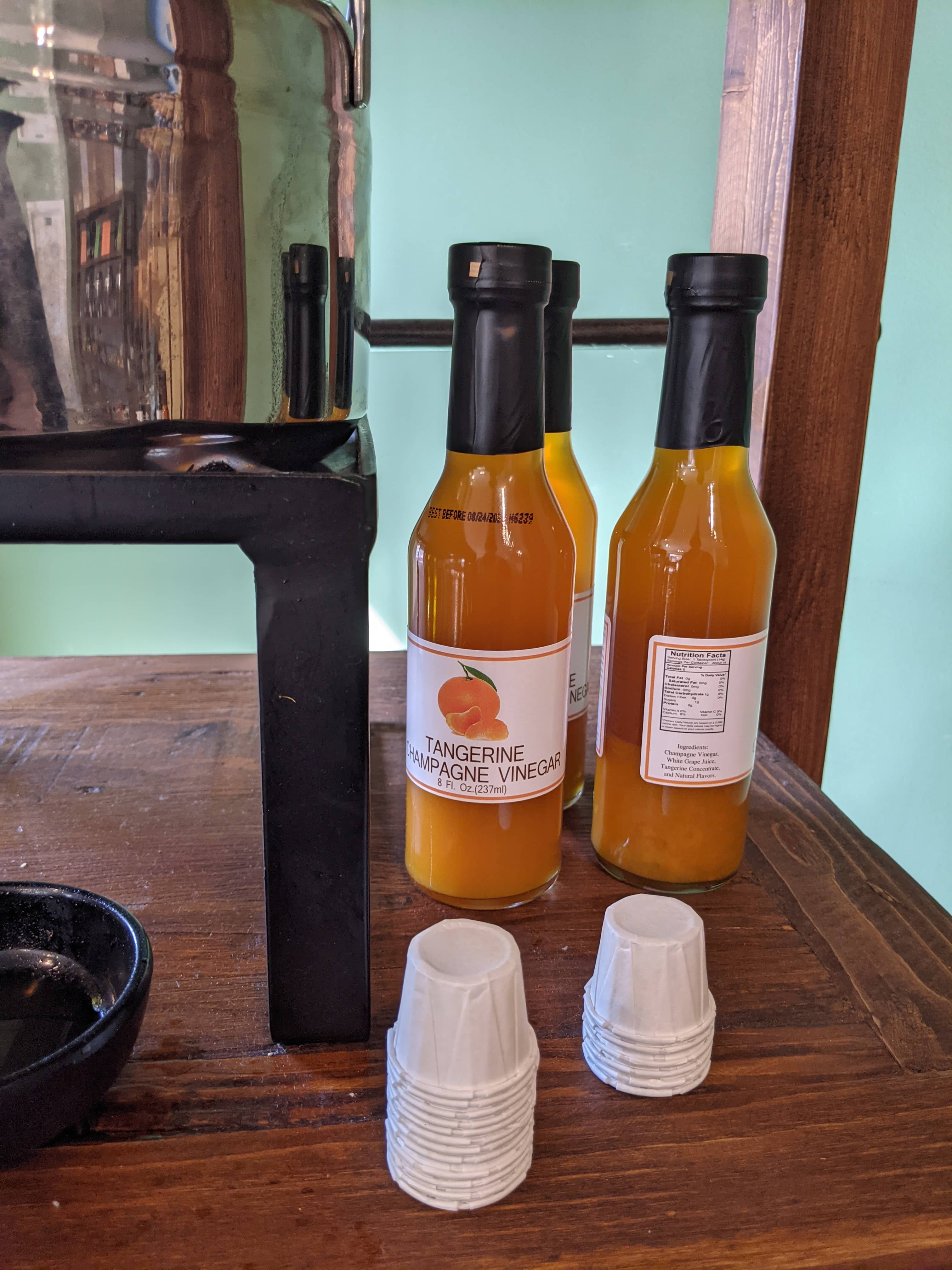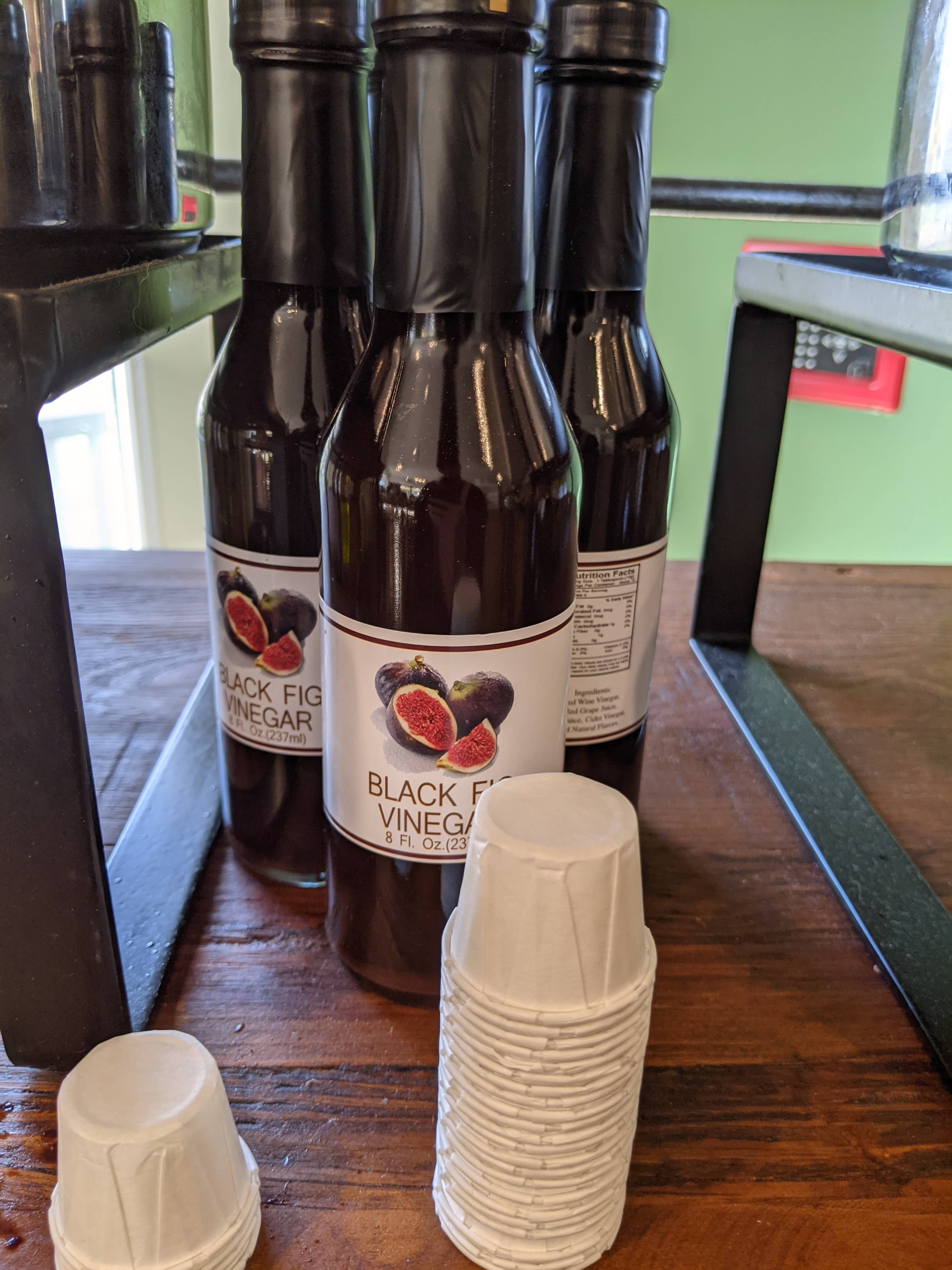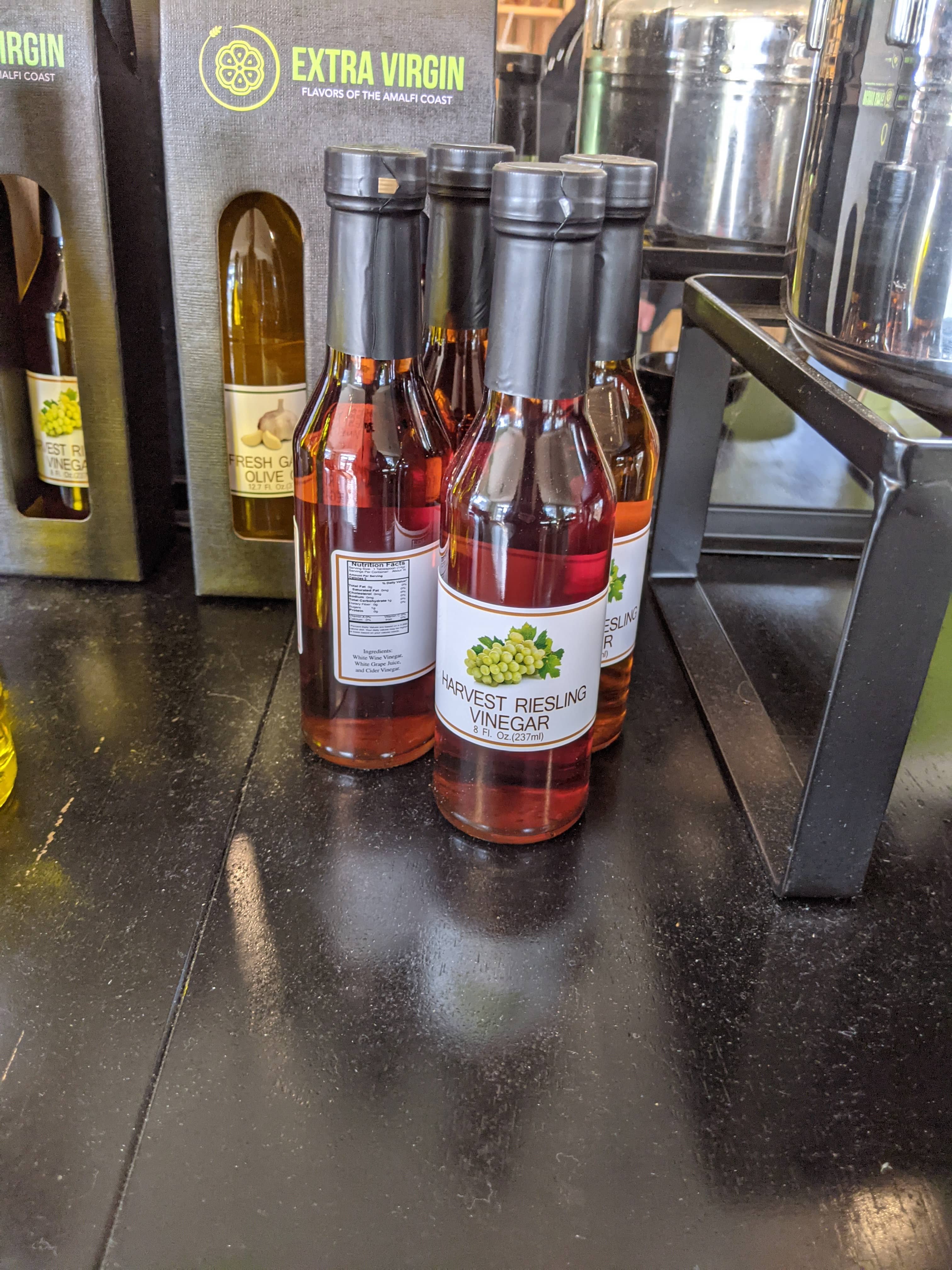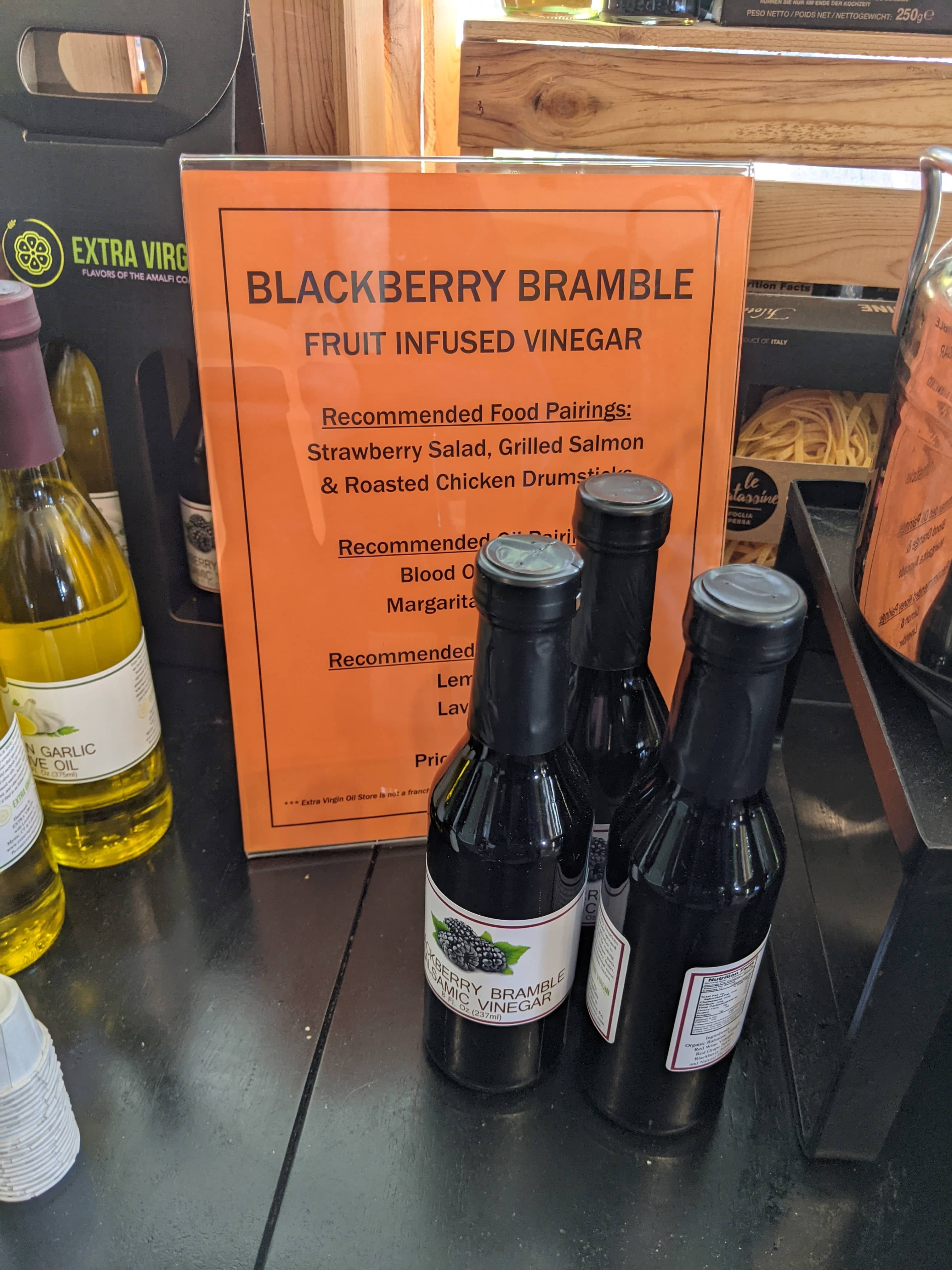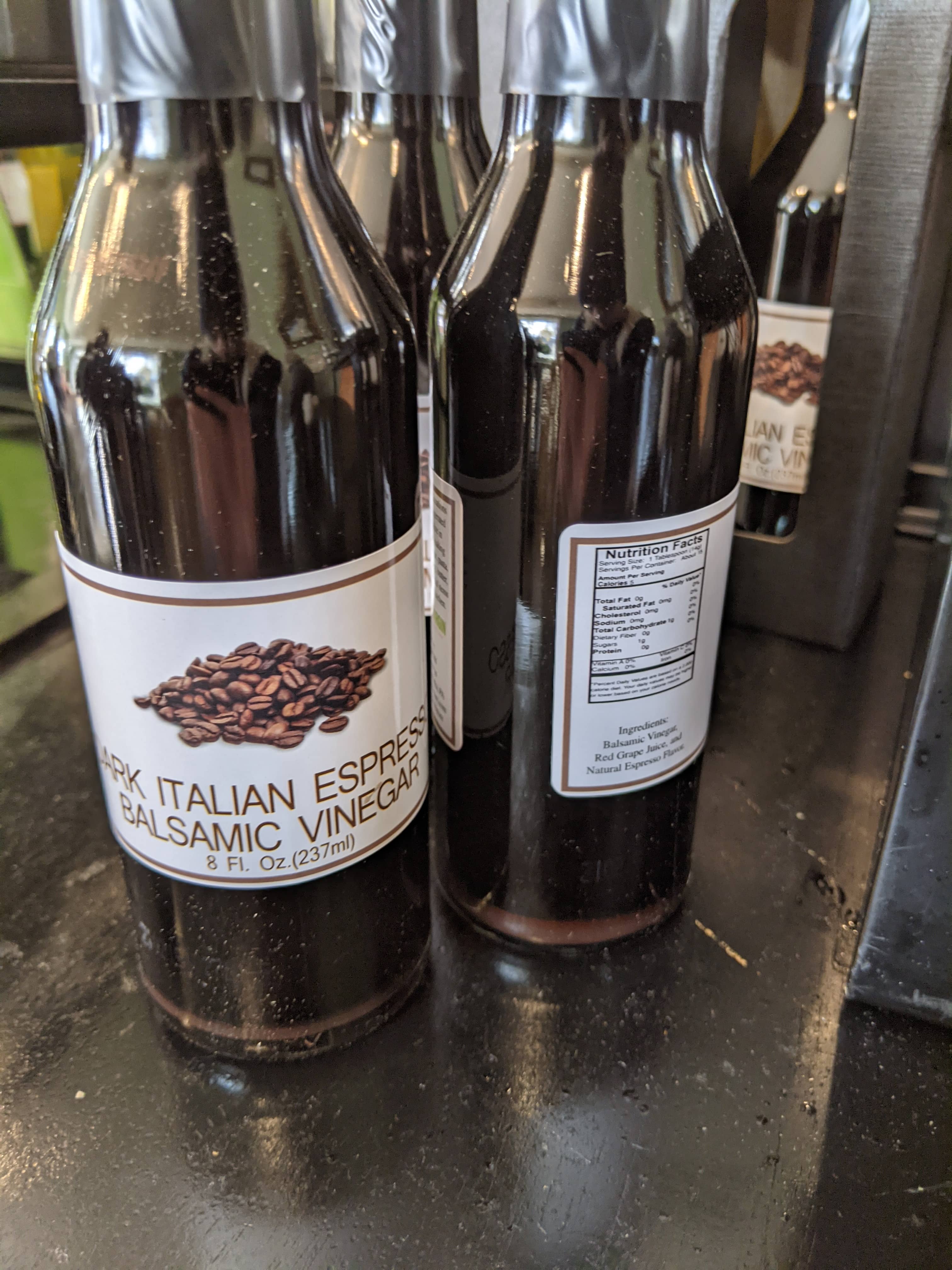 I enjoy the taste of vinegar. So as you can see I tasted a lot of them. My favorites were vanilla pear, thai lemon and basil, and chill pepper basalmic. I may have had too much vinegar though. I walked out and my stomach was cramping a little. The taste reminded me when I used to take shots of apple cider vinegar in the morning. I heard that any food with acetic acid in it can help digestion when you're breaking a fast so I'd take it before my breakfast in the morning.
One big spot I didn't hit was The Lucky Cupcake Company. It always had a line no matter the time of day. I got there at open and there was already a line. They also have three spots that you can order from and every time I walked by one there was always somebody waiting. It's pretty crazy. I had to taste the hype.
So I went for an apple dumpling and a cookie.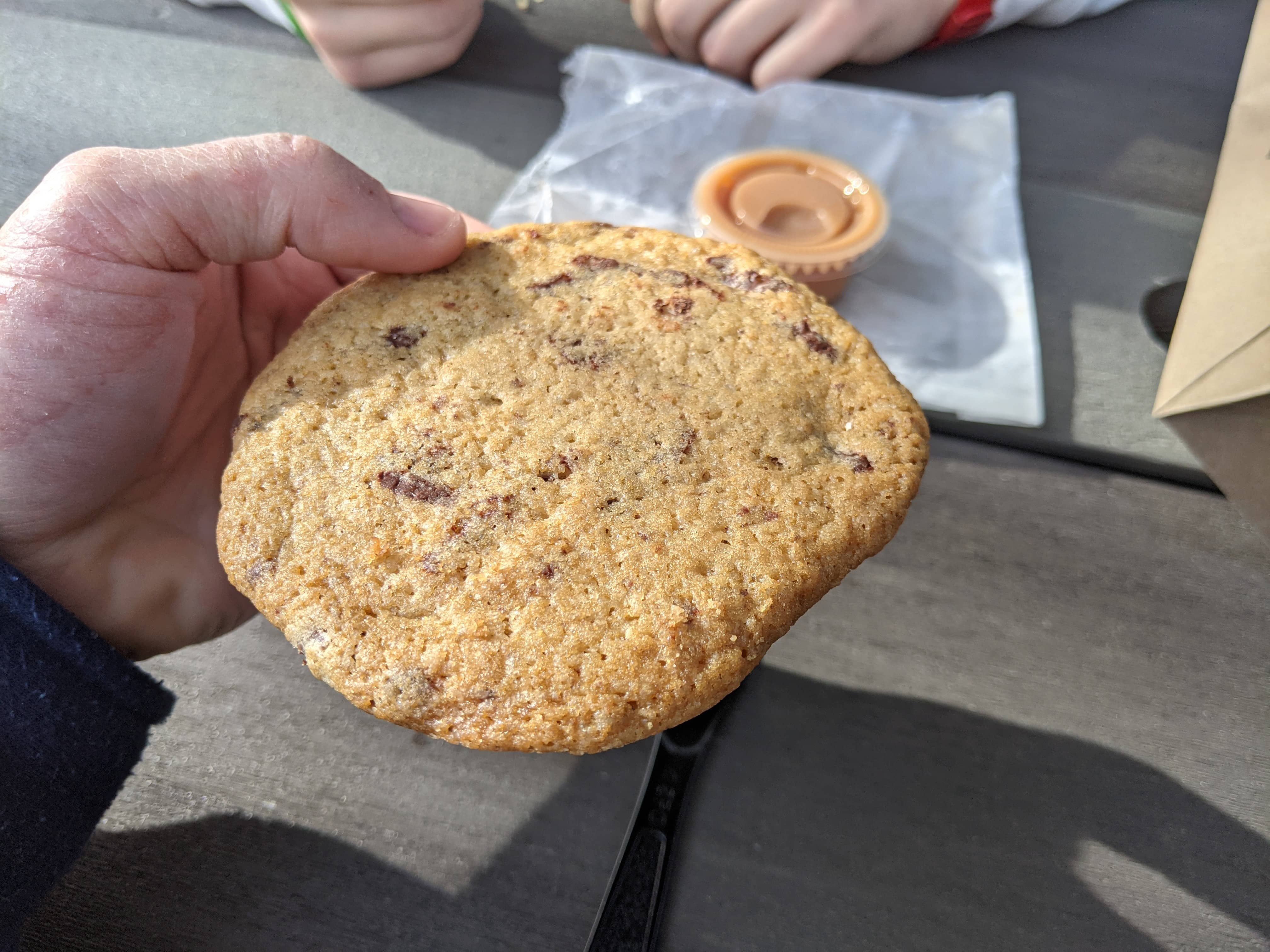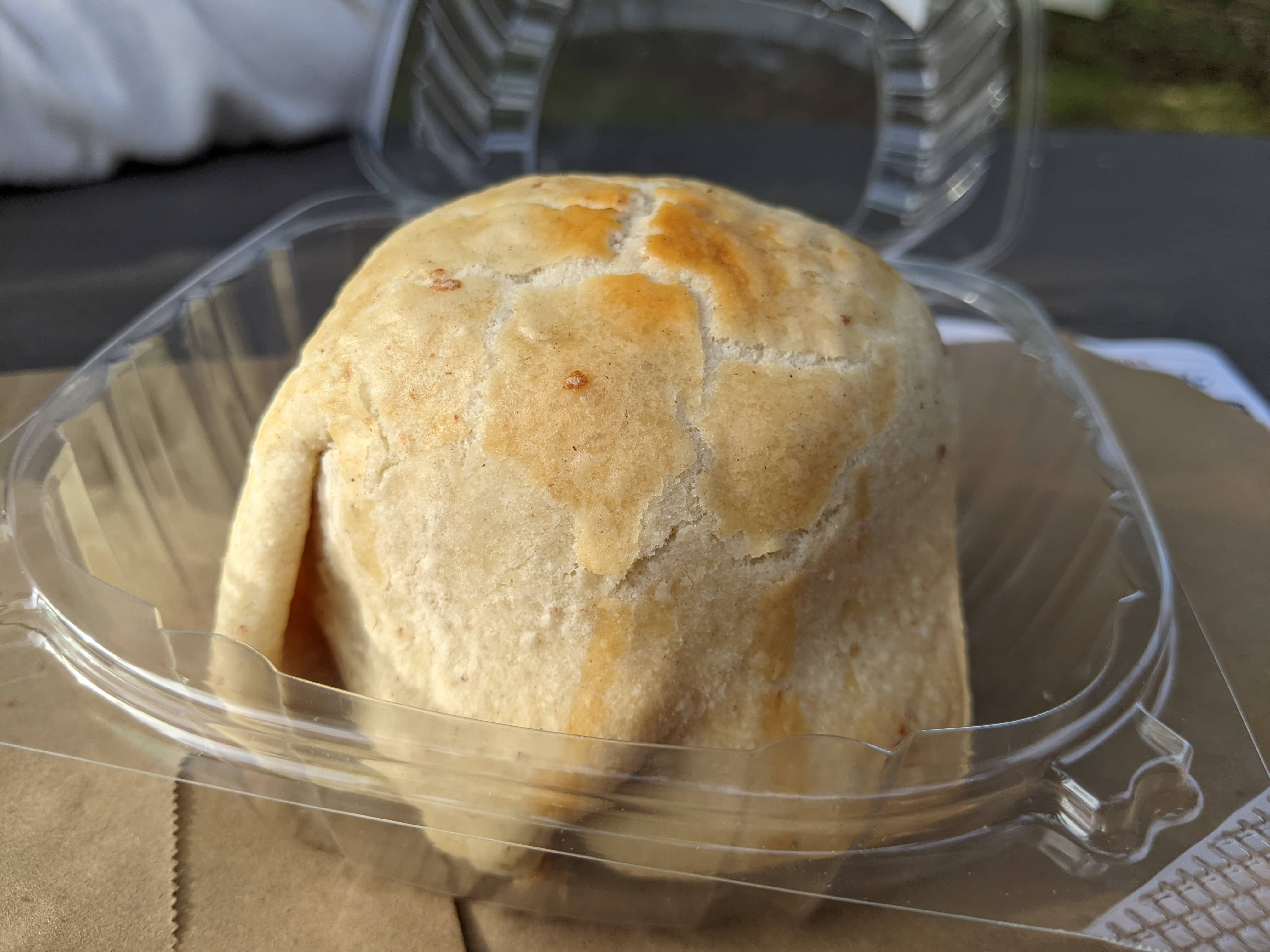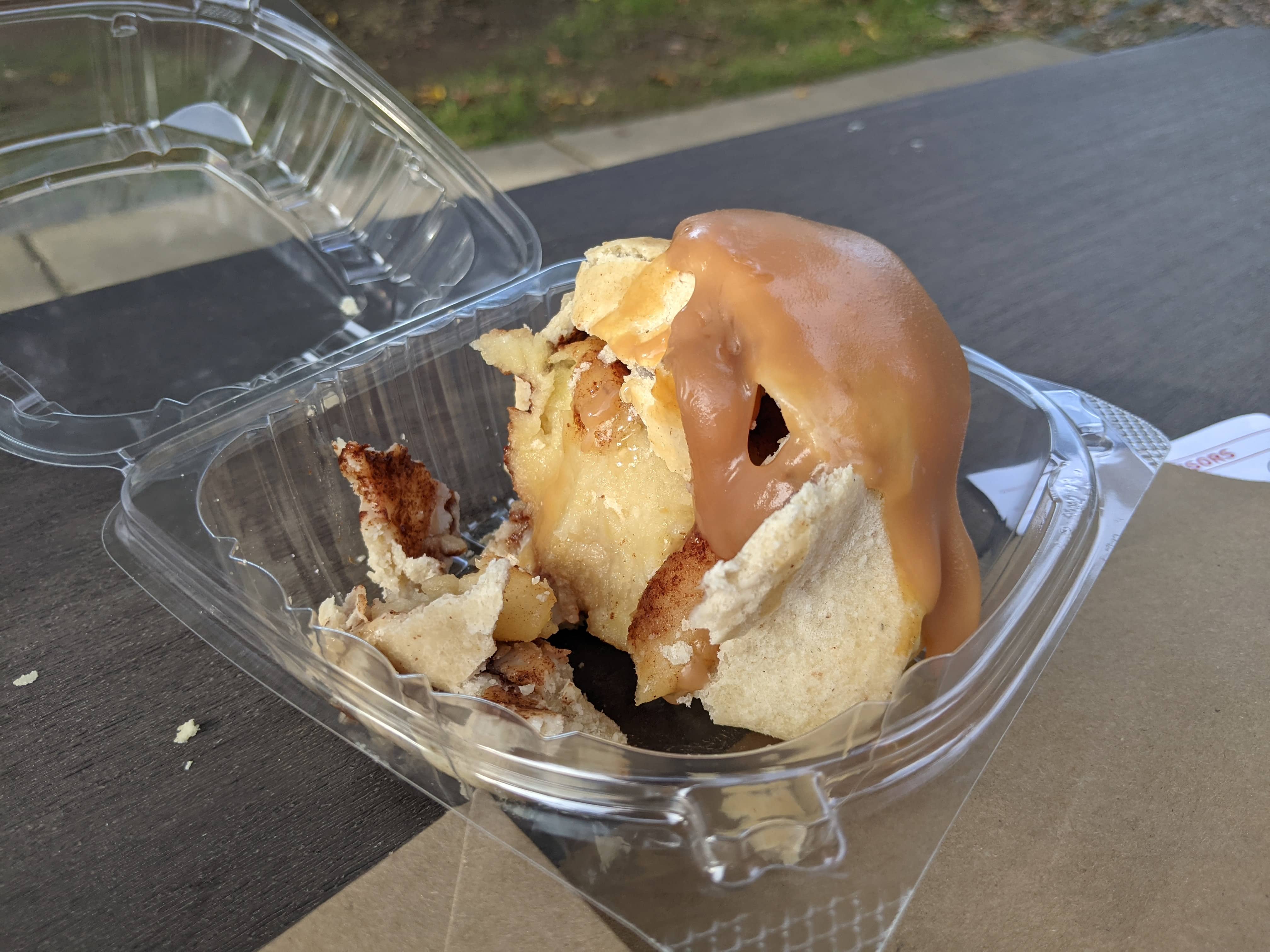 I thought that these baked goods would make me dance and sing. Sadly I did neither but it still tasted pretty good. The cookie was disappointing. It reminded me of those prepackaged grandma cookies. It was really thin and crispy. I prefer gooey and soft chocolate chip cookie. The dumpling felt a little too hard. I think a softer dumpling would make it more enjoyable. Felt like I had to saw into it a bit to break of a bite. You're better off eating a fresh apple to satisfy your sweet tooth.
After a lot of walking I decided to stop at Have a Ball again. At the end of the day they start running out of balls and sell fries so I went for garlic parm fries. It cames with lemon garlic aoli.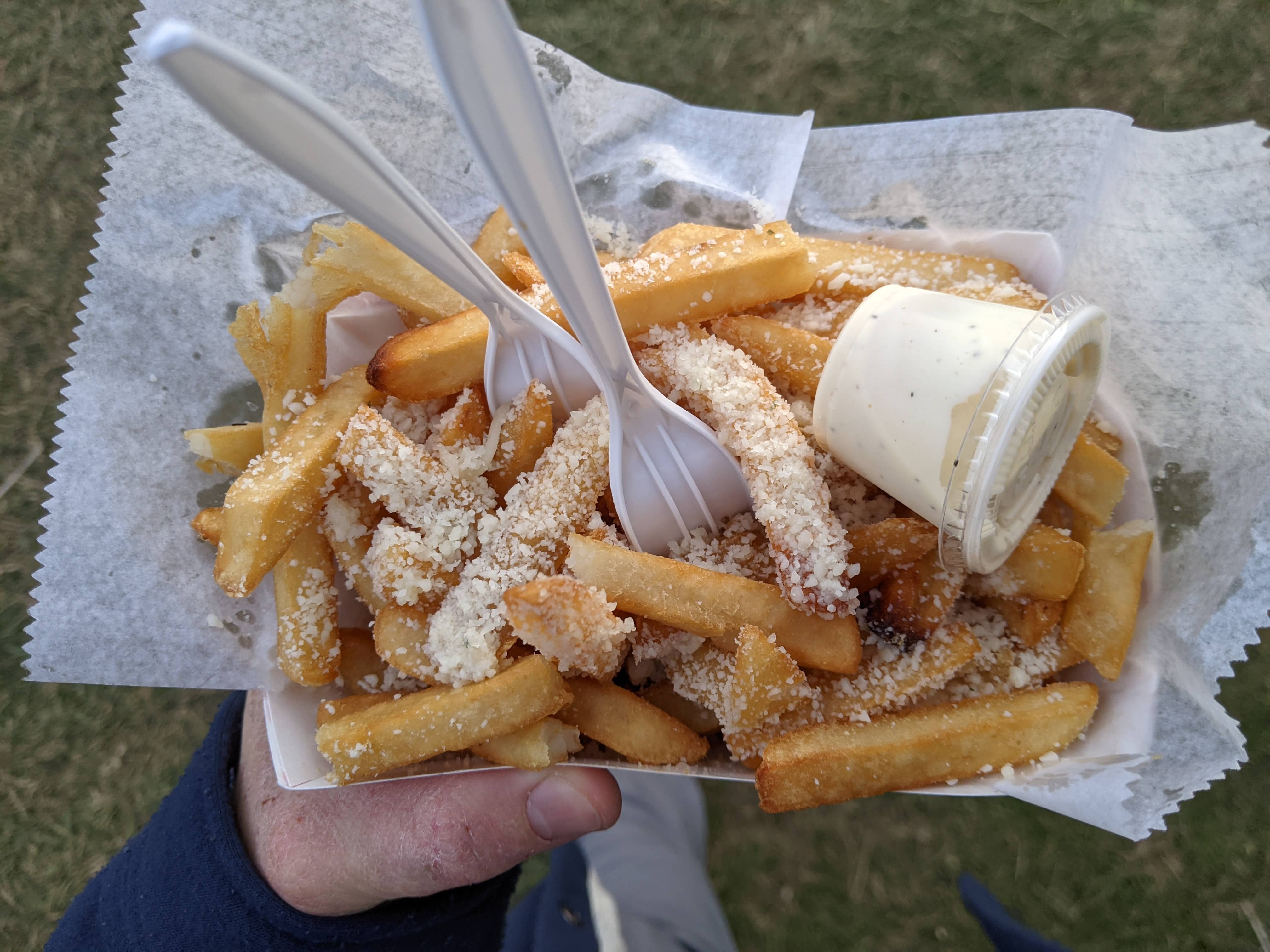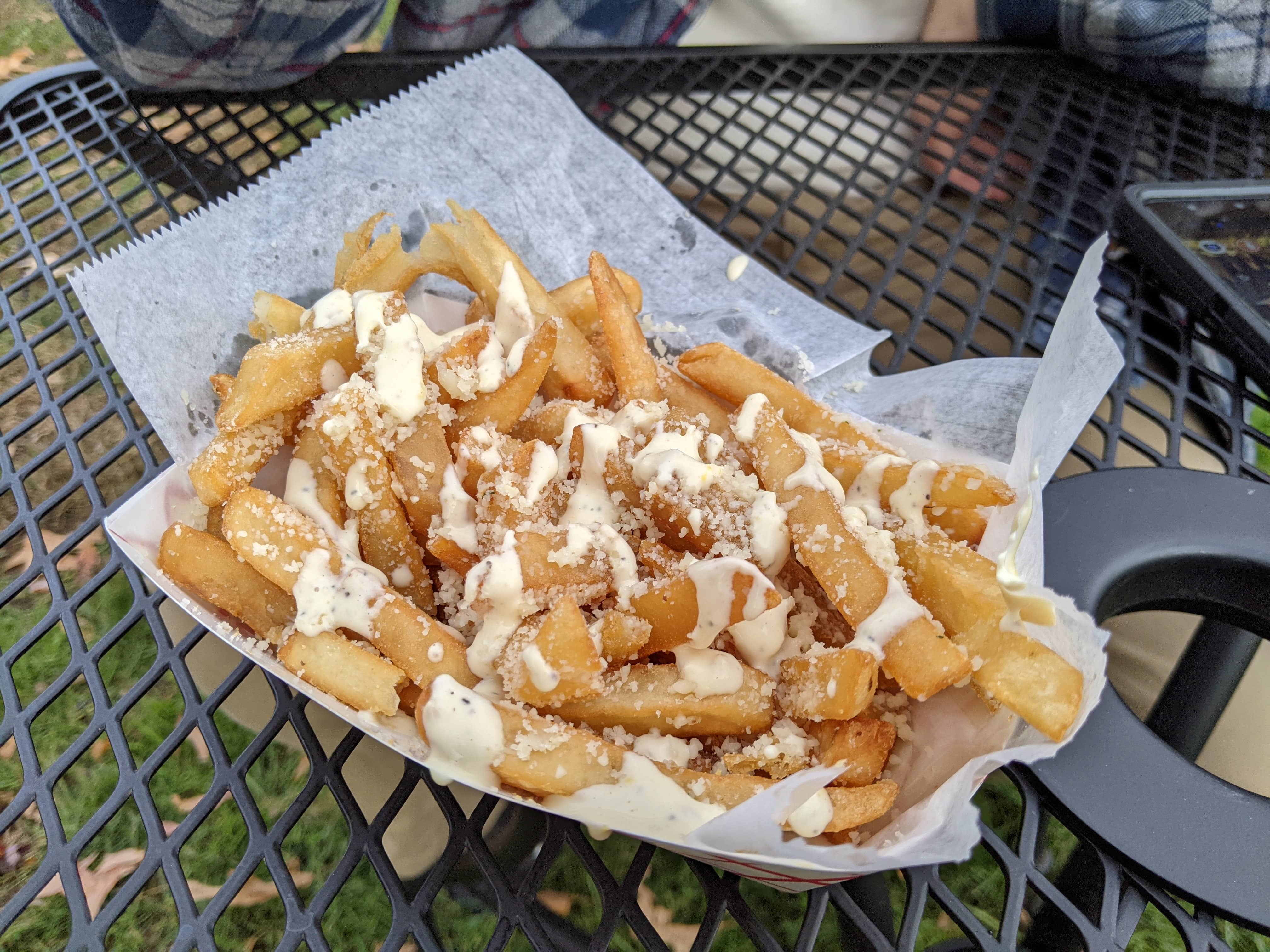 These were delectable. True festival food. Not a healthy choice but some good comfort food. The lemon flavor in the aioli was strong. It really hit you and the garlic flavor swooped right in after it.
Lastly I visited the hot sauce shop called Inferno. This place is fun. They have samples out for all of their sauces so you can try any and see if you like them. I tried a lot and they were packing some heat. There were interesting options as well. Two that I really enjoyed were the blueberry blaze and cranberry reaper. These may sound like sweet hot sauces but they can really throw some spice. One of the ingredients was carolina reaper peppers. That is a really hot pepper.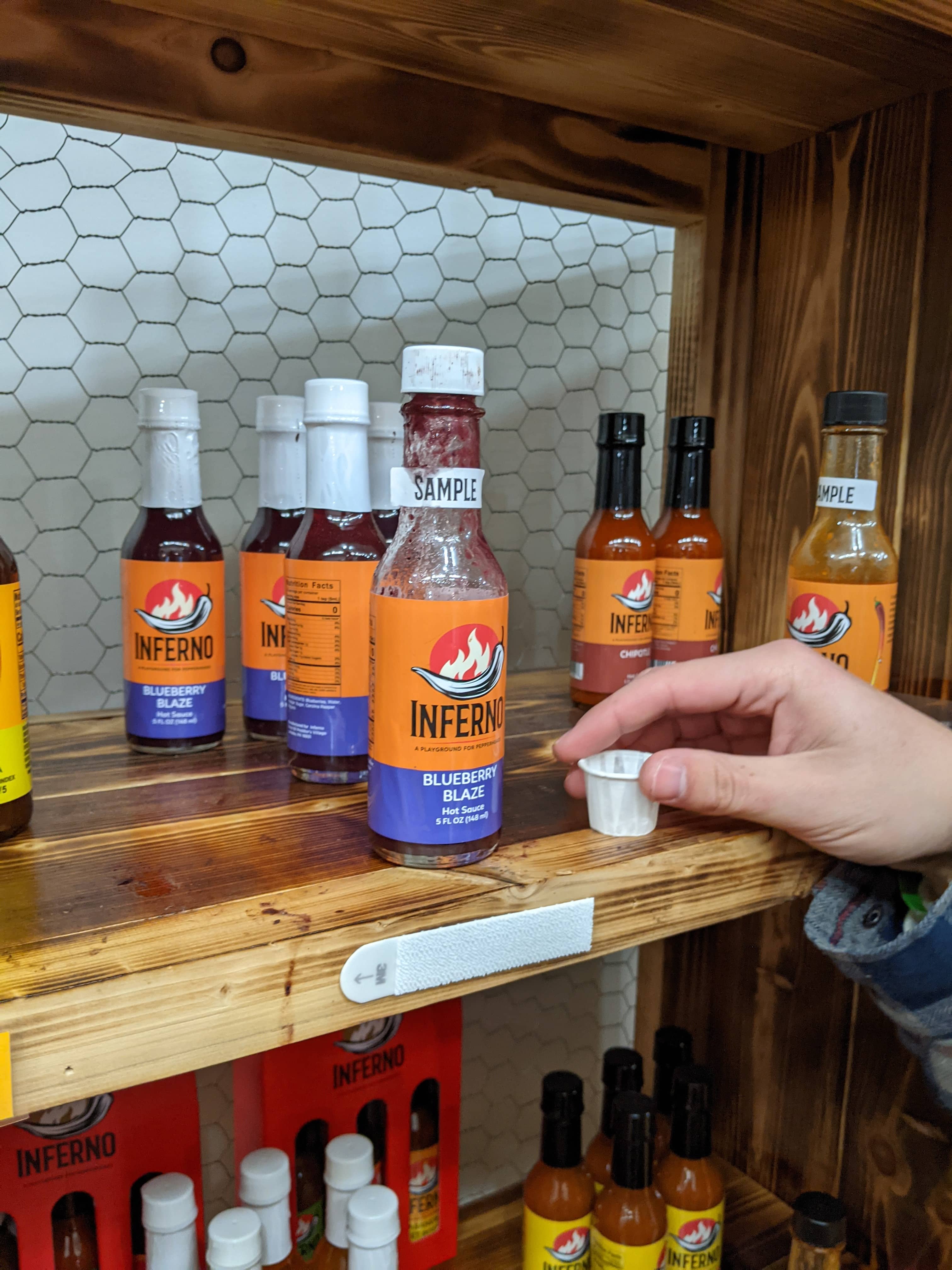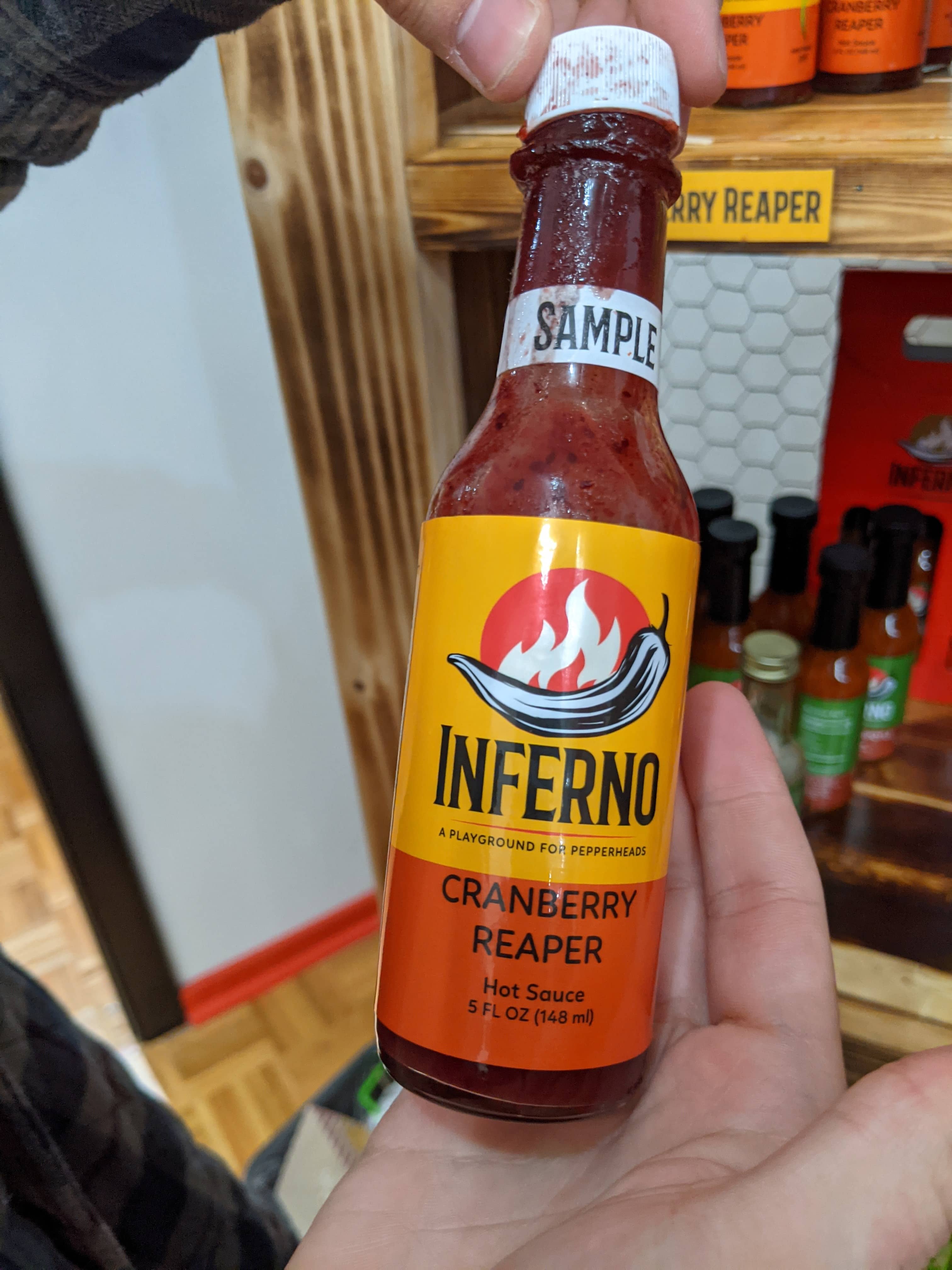 To top off the night I had another slice of the apple pie I picked up the day before. Once it's refrigerated the pie holds really nicely. You can cut into it and no filling spills out. Just look at the color on the crust.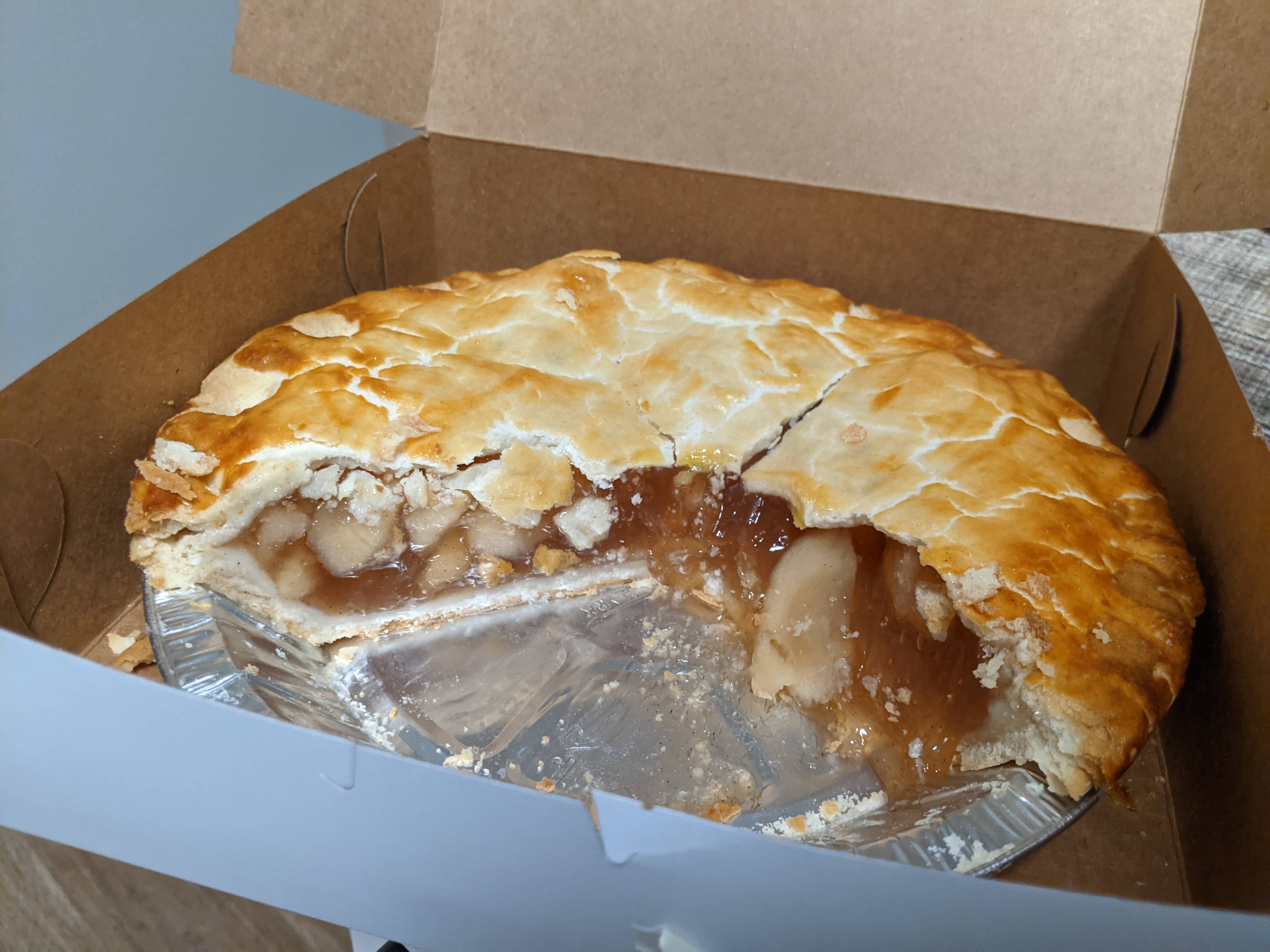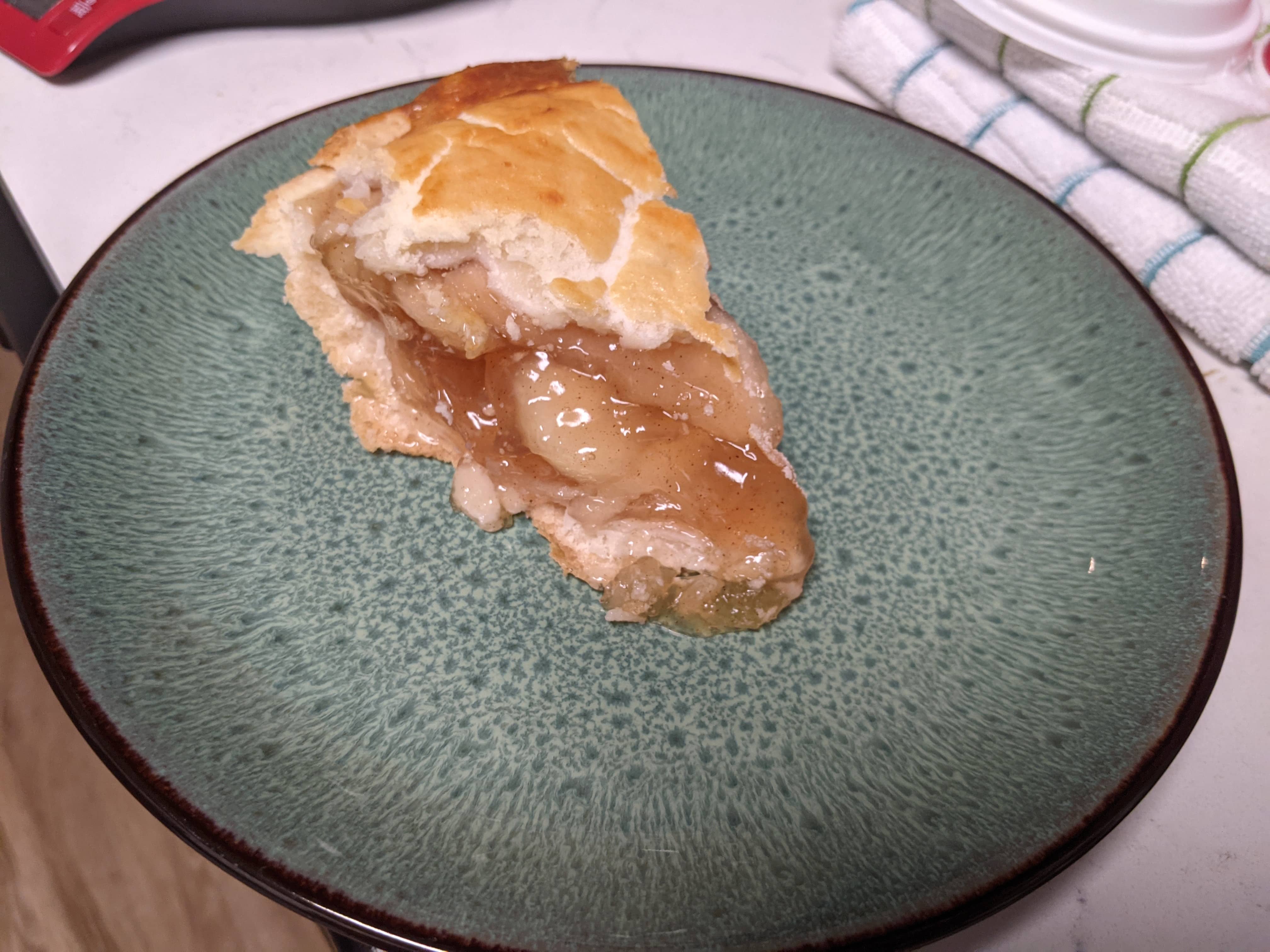 I decided to ruin the aesthetics by microwaving it and top it off with some whipped cream. But this did really enhance the experience. The crust is top notch when warm. It has that shell like exterior but soft throughout.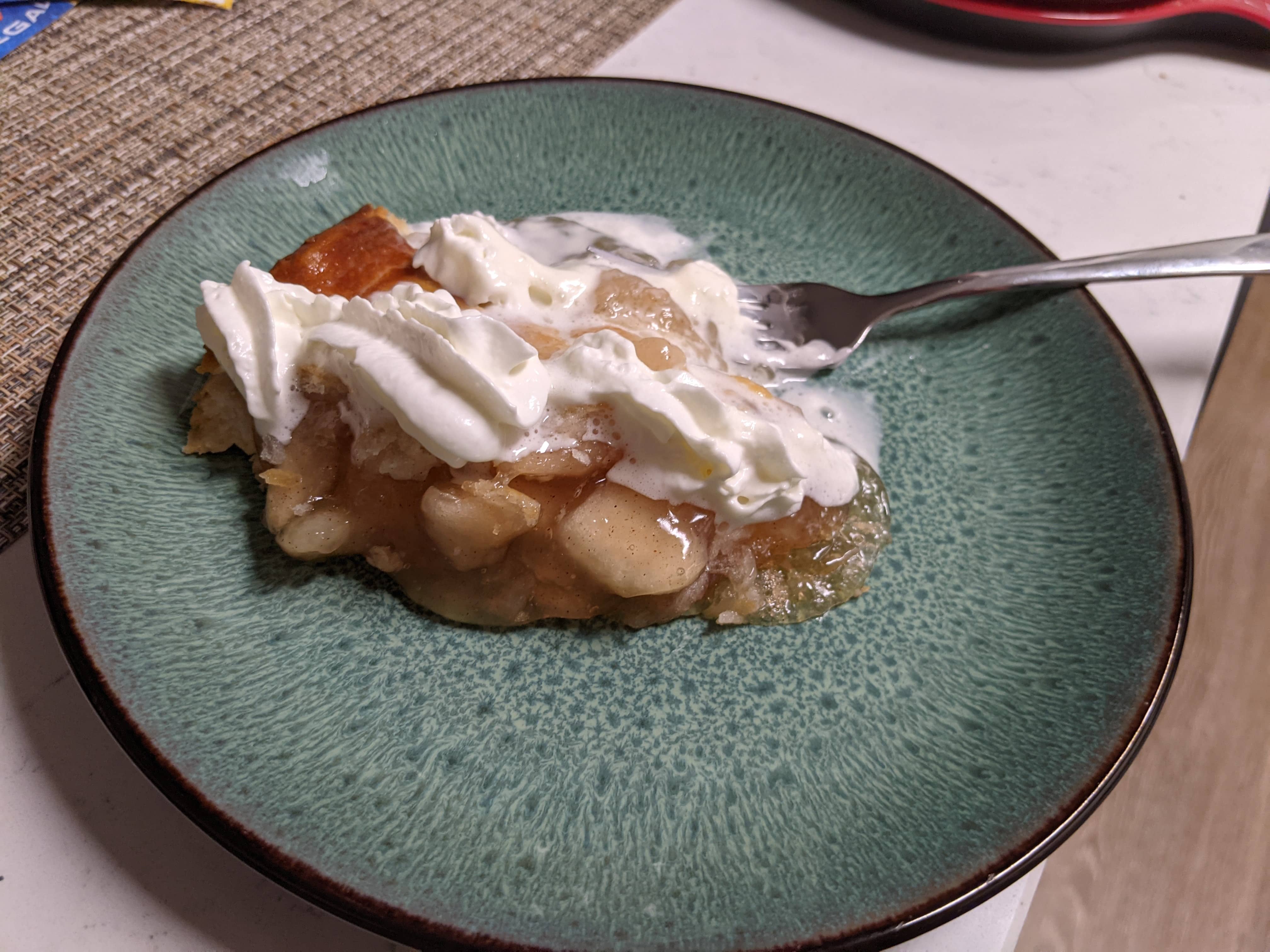 Recap
Overall this was a great event. I mainly went for the food but there was a lot of entertainment and other stuff to enjoy there. Looking back Sunday is a better day to go. It was definitely less crowded. A few of the food trucks were only there on Saturday so you would miss out on those but for the most part it was the same as Saturday. If I were to eat there again, I would mainly go for the apples and the smoked meats from Holy Que or a BBQ truck. Don't go for the food tents around the village. If one of the food trucks look good then try it. The baked goods feel overhyped. The lines are too long and they won't send your taste buds to a different dimension. Unless you're itching for something the baked goods can be skipped. I also should've saved some more calories for oil tasting. That probably would've been a healthier choice than some of these fried foods. But it's good to splurge and enjoy yourself every now and then. I also hit 25,000+ steps on both days. So if you know you're gonna eat a lot you better be ready to move a lot as well.