08/28/2021 Shady maple visit. Had to try it all ????. Lots of great food.
Have you ever wondered What's worth eating at Shady Maple, or what is the best food at Shady Maple? I visited the Smorgasbord last weekend and sampled some of the most famous items to figure out what I think is worth trying.
Here's my full day of eating: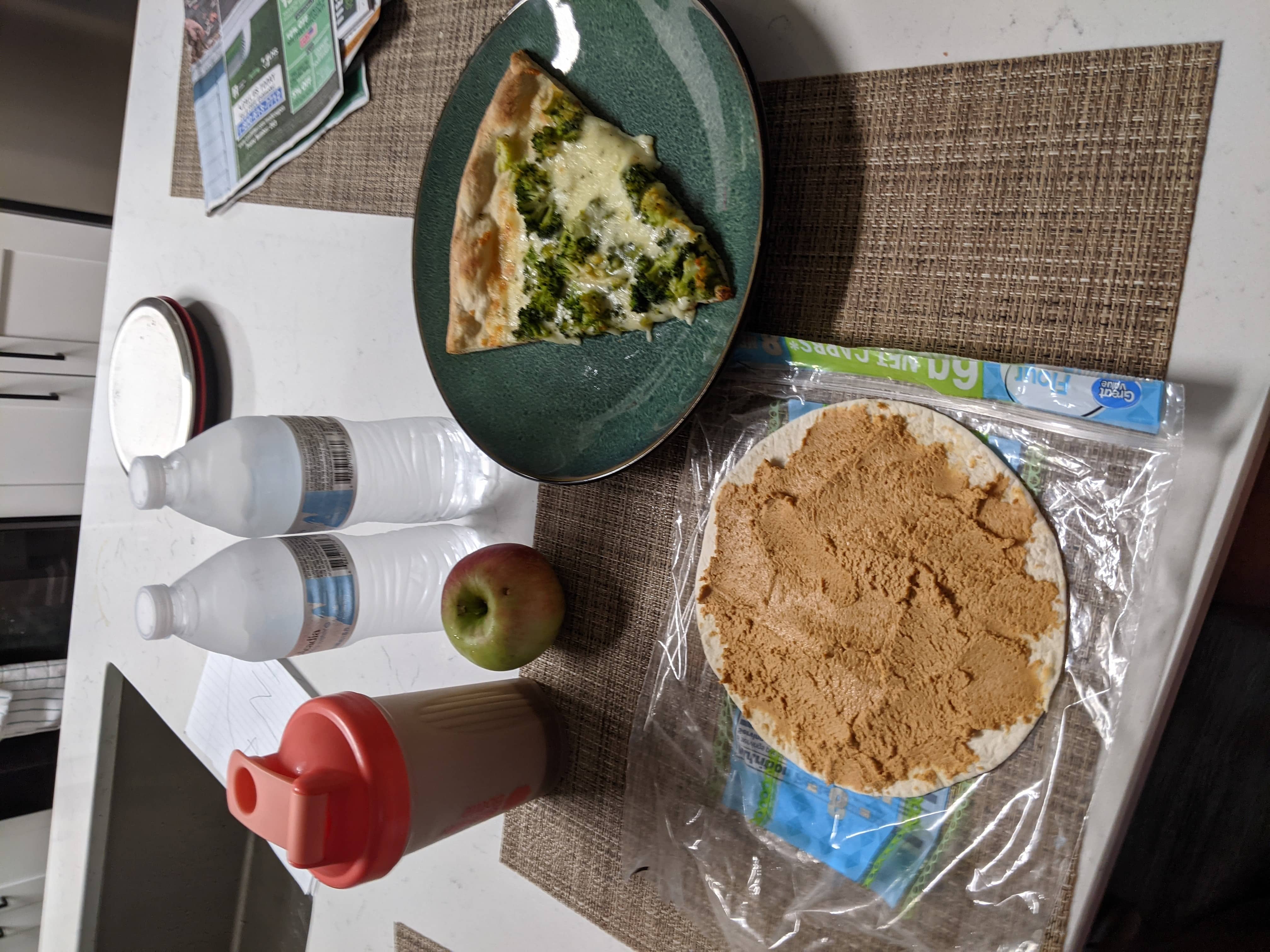 Start of the day, wanted to get my stomach ready for all of the upcoming food.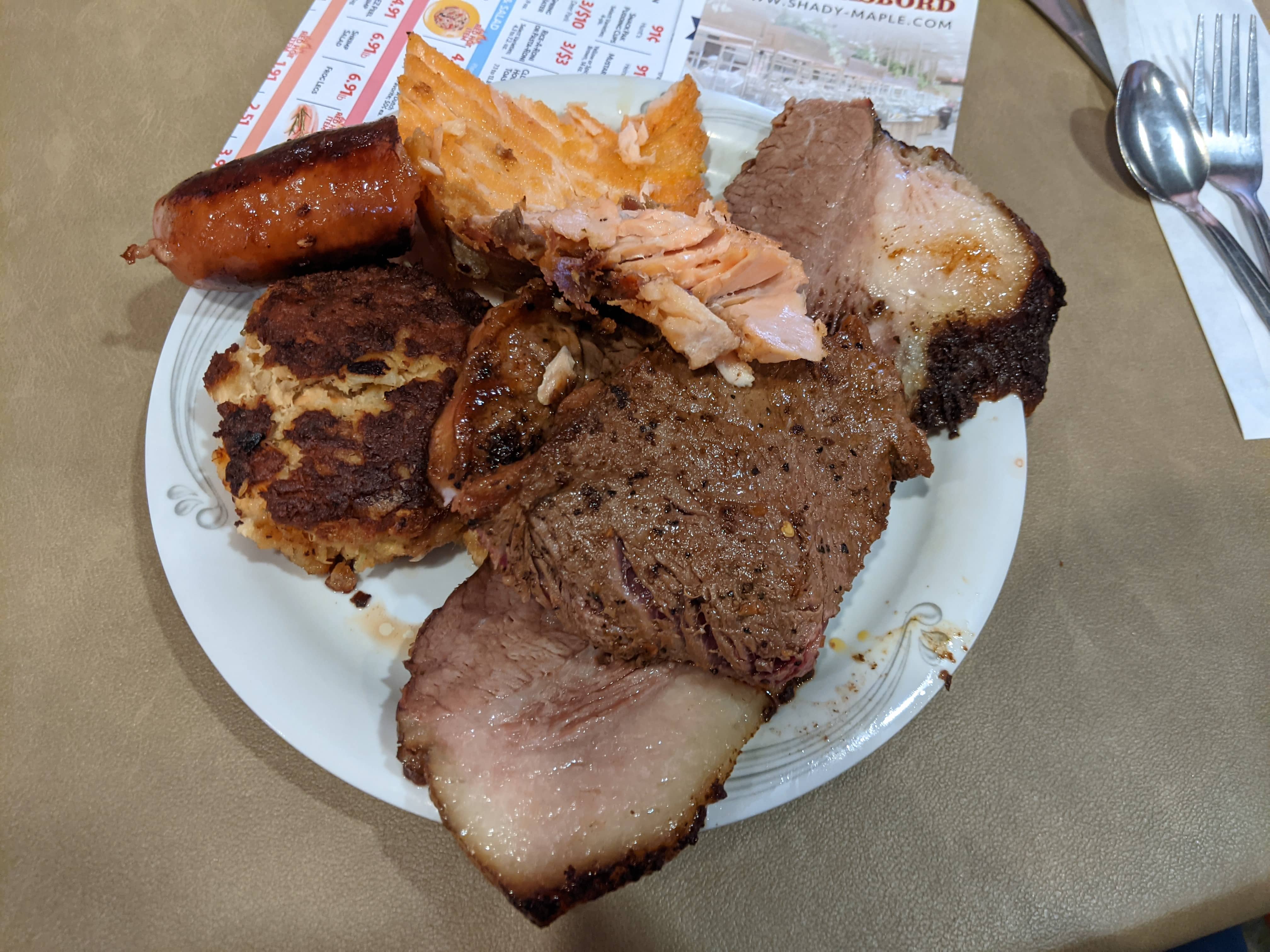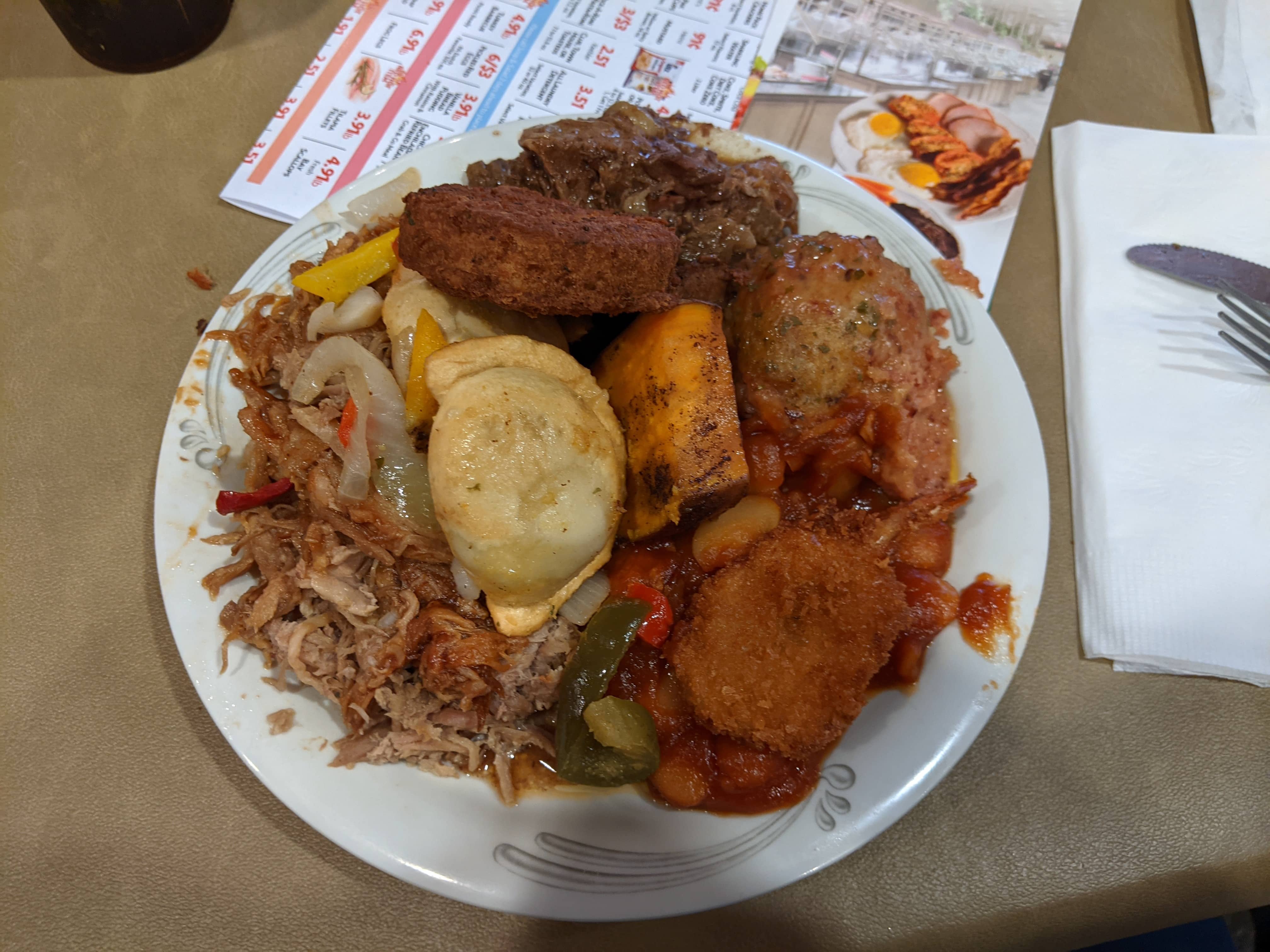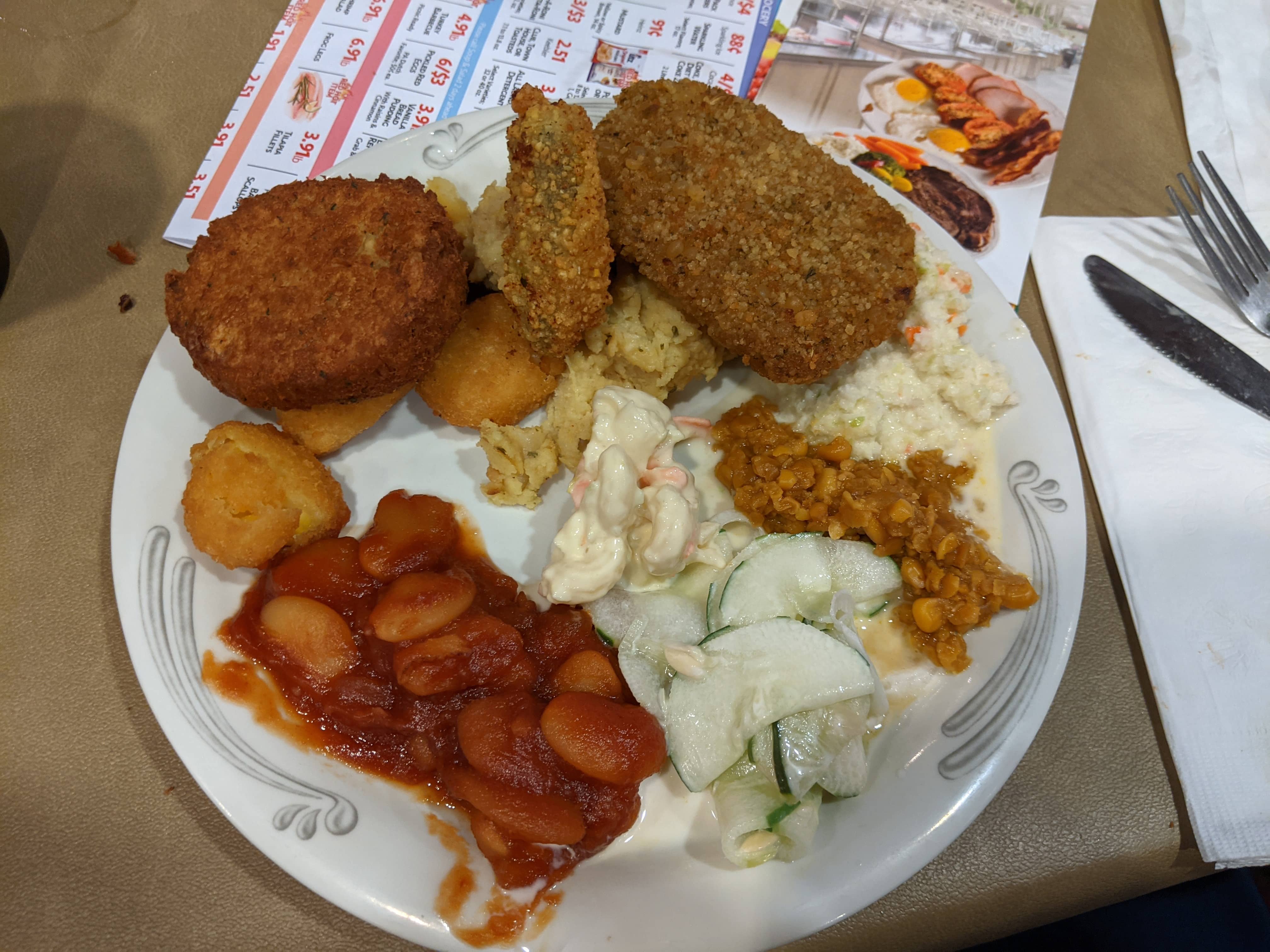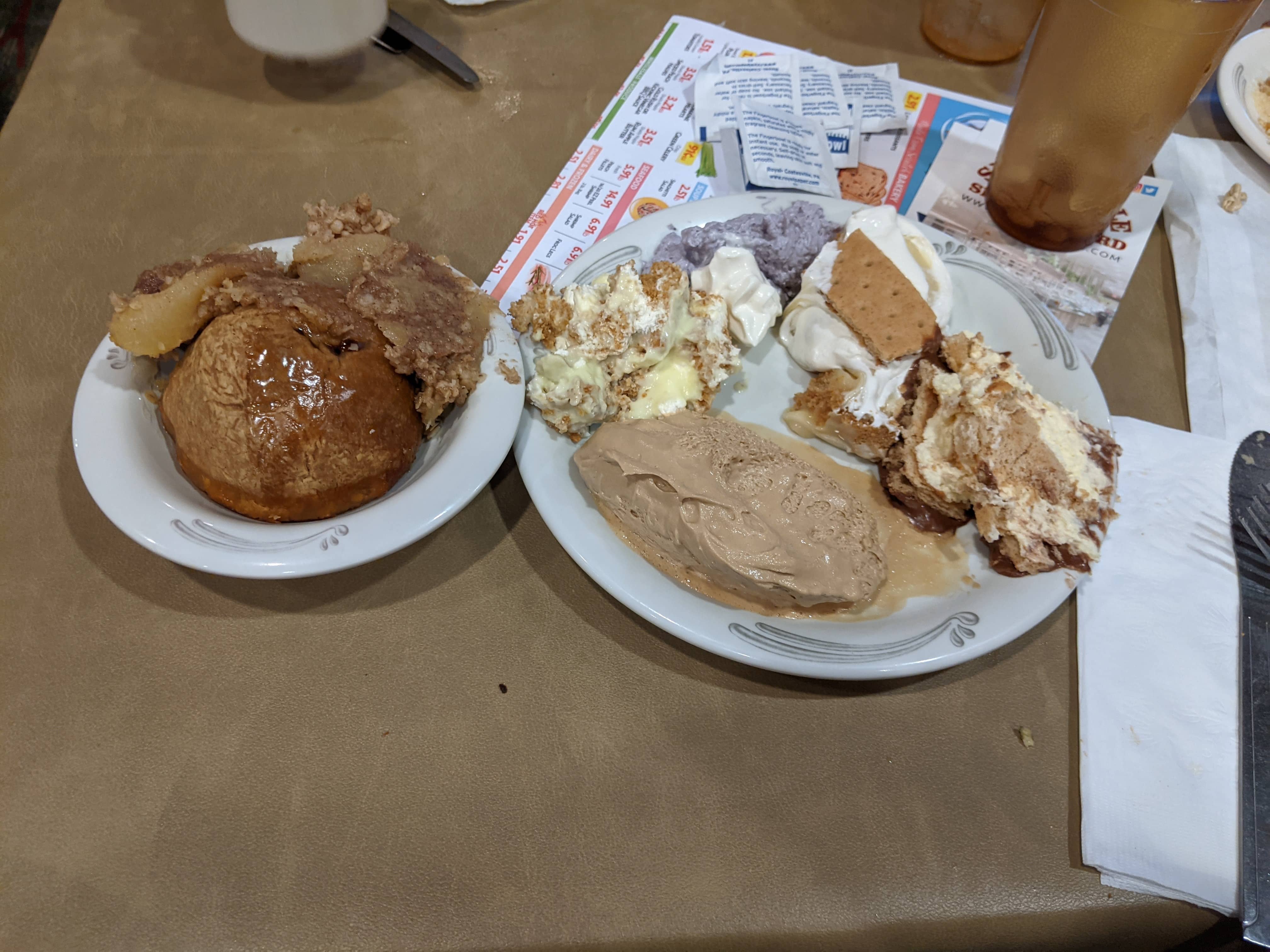 This was too much food but I wanted to sample everything and enjoy some of my favorites.
Things worth trying:
Brisket – You can't skip this. It tastes really good. Sliced on the spot for you.
BBQ pork – The sauce they use is really good.
Crab or salmon cake – These both taste similar but both are very good. The breading and spice really make these shine.
Ham ball – Good ham flavor. Very juicy, definitely worth the experience.
Kielbasa – Great polish sausage.
Glazed yam – had a litlte extra sugary sweetness. Not overpowering but just enough to separate it from a baked sweet potato.
Dried Corn – really surprised by this. I didn't think it would be good but it kind of taste like a moist piece of warm corn bread. YUM.
Corn fritters – This was another suprising dish. Little fried balls with corn kernels in the middle.
Apple dumpling – wow this thing was great. Top it off with some apple crisp and roasted apples if you're feeling extra fat. Maybe even top it with some vanilla ice cream but I wanted to save some room for other dishes. This is a must try.
Key lime pudding – This tasted really good option if you don't want something chocolately. If you like key lime pie or lemon pie this is a great choice.
Blueberry pudding – Amazing flavor. Another good choice for a fruity desert. Like a thick whip cream that has little shards of blueberry flavor riddled throughout.
Eclair pudding – Another amazing desert choice. Nut allergy people can't have it though. The chocolate in this pudding is amazing.
Smores pudding – Really nailed the flavor. Felt like I was eating a graham cracker dipped in milk. The graham cracker on top was soft and combined well with the pudding. I think they missed out on the chocolate though. Could've added a layer of chocolate pudding to boost that smores flavor.
Things that I think aren't worth it:
Steak – It's good but nothing special. Make sure you get it rare. Well done steaks suck.
Roast beef – Controversial. I don't think it's as good as the BBQ pork. Felt like your average roast beef in gravy. I found this surprising because this is their most popular meat choice. It's worth finding out what you like better though.
Salmon – Can be skipped. Nothing really special here. Feels like your average oven baked salmon. But if you're looking for something healthy, you can't beat the Omega 3 profile of fish so I had some.
Breaded Salmon – This had a weird flavor. It felt like any kind of breaded salmon you may find in your grocery store. It tasted a little on the fishy side. I didn't like it but kept eating it because it tasted like a chicken nugget at the end. Breading can make anything good.
Baked Lima Beans – If you like baked beans then you will like these. You'll find little chunks of meat in this that really up the flavor. I got them twice because I love baked beans but you could skip them because they aren't that special.
Fried shrimp – good but you're at an amish buffet. Better off getting something they're famous for.
Jalapeno poppers – These are good but aren't special. Not much different than something you'd get from your frozen section. If you're craving it, go for it but I like to go for the unique sides that you can't find anywhere else.
Perogis – Not worth it. Tasted rather bland. It had some peppers and onions to up the flavor but it didn't do much for me.
Coleslaw, macaroni, and cucumber salads – These are pretty basic. I probably should'nt have gotten these but I like mayo salads. Not much different than what you'd find at your grocery store or deli.
Stuffing – Not special. Still good though. Sadly the tray for the potato filling was out so I tried this instead. Dissapointed.
Sugar free coffee pudding – If you're trying to watch your calories this may be a good option but it's really lacking in texture and flavor. The coffee taste is there but it felt faint. It also felt very airy and whipped.
They have some amazing food. There are still a few things that I haven't tried and wished I could've. I didn't try the fried chicken. I've heard that's amazing but I was trying to be conservative on the fried foods.
I also missed most of the pie dishes and a few puddings. I'd like to try the egg custard.
I feel like I hit most of the stuff they're known for though. Overall I had a great time at Shady Maple and I highly recommend making a visit. If you think there's anything that I missed out on let me know, I love to taste and try all kinds of food.
Checkout Shady Maple on their website: https://www.shady-maple.com/